"What are aging Werew
"What are aging Werewolf barbers most afraid of? Silver mullets."
A repeat offender was brought
A repeat offender was brought before the judge, who said, "Haven't I seen you in here several times before? And didn't I tell you I never wanted to see you in here again?"
The offender replied, "Yes, Your Honor, that's exactly what I told the officer, but he insisted I come anyway!"
#joke
Defining These Words
For more than 30 years, New York magazine has run a contest in which contestants take a well-known foreign language expression, change a single letter, and provide a definition for the new expression. Here are some favorites.
Harlez-vous français?
CAN YOU DRIVE A FRENCH MOTOCYCLE?
Cogito Eggo Sum.
I THINK; THEREFORE I AM A WAFFLE.
Rigor morris.
THE CAT IS DEAD.
Repondez-vous s'il vous plaid.
HONK IF YOU'RE SCOTTISH.
Que sera serf.
LIFE IS FEUDAL.
Posh mortem.
DEATH STYLES OF THE RICH AND FAMOUS.
Pro Bozo publico
SUPPORT YOUR LOCAL CLOWN.
Apès Moe le deluge.
LARRY AND MOE GOT WET.
Haste cuisine.
FAST FRENCH FOOD.
Veni, vidi, vice.
I CAME, I SAW, I PARTIED.
Mazel ton.
TONS OF LUCK.
Aloha oy.
LOVE; GREETINGS; FAREWELL; FROM SUCH A PAIN YOU SHOULD NEVER KNOW.
Visa la France.
DON'T LEAVE YOUR CHATEAU WITHOUT IT.
L'état, c'est moo.
I'M BOSSY AROUND HERE.
Cogito, ergo spud.
I THINK, THEREFORE I YAM.
(OK, more than 1 letter.)
Veni, vidi, velcro
I CAME, I SAW, I STUCK AROUND.
(OK, another exception.)
#joke
What's In The Sack?
Two neighbors living in New York's stockbroker belt were discussing how they had made their respective fortunes.
One said, "When I came here from Mexico three years ago, all I had was the boots on my feet and a sack on my back. Look at me now: a $10 million house, a $3 million penthouse apartment, three classic cars worth $1 million each, a yacht worth $3 million, and $5 million in the bank."
"That's amazing," said his neighbor. "Tell me, what was in the sack?"
"Twenty-four million dollars."

#joke
And God Created Dog and Cat
A newly discovered chapter in the Book of Genesis has provided the answer to 'Where do pets come from?'Adam said, 'Lord, when I was in the garden, you walked with me every day. Now I do not see you any more. I am lonesome here and it is difficult for me to remember how much you love me.'And God said 'No problem. I will create a companion for you that will be with you forever and who will be a reflection of my love for you so that you will love me even when you cannot see me. Regardless of how selfish or childish or unlovable you may be, this new companion will accept you as you are and will love you as I do, in spite of yourself.'And God created a new animal to be a companion for Adam. And it was a good animal. And God was pleased. And the new animal was pleased to be with Adam and it wagged its tail.And Adam said, 'Lord, I have already named all the animals in the Kingdom and I cannot think of a name for this new animal.' And God said, 'No problem. Because I have created this new animal to be a reflection of my love for you his name will be a reflection of my own name, and you will call him Dog.'And Dog lived with Adam and was a companion to him and loved him. And Adam was comforted. And God was pleased. And Dog was content and wagged his tail.After a while, it came to pass that Adam's guardian angel came to the Lord and said, 'Lord, Adam has become filled with pride. He struts and preens like a peacock and he believes he is worthy of adoration. Dog has indeed taught him that he is loved, but perhaps too well.'And the Lord said, 'No problem. I will create for him a companion who will be with him forever and who will see him as he is. The companion will remind him of his limitations, so he will know that he is not always worthy of adoration.'And God created Cat to be a companion to Adam. And Cat would not obey Adam. And when Adam gazed into Cat's eyes, he was reminded that he was not the Supreme Being. And Adam learned humility.And God was pleased. And Adam was greatly improved. And Dog was happy. And Cat didn't care one way or the other.
#joke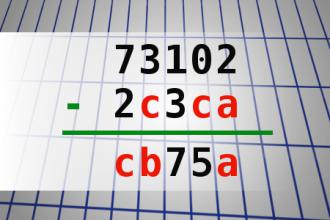 Find number abc
If 73102 - 2c3ca = cb75a find number abc. Multiple solutions may exist.
Beer drinking 101
Symptom: Feet cold and wet.
Fault: Glass being held at incorrect angle.
Action: Rotate glass so that open end points toward ceiling.
Symptom: Feet warm and wet.
Fault: Improper bladder control.
Action: Stand next to the nearest dog and complain about house training.
Symptom: Beer unusually pale and tasteless.
Fault: Glass Empty
Action: Get someone to buy you another beer.
Symptom: Opposite wall covered with fluorescent lights.
Fault: You have fallen over backwards.
Action: Have yourself leashed to the bar.
Symptom: Mouth contains cigarette butts.
Fault: You have fallen forward.
Action: See above.
Symptom: Beer tasteless and the front end of your shirt is wet.
Fault: Mouth not open or glass applied to the wrong face.
Action: Retire to the restroom and practice in the mirror.
Symptom: Floor blurred.
Fault: You are looking through an empty glass.
Action: Get someone to buy you another beer.
Symptom: Floor moving.
Fault: You are being carried out.
Action: Find out if you are being taken to another bar.
Symptom: Room seems unusually dark.
Fault: Bar has closed.
Action: Confirm home address with the bartender.
Symptom: Taxi suddenly takes on colorful aspects and textures.
Fault: Beer consumption has exceeded personal limitations.
Action: Cover mouth.
Symptom: Everyone looks up to you and smiles.
Fault: Your dancing on the table.
Action: Fall on someone cushy-looking.
Symptom: Beer is crystal clear.
Fault: Someone is trying to sober you up.
Action: Punch him.
Symptom: Hands hurt, nose hurts, mind unusually clear.
Fault: You have been in a fight.
Action: Apologize to everyone you see, just in case it was them.
Symptom: Don't recognize anyone, don't recognize the room you're in.
Fault: You've wandered into the wrong party.
Action: See if they have free beer.
Symptom: Your singing sounds distorted.
Fault: The beer is too weak.
Action: Have more beer until your voice improves.
Symptom: Don't remember the words to the song.
Fault: Beer is just right.
Action: Play air guitar.
Coroners refer to dead people ...
Coroners refer to dead people as "ABC's". Already Been Chucked.
Christopher Titus: Drunk Driving Lecture
Every weekend, I would get the drunk driving lecture. Of course, Dad drank and drove all the time. I guess it wasnt a lecture; it was helpful tips from the master.
Taliban TV Guide
Taliban TV Guide
MONDAYS:
8:00 - "Husseinfeld"
8:30 - "Mad About Everything"
9:00 - "Suddenly Sanctions"
9:30 - "The Brian Benben Bin Laden Show"
10:00 - "Allah McBeal"
TUESDAYS:
8:00 - "Wheel of Terror and Fortune"
8:30 - "The Price is Right If Osama Says Its Right"
9:00 - "Children Are Forbidden From Saying The Darndest Things"
9:30 - "Afganistans Wackiest Public Execution Bloopers"
10:00 - "Buffy The Yankee Imperialist Dog Slayer"
WEDNESDAYS:
8:00 - "U.S. Military Secrets Revealed"
8:30 - "Bowling For Food"
9:00 - "Two Guys, a Girl, and a Pita Bread"
9:30 - "Just Shoot Everyone"
10:00 - "Veilwatch"
THURSDAYS:
8:00 - "Matima Loves Chachi"
8:30 - "M*U*S*T*A*S*H"
9:00 - "Veronicas Closet Full of Long, Black, Shapeless Dresses and Veils"
9:30 - "My Two Baghdads"
10:00 - "Diagnosis: Heresy"
FRIDAYS:
8:00 - "Judge Laden"
8:30 - "Funniest Super 8 Home Movies"
9:00 - "Who Wants To Execute A Multimillionaire"
9:30 - "Achmeds Creek"
10:00 - "No-witness News"
Hang your @
Home is where you hang your @.
Socks...
A young man and a young woman were soon to be married, but they both had a problem they had never told anyone else about. The man approached his father one day before the wedding and told him about his problem. His feet REALLY stunk, even if he washed them constantly, he was worried that this would scare off his new bride, so he needed a solution, fast. His father pondered the situation and finally told his son to wear socks constantly (even to bed) and always wash his feet whenever he got a chance. The son thought about this and went along happy.
The same day the young lady approached her mother and told her about her problem. Her morning breath was horrid. Her mother reassured her and told her everyone had bad morning breath. The young woman told her mother that this was not normal morning breath but easily the worst in the world. The mother thinks about this and comes up with this bright idea. She tells her daughter to get up earlier than everyone else and don't say a thing, go make breakfast and then brush her teeth while the others are eating. The young woman thinks and then runs off to get ready for the wedding, happy.
The couple is married and they are happy, him with his perpetual socks and her with her morning silences. One morning about 5:30 am the young man wakes up to find one sock missing. He starts rustling around in the bed looking for it, which of course wakes up his wife, who without thinking asks what's wrong.
With a look of shock on his face the young man says, "OH MY GOD! You've swallowed my sock!"
#joke