The rood
"The rood - an offensive measure of land area."
The results of your bold test
Doctor: "The results of your bold test have come in."
"You mean blood test?"
"Hm, must be a Type-O."
Author FinalCaveat user
Promotion to Montreal
Boss: Congratulations! I'm promoting you to manage our Montreal office!
Young man (disappointed): But sir! There's nothing up there but bar girls and hockey players.
Boss (now insulted): I'll have you know that MY MOTHER is from Montreal!
Young man (thinking fast): No kidding? What hockey team did she play on?
#joke
Greatest Comedian in the Bible
Q. Who was the greatest comedian in the Bible?A. Samson. He brought the house down.
A tourist was admiring the nec
A tourist was admiring the necklace worn by a local Indian.
"What is it made of?" she asked.
"Alligator's teeth," the Indian replied.
"I suppose," she said patronizingly, "that they mean as much to you as pearls do to us."
"Oh no," he objected. "Anybody can open an oyster."
#joke
Things we would never know without going to the movies...
During all police investigations it will be
necessary to visit a strip club at least once.
All telephone numbers in America begin with
the digits 555.
Most dogs are immortal.
If being chased through town, you can usually
take cover in a passing St. Patrick's Day
parade - at any time of the year.
All beds have special L-shaped cover sheets
which reach up to the armpit level on a woman
but only to waist level on the man lying beside her.
All grocery shopping bags contain at least one
stick of French Bread.
It's easy for anyone to land a plane providing
there is someone in the control tower to talk you down.
Once applied, lipstick will never rub off - even
while scuba diving
The ventilation system of any building is the
perfect hiding place. No-one will ever think of
looking for you in there and you can travel to
any other part of the building you want without difficulty.
If you need to reload your gun, you will always
have more ammunition -even if you haven't
been carrying any before now.
You're very likely to survive any battle in any
war unless you make the mistake of showing
someone a picture of your sweetheart back home.
Should you wish to pass yourself off as a
German officer, it will not be necessary to
speak the language. Even a bad German accent will do.
If your town is threatened by an imminent
natural disaster or killer beast, the mayor's first
concern will be the tourist trade or his
forthcoming art exhibition.
The Eiffel Tower can be seen from any
window in Paris.
A man will show no pain while taking the most
ferocious beating but will wince when a woman
tries to clean his wounds.
If a large pane of glass is visible, someone will
be thrown through it before long.
When paying for a taxi, don't look at your
wallet as you take out a bill just grab one at
random and hand it over. It will always be the
exact fare.
Interbreeding is genetically possible with any
creature from elsewhere in the universe.
Kitchens don't have light switches. When
entering a kitchen at night, you should open the
fridge door and use that light instead.
If staying in a haunted house, women should
investigate any strange noises in their most
revealing underwear.
Word processors never display a cursor on
screen but will always say: Enter Password Now.
Mothers routinely cook eggs, bacon and
waffles for their family every morning even
though their husband and children never have
time to eat it.
Cars that crash will almost always burst into flames.
The Chief of Police will always suspend his star
detective - or give him 48 hours to finish the job.
A single match will be sufficient to light up a
room the size of RFK Stadium.
Medieval peasants had perfect teeth.
Although in the 20th century it is possible to
fire weapons at an object out of our visual
range, people of the 23rd century will have lost
this technology.
Any person waking from a nightmare will sit
bolt upright and pant.
It is not necessary to say hello or goodbye
when beginning or ending phone conversations.
Even when driving down a perfectly straight
road it is necessary to turn the steering wheel
vigorously from left to right every few moments.
All bombs are fitted with electronic timing
devices with large red readouts so you know
exactly when they're going to go off.
It is always possible to park directly outside
any building you are visiting.
A detective can only solve a case once he has
been suspended from duty.
If you decide to start dancing in the street,
everyone you bump into will know all the steps.
Most laptop computers are powerful enough to
override the communication systems of any
invading alien civilization (especially a
Macintosh snicker, snicker!!)).
It d
#joke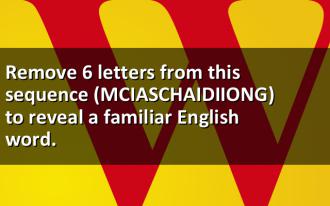 Remove 6 letters from this seq...
Remove 6 letters from this sequence (MCIASCHAIDIIONG) to reveal a familiar English word.
Why Eve Was Created
Top Ten Reasons Eve Was Created
10. God was worried that Adam would frequently become lost in the garden because he would not ask for directions.
9. God knew that one day Adam would require someone to locate and hand him the remote.
8. God knew Adam would never go out and buy himself a new fig leaf when his wore out and would therefore need Eve to buy one for him.
7. God knew Adam would never be able to make a doctor's, dentist, or haircut appointment for himself.
6. God knew Adam would never remember which night to put the garbage on the curb.
5. God knew if the world was to be populated, men would never be able to handle the pain and discomfort of childbearing.
4. As the Keeper of the Garden, Adam would never remember where he left his tools.
3. Apparently, Adam needed someone to blame his troubles on when God caught him hiding in the garden.
2. As the Bible says, It is not good for man to be alone!
And the #1 reason why God created Eve...
1. When God finished the creation of Adam, He stepped back, scratched his head, and said, "I can do better than that!"
The real reason that we can't
The real reason that we can't have the Ten Commandments posted in a courthouse is this:
You cannot post "Thou Shalt Not Steal," "Thou Shalt Not Commit Adultery," and "Thou Shall Not Lie" in a building full of lawyers, judges and politicians...It creates a hostile work environment.
Death In The Family
One day, a blonde's neighbor goes over to her house, sees the blonde crying, and asks her what happened.
The blonde said that her mother had passed away.
The neighbor made her some coffee and calmed her down a little and then left.
The next day the neighbor went back over to the house and found the blonde crying again.
She asked her why she was crying this time.
The blonde said, "I just got off of the phone with my sister. Her mother died too!"
He who lives by the sword, die...
He who lives by the sword, dies by the sword. He who lives by Chuck Norris, dies by the roundhouse kick.
Mad Dog!
What do you call a dog that hears voices?
A Shih-Tzu-Phrenic!
A Heavenly Welcome
A contractor dies in a car accident on his 40th birthday and finds himself at the Pearly Gates. A brass band is playing, the angels are singing a beautiful hymn, there is a huge crowd cheering and shouting his name, and absolutely everyone wants to shake his hand.
Just when he thinks things can't possibly get any better, Saint Peter himself runs over, apologizes for not greeting him personally at the Pearly Gates, shakes his hand, and says, "Congratulations son, we've been waiting a long time for you."
Totally confused and a little embarrassed, the contractor sheepishly looks at Saint Peter and says "Saint Peter, I tried to lead a God-fearing life, I loved my family, I tried to obey the 10 Commandments, but congratulations for what? I honestly don't remember doing anything really special when I was alive.""Congratulations for what?" says Saint Peter, totally amazed at the man's modesty. "We're celebrating the fact that you lived to be 160 years old! God himself wants to see you!" The contractor is awestruck and can only look at Saint Peter with his mouth wide open. When he regains his power of speech, he looks up at Saint Peter and says "Saint Peter, I lived my life in the eternal hope that when I died I would be judged by God and be found to be worthy, but I only lived to be forty."
"That's simply impossible son," says Saint Peter. "We've added up your time sheets."

#joke