Photography of internal organs
"Is photography of internal organs the wave of the future, or just a flash in the pancreas?"
Son with just a head
A man and his wife had a son, but the baby didn't have a body, just a head. So the man and his wife raised the head.
On the boy's 21st birthday, the man took his son out for drinks. When the boy took his first sip, he grew a torso and the whole bar lit up. The bartender seemed absolutely disgusted and the boy's father was crying.
So he drunk some more and the more he drunk, the body parts that came out. The bar was cheering, the father was crying and the bartender was still disgusted. The boy got all of his body parts and picked up his last drink with his hands.
He was so drunk that he wobbled outside into the street, got hit with a 18 wheeler and died.
Everyone was in so much shock except the bartender, who then replied: "He should have quit while he was ahead."
#joke #pun
Begin by standing on a comfort
Begin by standing on a comfortable surface , where you have plenty ofRoom at each side. With a 5-LB potato sack in each hand, extend your armsstraight out from your sides and hold them there as long as you can.Try to reach a full minute, and then relax. Each day you'll find that youcan hold this position for just a bit longer.
After a couple of weeks, move up to 10-LB potato sacks. Then try50-LB potato sacks and then eventually try to get to where you can lift a100-LB potato sack in each hand and hold your arms straight for more than a full minute. (I 'm at this level.)
After you feel confident at that level, put a potato in each sack.
#joke
The wedding...
Attending a wedding for the first time, a little girl whispered to her mother, "Why is the bride dressed in white?"
"Because white is the color of happiness, and today is the happiest day of her life," her mother tried to explain, keeping it simple.
The child thought about this for a moment, then said, "So why's the groom wearing black?"
#joke
Question And Answer Blond Jokes
Q: How do you plant dope?
A: Bury a blonde.
Q: How do you get a one-armed blonde out of a tree?
A: Wave to her.
Q: How do you get a blondes eyes to twinkle?
A: Shine a torch in her ears.
Q: How do you make a blonde's eyes light up?
A: Shine a flashlight in their ear.
Q: How do you kill a blonde?
A: Put spikes in their shoulder pads.
Q: Have you heard what my blond neighbor wrote on the bottom of her swimming pool?
A: No smoking.
Q: What does a blond do when someone says its chili outside?
A: She grabs a bowl.
Past Relationships
I made a graph of all my past relationships...
It has an "ex" axis and a "why" axis.
FLEX WORDLE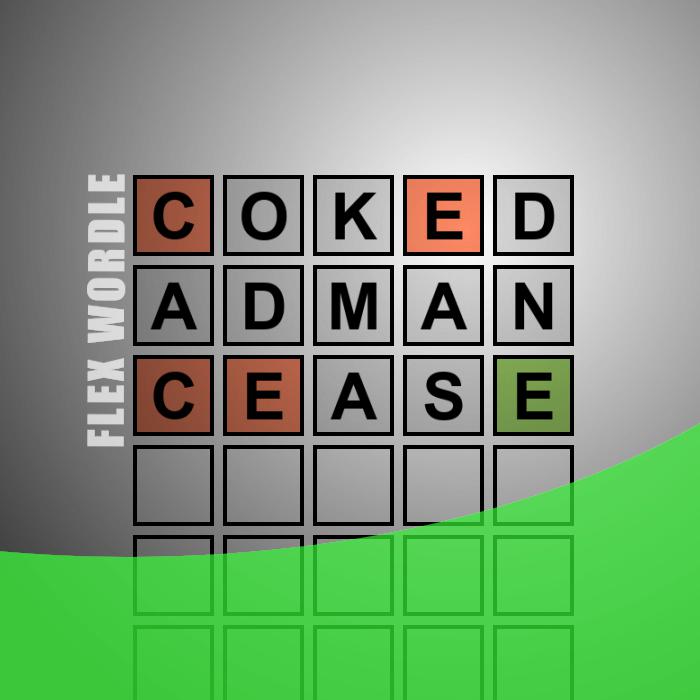 Guess the
WORDLE
in 3 tries. After each guess, the color of the tiles will change to show how close your guess was to the solution.
Do Your Boobs?
One day this guy named Dan was sitting in class next to a really hot girl named Jen. He was a dork but had a huge chrush on Jen. Dan wanted to tell her about his chrush on her but didn't know how to. So he said "Are your boobs so hard that when you touch them your fingers start bleeding?"
Jen was totally grossed out and said in reply "I guess you've never seen boobs before" **The End**
#joke
First hand job
A guy has been asking the prettiest girl in town for a date and finally she agrees to go out with him.
He takes her to a nice restaurant and buys her a fancy dinner with expensive wine.
On the way home, he pulls over to the side of the road in a secluded spot.
They start necking and he's getting pretty excited. He starts to reach under her skirt and she stops him, saying she's a virgin and wants to stay that way.
"Well, okay," he says, "how about a blow job?"
"Yuck!" she screams. "I'm not putting that thing in my mouth!"
He says, "Well, then, how about a hand job?"
"I've never done that," she says. "What do I have to do?"
"Well," he answers, "remember when you were a kid and you used to shake up a Coke bottle and spray your brother with it?"
She nods.
"Well, it's just like that."
So, he pulls it out and she grabs hold of it and starts shaking it.
A few seconds later, his head flops back on the headrest, his eyes close, snot starts to run out of his nose, wax blows out of his ear and he screams out in pain.
"What's wrong?!" she cries out.
"Take your thumb off the end!!"
#joke
Hamburger
A man walks into a hamburger shop and orders a regular meal. Later, the waitress brings his meal to him. He takes a bite out of it, and notices there's a small hair in the hamburger. He begins yelling frantically at the waitress, "Waitress, there's a hair in my hamburger! I demand to see what is going on!"
So, the waitress takes him back where the cook is and to his demise, he sees the cook take the meat patty and flatten it under his arm pit. He says, "That's disgusting!"
Then the waitress says, "You think that's disgusting you should see him make donuts."
#joke
Chuck Norris' favourite cut of...
Chuck Norris' favourite cut of meat is the roundhouse.
Ben Bailey: Slow People in the Subway
The thing I hate the most about the subway is every time I get off the train and Im trying to get out of the station and back up to the street, I end up getting stuck behind these really slow people on the stairs. It happens to me every time I take the subway. Its been happening to me for years. And my question is this: how the hell do they keep beating me to the stairway?
#joke
Join us on WhatsApp