Ferns cohabitate
"When ferns cohabitate, are they fronds with benefits?"
A guy walks into a post office
A guy walks into a post office one day to see a middle-aged, balding man standing at the counter systematically pasting "Love" stamps on bright pink envelopes with hearts all over them. He then takes out a perfume bottle and starts spraying scent all over them. The guy's curiosity gets the better of him and he walks up to the balding man and asks him what he is doing.
The man says, "I'm sending out one thousand Valentine cards signed, 'Guess who?'"
"But why?" asks the guy.
The man replies, "I'm a divorce lawyer."
Walking with your partner
The room was full of pregnant women and their partners, and the Lamaze class was in full swing. The instructor was teaching the women how to breathe properly, along with informing the men how to give the necessary assurances at this stage of the plan.
The teacher then announced, "Ladies, exercise is good for you. Walking is especially beneficial. And, gentlemen, it wouldn't hurt you to take the time to go walking with your partner!"
The room really got quiet. Finally, a man in the middle of the group raised his hand.
"Yes?" replied the teacher.
"Is it alright if she carries a golf bag while we walk?"
#joke
Proud daddy...
A Texan bought a round of drinks for all in the bar and announced that his wife had just produced a typical Texas baby, weighing a whopping twenty pounds.
"WOW!" was the response from everyone at the bar.
A few days later the Texan returned to the bar. The bartender recognized him and asked, "Aren't you the father of the baby that weighed twenty pounds at birth? How much does he weigh now?"
The proud father answered, "10 pounds."
The bartender said, "Why? I know that babies lose some weight after birth, but ten pounds? He did weigh twenty pounds, didn't he? What happened?
The proud Texas father said, "Just had him circumcised!"
#joke
Deaf Lady In Trouble
One day a lady was driving on the Highway. She frequently checked her speed gauge to make sure she stayed within the speed limit. However, when she looked into her rear mirror, much to her dismay, she saw a police car not far behind! And, to make matters worse, the police car turned on his flashing lights. She thought to herself, "Uh-oh, what have I done now? I'm not speeding. I'm not drinking. I have my seat belt on! I have kept up my license dues and everything!"
So, she pulled over and the police car pulled over to the side right behind her car. She drove her car slowly to a stop, slowly rolled down the window, and prepared for a ticket when she knew she didn't deserve it. A policeman walked up to her window, and spoke to her. The lady pointed to her ear and shook her head, meaning she was deaf. The policeman smiled slightly, and knowing sign language, signed back, "I know. I'm here to tell you that your horn is stuck."
How does a sundial work?
Son: "Hey Dad, how does a sundial work?"
Dad hands son a phone…
"Ok, now just call someone."
Son: "Why can't you do it?"
Dad: "Because that would be a DADdial."
FLEX WORDLE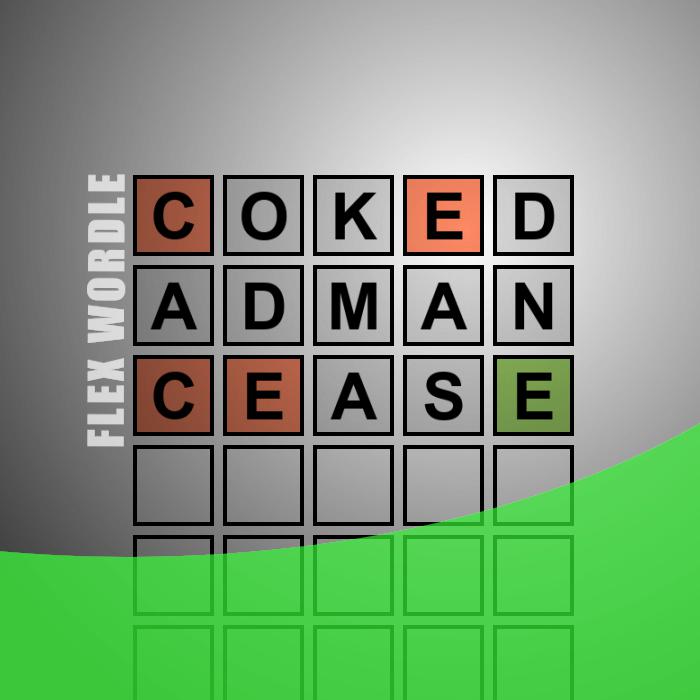 Guess the
WORDLE
in 3 tries. After each guess, the color of the tiles will change to show how close your guess was to the solution.
Cloning Machine
Her: "I don't even know what the cloning machine does?"
Me: "Well, that makes two of us."
Chuckie Chicken
An old farmer went to town to see a movie. The ticket girl said, "Sir, what is that on your shoulder?"
The old farmer said, "That is my pet rooster, Chuckie. Wherever I go, Chuckie goes."
"I'm sorry, Sir," said the ticket girl, "We can't allow animals in the theater. Not even a pet chicken."
The old farmer went around the corner and stuffed the chicken down his pants. He returned to the booth, bought a ticket and entered the theater. He sat down next to two old emergency room nurses named Mildred and Marge.
The movie started and the chicken began to squirm. The old farmer un-zipped his pants so Chuckie could stick his head out and watch the movie.
"Marge," whispered Mildred.
"What?" said Marge.
"I think the guy next to me is a pervert."
"What makes you think so?" asked Marge.
"He unzipped his pants and he has his thing out," whispered Mildred.
"Well, don't worry about it," said Marge, "At our age it isn't anything we haven't seen before."
"Yes," said Mildred, "But this one's eating my popcorn!"
#joke
Knock Knock Collection 044
Knock Knock
Who's there?
Datsun!
Datsun who?
Datsun old joke!
Knock Knock
Who's there?
Dave!
Dave who?
Dave for Night!
Knock Knock
Who's there?
Dawn!
Dawn who?
Dawn leave me out here in the cold!
Knock Knock
Who's there?
Deanna!
Deanna who?
Deanna-mals are restless open the cage!
Knock Knock
Who's there?
Deduct!
Deduct who?
Donald Deduct!
#joke
VIAGRA Press Release**
VIAGRA Press Release**
In pharmacology, all drugs have two names - a trade name and a generic name.
For example, the trade name of Tylenol is acetaminophen. Aleve is known as naproxen; Amoxil is amoxicillin, and Advil is ibuprofen. The FDA has been looking for a generic name for VIAGRA. After consideration by a team of government experts, it recently announced it has settled on the generic name of mycoxafloppin. Also considered were mycoxafailin, mydixadrupin, mydixarizin, mydixadud, dixafix, and of course ibepokin.
Pfizer Corp is making an announcement today that Viagra will soon be available in liquid form and will be marketed by Pepsi Co as a power beverage suitable for use as a mixer. Pepsi's proposed ad campaign claims it will now be possible for a man to literally pour himself a stiff one. Obviously we can no longer call this a soft drink. This additive gives new meaning to the names of cocktails, highballs and just a good old fashioned stiff drink. Pepsi will market the new concoction by the name of Mount & Do.
The long term implications of drugs and medical procedures must be fully considered: Over the past few years, more money has been spent on breast implants and Viagra than was spent on Alzheimer's research. It is believed that by the year 2030, there will be a large number of people wandering around with huge breasts and erections who can't remember what to do with them!
#joke
Dr. Seuss
What If Dr. Seuss was a Technical Writer? Here's an easy game to play.
Here's an easy thing to say:
If a packet hits a pocket on a socket on a port, and the bus is interrupted as a very last resort, and the address of the memory makes your floppy disk abort, then the socket packet pocket has an error to report!
If your cursor finds a menu item followed by a dash, and the double-clicking icon puts your window in the trash, and your data is corrupted 'cause the index doesn't hash, then your situation's hopeless, and your system's gonna crash!
You can't say this?
What a shame sir!
We'll find you another game sir.
If the label on the cable on the table at your house, says the network is connected to the button on your mouse, but your packets want to tunnel on another protocol, that's repeatedly rejected by the printer down the hall.
And your screen is all distorted by the side effects of gauss so your icons in the window are as wavy as a souse, then you may as well reboot and go out with a bang, 'cause as sure as I'm a poet, the sucker's gonna hang!
When the copy of your floppy's getting sloppy on the disk, and the microcode instructions cause unnecessary risk, then you have to flash your memory and you'll want to RAM your ROM. Quickly turn off the computer and be sure to tell your mom!
Submitted by Glaci
Edited by Curtis
#joke
One time, Chuck Norris acciden...
One time, Chuck Norris accidentally stubbed his toe. It destroyed the entire state of Ohio.
Join us on WhatsApp