Harry and his wife are driving
Harry and his wife are driving in the country when he sees a sign that reads: "Cow For Sale -- $5,000."
He pulls in and says to the farmer, "There's no cow in the world worth $5,000."
The farmer says, "Oh, yeah? Take a look at this." He lifts the cow's tail and Harry sees that the cow has a snatch just like a woman.
Harry gets back in the car, turns to his wife and says, "It's just not fair. Here's this farmer with a cow that has a snatch like a woman and it's worth $5,000, and here I am, with you, with a snatch like a cow, and you're not worth sh*t."
#joke
Face or Bill
What's the difference between a duck and George Washington?
One has a bill on their face and the other has their face on a bill.
Why did the slave go to college?
Why did the slave go to college?
So he could pickup his Master's degree.
Skydiving
Ole was to learn skydiving. He was told that shortly after jumping out of the plane he was to pull the short rip cord and that will open a small parachute which will open the large chute and if by chance the large chute fails to open, he should pull the other cord which will open the large parachute. He was told that a car will be on the ground to take him back to the airport.
Ole jumps out of the plane and proceeds to pull the first cord. The small chute doesn't open so he pulls the last cord and the large parachute doesn't open either. Ole thinks to himself, "It will be just my luck that the car won't be there either"
#joke
Superman
My uncle had surgery and became a superman, and then the anesthetic wore off.
FLEX WORDLE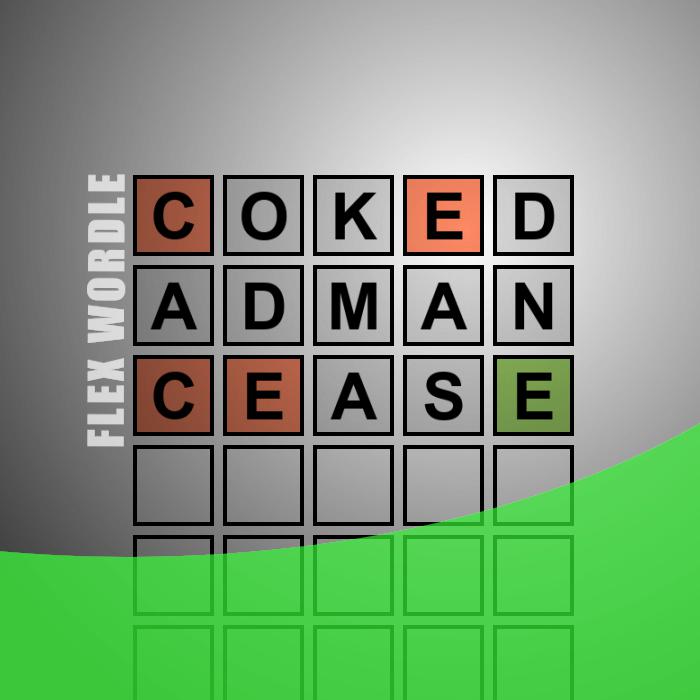 Guess the
WORDLE
in 3 tries. After each guess, the color of the tiles will change to show how close your guess was to the solution.
Chuck Norris doesnt wear a wat...
Chuck Norris doesnt wear a watch, HE decides what time it is.
Daniel Tosh: Airport Phone Fun
So when I get a phone call at the airport, Ill admit it, I like to have a little fun. Go ahead. Gate 47 is completely clear. People notice in a hurry. Honey, something is going on. That guy has a wire hanging down, maybe we shouldnt be standing right here. Stand down, blue team! Stand down, blue team! Honey, there is a sting going down at the airport. I am not feeling safe. Please, lets move. Stand down, down blue team! Dont -- hold on, the subjects approaching. Hes in a business suit with a briefcase. I repeat, the briefcase is in his hand. And I find some random businessman. I run, and I just beat the crap out of him. And everybody starts clapping, Thank you for making our airways safe. And then I go get on my plane, and that guy just has a weird story to tell for the rest of his life.
#joke
If paper beats rock, rock beat...
If paper beats rock, rock beats scissors, and scissors beats paper, what beats all 3 at the same time? Chuck Norris.
Shark!
There is this atheist swimming in the ocean. All of a sudden he sees a shark in the water, so he starts swimming furiously towards his boat.
As he looks back, he sees the shark turn and head towards him. He's scared to death, and as he sees the jaws of the great white beast open, revealing its horrific teeth, the atheist screams, "Oh God! Save me!"
In an instant, time is frozen and a bright light shines down from above. The man is motionless in the water when he hears the voice of God say, "You are an atheist. Why do you call upon me when you do not believe in me?"
Confused, and knowing he can't lie, the man replies, "Well, that's true I don't believe in you, but how about the shark? Can you make the shark believe in you?"
The Lord replies, "As you wish," and the light retracts back into the heavens. The man feels the water move once again.
As the atheist looks back, he can see the jaws of the shark start to close down on him, when all of sudden the shark stops and pulls back.
Shocked, the man watches as the huge beast closes its eyes, bows its head and says, "Thank you Lord for this food which I am about to receive..."

#joke
Chemistry Song 12
I Saw Teacher Kissing Santa Chlorine
I saw teacher kissing Santa Chlorine
under the chemistree last night
They didn't sneak me down the periodic chart
to take a peek
At all the atoms reacting in their beakers;
it was neat.
And I saw teacher kissing Santa Chlorine
under the chemistree so bright
Oh what a reaction there would have been
if the principal had walked in
With teacher kissing Santa Chlorine last night.
#joke
Join us on WhatsApp