A young married couple has dif
A young married couple has difficulties conceiving a baby, so after a while the wife consults her doctor, who recommends the minor of three possible operations.
The operation is performed, but a month later, she's still not pregnant, so she goes to see the doctor again. This time he recommends the medium operation, a somewhat more serious operation, but still not as complicated as the third alternative.
But, there's still no result, and another month later she's back in the doctors office, and this time she gets the big one.
After having recovered in some weeks, the couple resumes normal marital activities, and this time they actually succeed in conceiving a baby.
Filled with joy, the young wife now sees the doctor for the regular examination during pregnancy and says, "We're so happy doctor, we're finally having a baby. But what was this third operation actually all about? The first two weren't that bad, but this last one I think must have been quite a job, I was dizzy for weeks after."
"Well," the doctor replies, "since the first two standard operations failed, we started suspecting your method rather than your ability, so I made a connection from your throat to your uterus."
If all is love
"If all is love, will everything end in the Apuckerlips?"
Not Welcomed
An infectious disease walks into a bar.
The bartender says, "We don't serve infectious diseases here."
The infectious disease says, "Well, you're not a very good host."
The Very Funny John Pinette
A close shave
A man enters a barber shop for a shave.
While the barber is foaming him up, he mentions the problem he has getting a close shave around his cheeks.
"I have just the thing," says the barber taking a small wooden ball from a nearby drawer. "Just place this between your cheek and gum."
The client places the ball in his mouth and proceeds with the closest shave the man has ever experienced.
After a few strokes, the client asks in garbled speech "And what if I swallow it?"
"No problem" says the barber. "Just bring it back tomorrow like everyone else does!"
#joke
1. If you're too open minded,
1. If you're too open minded, your brains will fall out.
2. Age is a very high price to pay for maturity.
3. Going to a mosque doesn't make you a Muslim any more than going to agarage makes you a mechanic.
4. Artificial intelligence is no match for natural stupidity.
5. If you must choose between two evils, pick the one you've nevertried before.
6. My idea of housework is to sweep the room with a glance.
7. Not one shred of evidence supports the notion that life is serious.
8. It is easier to get forgiveness than permission.
9. For every action, there is an equal and opposite governmentprogram.
10. If you look like your passport picture, you probably need thetrip.
11. Bills travel faster through the mail than checks.
12. A conscience is what hurts when all your other parts feel so good.
13. Eat well, stay fit, die anyway.
14. Men are from earth. Women are from earth. Deal with it.
15. No husband has ever been shot while doing the dishes.
16. A balanced diet is a cookie in each hand.
17. Middle age is when broadness of the mind and narrowness of thewaist change places.
18. Opportunities always look bigger going than coming.
19. Junk is something you've kept for years and throw away three weeksbefore you need it.
20. There is always one more imbecile than you counted on.
21. Experience is a wonderful thing. It enables you to recognize amistake when you make it.
22. By the time you can make ends meet, they move the ends.
23. Thou shalt not weigh more than thy refrigerator.
24. Someone who thinks logically provides a nice contrast to the realworld.
25. Blessed are they who can laugh at themselves for they shall nevercease to be amused.
#joke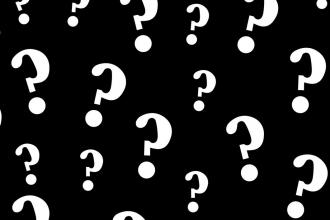 I shave every day, but my be...
I shave every day, but my beard stays the same. What am I?
Answering Machine Message 143

Hi, this is the answering machine. I am on strike. Any messages you leave will be deleted.


Chuck Norris is so fast, he ca...
Chuck Norris is so fast, he can run around the world and punch himself in the back of the head.
Odd Rabbi Out
"I told you I was right!" cried the rabbi, but his friends insisted that nothing had happened that could not be explained by natural causes.
The rabbi was getting ready to ask for a VERY big sign, but just as he said, "Oh God...," the sky turned pitch black, the earth shook, and a deep, booming voice intoned, "HEEEEEEEE'S RIIIIIIIGHT!"
The rabbi put his hands on his hips, turned to the other three, and said, "Well?"
"So," shrugged one of the other rabbis, "now it's 3 to 2."
#joke
Winding up the tough guy
I was sitting at a bar one time, when I noticed that, next to me, an old drunk was hassling one of the biggest, toughest guys I'd ever seen.
The old guy was clearly blasted, and kept getting in the tough guy's face, say, "I fucked your mother."
Despite being huge and jacked, the tough guy just kept shrugging it off. The old guy laughed in the tough guy's face, saying it again. "Hey, I fucked your mother."
Then, the old man even poked him, and repeated himself, "No seriously, I fucked your mother."
At this point, finally, the tough guy had had enough. He grabbed the old man by his jacket and began to pull him out of the bar, yelling,
"That's it. We're going home, Dad. You're drunk."
#joke
My Dad Scribbles
Three boys are in the schoolyard bragging about their fathers. The first boy says, "My Dad scribbles a few words on a piece of paper, he calls it a poem, they give him $50."
The second boy says, "That's nothing. My Dad scribbles a few words on a piece of paper, he calls it a song, they give him $100."
The third boy says, "I got you both beat. My Dad scribbles a few words on a piece of paper, he calls it a sermon. And, it takes eight people to collect all the money!"
#joke
Join us on WhatsApp