Centipede pet
A single guy decides life would be more fun if he had a pet.
So he went to the pet store and told the owner that he wanted to buy an unusual pet. After some discussion, he finally bought a centipede, which came in a little white box to use for his house.
He took the box back home, found a good location for the box, and decided he would start off by taking his new pet to church with him. So he asked the centipede in the box, "Would you like to go to church with me today, we will have a good time."
But there was no answer from his new pet. This bothered him a bit, but he waited a few minutes and then asked him again, "How about going to church with me and receive blessings?"
But again, there was no answer from his new friend and pet. So he waited a few minutes more, thinking about the situation. He decided to ask him one more time; this time putting his face up against the centipede's house and shouting, "Hey, in there! Would you like to go to church with me and learn about The Lord???"
A little voice came out of the box:
"I heard you the first time! I'm putting on my shoes."
Hats
Q: What Did One Hat Say to the Other Hat?
A: You Stay Here, I'll Go On A Head"
Joke found on fashionista.com, posted on FEB 20, 2007.
Photo by Jennifer Regnier on Unsplash
Turkeys cannot speak
"Turkeys cannot speak, so they usually take their secrets to the gravy."
Two drunks went into a bar and
Two drunks went into a bar and had a few beers. One got up and went into the bathroom while the other remained at the bar talking to the bartender.
All of a sudden there was a loud scream coming from the bathroom. The drunk at the bar said to the bartender that it sounded like his partner screaming, so he went into the toilet to investigate.
He went inside and asked his friend what the problem was. His friend said that every time he flushed the toilet something reached up and hit him on the bottom.
His friend shook his head and said, "You soft beggar, you're sitting on the mop bucket."
Too Much Reality TV
I came to the realization that my 5 year old was watching too much reality TV when we attended a wedding.
As the four bridesmaids walked down the aisle to the altar, he asked, "Is this where the groom picks the one he wants to marry?"
Knock Knock Collection 182
Knock Knock
Who's there?
Tyrone!
Tyrone who?
Tyrone shoelaces!
Knock Knock
Who's there?
Tyson!
Tyson who?
Tyson of this on for size!
Knock Knock
Who's there?
Uganda!
Uganda who?
Uganda get away with this!
Knock Knock
Who's there?
Uriah!
Uriah who?
Keep Uriah on the ball!
Knock Knock
Who's there?
Uruguay!
Uruguay who?
You go Uruguay and I'll go mine!
#joke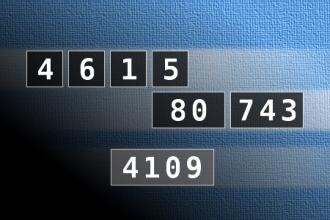 Calculate the number 4109
NUMBERMANIA: Calculate the number 4109 using numbers [4, 6, 1, 5, 80, 743] and basic arithmetic operations (+, -, *, /). Each of the numbers can be used only once.
Nice pigs sir
A Secret Service agent is standing at the bottom of the stairs as President Clinton is leaving Air Force One, and can't help but notice that the President has a pig under each arm.
The Agent salutes and says, "Welcome back, Mr. President. Nice pigs, sir."
Clinton smiles and says, "These aren't pigs. These are genuine Arkansas Razorbacks. I got this one for Hillary, and I got this one for Chelsea."
The Agent says, "Good trade, sir."
#joke
Dilbert's Salary Theorem stat
Dilbert's Salary Theorem states that Engineers and scientists can never earn as much as business executives and sales people. This theorem can now be supported by a mathematical equation based on the following two postulates:
Postulate 1: Knowledge is Power.
Postulate 2: Time is Money.
As every engineer knows: Power = Work / Time
Since: Knowledge = Power,
then Knowledge = Work/Time,
and Time = Money,
then Knowledge = Work/Money.
Solving for Money, we get: Money = Work / Knowledge.
Thus, as Knowledge approaches zero, money approaches infinity, regardless of the amount of work done.
Conclusion: The less you know, the more you make. Bummer.
#joke
Chuck Norris has more Facebook...
Chuck Norris has more Facebook friends than Facebook has users.
Punishment for Missing Church
A country preacher decided to skip services one Sunday to spend the day hiking in the wilderness. Rounding a sharp bend in the trail, he collided with a bear and was sent tumbling down a steep grade. He landed on a rock and broke both legs.
With the ferocious bear charging at him from a distance, the preacher prayed, "O Lord, I'm so sorry for skipping services today. Please forgive me and grant me just one wish--make a Christian out of that bear that's coming at me!"
At that very instant, the bear skidded to a halt, fell to his knees, clasped his paws together, and began to pray aloud at the preacher's feet: "Dear God, please bless this food I am about to receive."
#joke
How God Created the Computer
In the beginning, God created the bit. And the bit was a zero; nothing.
On the first day, He toggled the 0 to 1, and the Universe was. (In those days, bootstrap loaders were simple, and "active low" signals didn't yet exist.)
On the second day, God's boss wanted a demo, and tried to read the bit. This being volatile memory, the bit reverted to a 0. And the universe wasn't. God learned the importance of backups and memory refresh, and spent the rest of the day ( and his first all-nighter ) reconstructing the universe.
On the third day, the bit cried "Oh, Lord! If you exist, give me a sign!" And God created rev 2.0 of the bit, even better than the original prototype. Those in Universe Marketing immediately realized the the "new and improved" wouldn't do justice to such a grand and glorious creation. And so it was dubbed the Most Significant Bit, or the Sign bit. Many bits followed, but only one was so honored.
On the fourth day, God created a simple ALU with 'add' and 'logical shift' instructions. And the original bit discovered that by performing a single shift instruction, it could become the Most Significant Bit. And God realized the importance of computer security.
On the fifth day, God created the first mid-life kicker, rev 2.0 of the ALU, with wonderful features, and said "Screw that add and shift stuff. Go forth and multiply." And God saw that it was good.
On the sixth day, God got a bit overconfident, and invented pipelines, register hazards, optimizing compilers, crosstalk, restartable instructions, microinterrupts, race conditions, and propagation delays. Historians have used this to convincingly argue that the sixth day must have been a Monday.
On the seventh day, an engineering change introduced UNIX into the Universe, and it hasn't worked right since.
A Rabbi and a Priest Buy a Car…
A priest and a rabbi operated a church and a synagogue across the street from each other. Since their schedules intertwined, they decided to go in together to buy a car. After the purchase, they drove it home and parked it on the street between them.
A few minutes later, the rabbi looked out and saw the priest sprinkling water on their new car. It didn't need a wash, so he hurried out and asked the priest what he was doing.
"I'm blessing it," the priest replied.
The rabbi considered this a moment, then went back inside the synagogue.
He reappeared a moment later with a hacksaw, walked over to the back of the car and cut off two inches of the tailpipe.
#joke
Join us on WhatsApp