Coffin
A man was walking home alone late one night when he hears a BUMP... BUMP... BUMP... behind him.
Walking faster he looks back, and makes out the image of an upright coffin banging its way down the middle of the street towards him.
BUMP... BUMP... BUMP...
Terrified, the man begins to run towards his home, the coffin bouncing quickly behind him ...
faster... faster... BUMP... BUMP... BUMP...
He runs up to his door, fumbles with his keys, opens the door, rushes in, slams and locks the door behind him.
However, the coffin crashes through his door, with the lid of the coffin clapping...
clappity-BUMP... clappity-BUMP... clappity-BUMP... on the heels of the terrified man.
Rushing upstairs to the bathroom, the man locks himself in.
His heart is pounding; his head is reeling; his breath is coming in sobbing gasps.
With a loud CRASH the coffin starts breaking down the door. Bumping and clapping towards him.
The man SCREAMS and reaches for something heavy, anything .. his hand comes to rest on a large bottle of Robitussin.
Desperate, he throws the cough syrup as hard as he can at the apparition... and...
the coffin stops!
Music planets sing?
Q: What kind of music do planets sing?
A: Neptunes!
A planetary music joke was posted on Twitter by Holly on August 10, 2012.
A similar joke was posted on Twitter by Bobby Amasha on October 8, 2012:
Q: What kind of music do planets listen to?
A: Neptunes!
#joke #pun
Much mayo on bagel
"My political opponent claimed I used too much mayo on my bagel. It was a smear tactic."
Tea set
A girl was given a tea set for her second birthday. It became one of her favorite toys, and when her mother went away for a few weeks to care for her sick aunt, the toddler loved to take her father a little cup of tea, which was just water really, while he was engrossed watching the news on TV. He sipped each "cup of tea" he was brought and lavished generous praise on the taste, leaving the little girl immensely proud.
Eventually the mother returned home and the father couldn't wait to show her how his little princess had been looking after him. On cue, the girl took him his "cup of tea" and he sipped it before praising it to the heavens.
The mother watched him drink it and said: "Did it ever occur to you that the only place she can reach to get water is the toilet?"
#joke
Listen To Your Lawyer
Taylor was desperate for business, and was happy to be appointed by the court to defend an indigent defendant. The judge ordered Taylor,"You are to confer with the defendant in the hallway, and give him the best legal advice you can."
After a time, Taylor re-entered the courtroom alone. When the judge asked where the defendant had gone, Taylor replied, "You asked me to give him good advice. I found out that he was so guilty, so I told him to split."
Business One-liners 75
In every work of genius we recognize our rejected thoughts.
In order to get a loan, you must first prove you don't need it.
In spite of all evidence to the contrary, the entire universe is composed of only two basic substances: magic and lies.
In the fight between you and the world, back the world.
Incompetence is a double-edged banana.
Influence is like a savings account. The less you use it, the more you've got. - Andrew Young, American politician
Inspiration and perspiration are related by more than rhyme.
Intelligence is a tool to be used towards a goal, and goals are not always chosen intelligently. - Larry Niven 'Protector'
Interchangable parts won't.
Incompetence knows no barriers of time or place.
It may be that your whole purpose in life is simply to serve as a warning to others.
#joke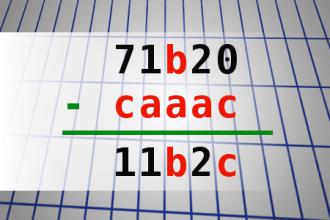 Find number abc
If 71b20 - caaac = 11b2c find number abc. Multiple solutions may exist.
Two golfing friends were about...
Two golfing friends were about to tee off, when one fellow noticed that his partner had but one golf ball.
"Don't you have at least one other ball?", he asked.
"Nope, I only need one ball."
"Are you sure? What happens if you lose that one?"
"This is a very special golf ball. You can't lose it, so I don't need another one."
"What do you mean you can't lose it! What happens if you slice your shot and the ball goes in the lake?"
"That's okay, this special golf ball senses when it's under water and it puts out a steam of bubbles. I'll be able to retrieve it. You can't lose this ball"
"Well what happens if you hit it into the long rough?"
"No problem, you see, this ball can detect the long grass and it sends up puffs of fluorescent smoke. I'll be able to see it easily. You can't lose this ball"
Exasperated, the friend asks, "Okay. Let's say our game goes late, the sun goes down, and you hit your ball deep into the trees and it gets lost among the bushes and shrubs?. What are you going to do then?"
"That's okay too. You see, this special ball can sense the darkness and it makes a beeping sound. I'll be able to get it back - no problem."
Finally satisfied that he needs only the one amazing golf ball, the friend asks, "Hey, where did you get a golf ball like that anyway?"
"I found it."
#joke
Spelling...
A kindergartner was practicing spelling with magnetic letters on the refrigerator: cat, dog, dad, and mom had been proudly displayed for all to see.
One morning while getting ready for the day, he bounded into the room with his arms outstretched. In his hands were three magnetic letters: G-O-D.
"Look what I spelled, Mom!" with a proud smile on his face.
"That's wonderful!" his mom praised him. "Now go put them on the fridge so Dad can see when he gets home tonight."
The mom happily thought that her son's Catholic education was certainly having an impact.
Just then, a little voice called from the kitchen: "Mom? How do you spell 'zilla'?"
#joke
Got Nuts?
A girl walks into a grocery store and asks the stock boy if he has any nuts.
The guy says, "No, ma'am."
She says, "Well, do you have any dates?"
And he says, "Ma'am, if I don't have nuts, do you really expect me to have dates?"
Blonde Bet
Bob, a handsome dude, walked into a sports bar around 9:58 PM
He sat down next to a blonde at the bar and stared up at the TV.
The 10:00 PM news was coming on. The news crew was covering a story of a man on a ledge of a large building preparing to jump.
The blonde looked at Bob and said, 'Do you think he'll jump?' Bob says, 'You know, I bet he'll jump.'
The blonde replied, 'Well, I bet he won't.' Bob placed a $20 bill on the bar and said, 'You're on!'
Just as the blonde placed her money on the bar, the guy on the ledge did a swan dive off the building, falling to his death.
The blonde was very upset, but willingly handed her $20 to Bob, saying, 'Fair's fair. Here's your money.'
Bob replied, 'I can't take your money, I saw this earlier on the 6 PM news and so I knew he would jump.'
The blonde replied, 'I saw it too; but I didn't think he'd do it again.'
Bob took the money......
A visit with Grandpa
A man goes to visit his 85-year-old grandpa in the hospital.
"How are you grandpa?" he asks.
"Feeling fine," says the old man.
"What's the food like?"
"Terrific, wonderful menus."
"And the nursing?"
"Just couldn't be better. These young nurses really take care of you."
"What about sleeping? Do you sleep okay?"
"No problem at all --- nine hours solid every night. At 10 o'clock they bring me a cup of hot chocolate and a Viagra tablet, and that's it. I go out like a light."
The grandson is puzzled and a little alarmed by this, so he rushes off to question the Nurse in charge. "What are you people doing?" he asks. "I'm told you're giving an 85-year-old Viagra on a daily basis. Surely that can't be true?"
"Oh, yes," replies the nurse. "Every night at 10 o'clock we give him a cup of chocolate and a Viagra tablet. It works wonderfully well. The chocolate makes him sleep, and the Viagra stops him from rolling out of bed."
#joke
Manners
A Christian farmer spent the day in the city.
In a restaurant for his noon meal, he sat near a group of young men.
After he bowed his head to give thanks for his food, one of the young men thought he would embarrass the old gentleman. "Hey, farmer, does everyone do that out where you live?"
The old man calmly replied, "No, son, the pigs don't!"
Submitted by Curtis
Edited by Calamjo
#joke
Mike Lawrence: Child of Divorce
I really hate the way I found out about my parents divorce. What happened was, my mom took me out for ice cream, and she sat me down, she said, Michael, Im leaving your father, Im going off to marry another man, and Im pregnant. And that was really messed up, cause that should have been three different trips to get ice cream.
#joke