An elderly couple were watchin
An elderly couple were watching a Discovery Channel special about a West African bush tribe whose men all had penises 24 inches long.
When the black male reaches a certain age, a string is tied around his penis and on the other end is a weight. After a while, the weight stretches the penis to 24 inches.
Later that evening as the husband was getting out of the shower, his wife looked at him and said, "How about we try the African string-and-weight procedure?"
The husband agreed and they tied a string and a weight to his penis.
A few days later, the wife asked the husband, "How is our little tribal experiment coming along?"
"Well, it looks like we're about half way there," he replied.
"Wow, you mean it's grown to 12 inches?"
"No, it's turned black."
#joke
How Did the Hackers Escape
"Hey officer, how did the hackers escape?"
"No idea, they just ransomware!"
Describe Professions
What does your profession say about you?
1. MARKETING - You are ambitious yet stupid. You chose a marketing degree to avoid having to study in college, concentrating instead on drinking and socializing which is pretty much what your job responsibilities are now. Least compatible with Sales.
2. SALES - Laziest of all signs, often referred to as "marketing without a degree." You are also self-centered and paranoid. Unless someone calls you and begs you to take their money, you like to avoid contact with customers so you can "concentrate on the big picture." You seek admiration for your golf game throughout your life.
3. TECHNOLOGY - Unable to control anything in your personal life, you are instead content to completely control everything that happens at your workplace. Often even YOU don't understand what you are saying but who the hell can tell. It is written that Geeks shall inherit the Earth.
4. ENGINEERING - One of only two signs that actually studied in school. It is said that ninety percent of all Personal Ads are placed by engineers. You can be happy with yourself; your office is full of all the latest "ergo dynamic" gadgets. However, we all know what is really causing your "carpal tunnel syndrome."
5. ACCOUNTING - The only other sign that studied in school. You are mostly immune from office politics. You are the most feared person in the organization; combined with your extreme organizational traits, the majority of rumors concerning you say that you are completely insane.
6. HUMAN RESOURCES - Ironically, given your access to confidential information, you tend to be the biggest gossip within the organization. Possibly the only other person that does less work than marketing, you are unable to return any calls today because you have to get a haircut, have lunch AND then mail a letter.
7. MANAGEMENT/MIDDLE MANAGEMENT - Catty, cut-throat, yet completely spineless, you are destined to remain at your current job for the rest of your life. Unable to make a single decision you tend to measure your worth by the number of meetings you can schedule for yourself. Best suited to marry other "Middle Managers" as everyone in you social circle is a "Middle Manager."
8. SENIOR MANAGEMENT - (See above - Same sign, different title)
9. CUSTOMER SERVICE - Bright, cheery, positive, you are a fifty-cent cab ride from taking your own life. As children very few of you asked your parents for a little cubicle for your room and a headset so you could pretend to play "Customer Service." Continually passed over for promotions, your best bet is to sleep with your manager.
10. CONSULTANT - Lacking any specific knowledge, you use acronyms to avoid revealing your utter lack of experience. You have convinced yourself that your "skills" are in demand and that you could get a higher paying job with any other organization in a heartbeat. You will spend an eternity contemplating these career opportunities without ever taking direct action.
11. RECRUITER, "HEADHUNTER" - As a "person" that profits from the success of others, you are disdained by most people who actually work for a living. Paid on commission and susceptible to alcoholism, your ulcers and frequent heart attacks correspond directly with fluctuations in the stock market.
12. PARTNER, PRESIDENT, CEO - You are brilliant or lucky. Your inability to figure out complex systems such as the fax machine suggest the latter.
13. GOVERNMENT WORKER - Paid to take days off. Government workers are genius inventors, like the invention of new Holidays. They usually suffer from deep depression or anxiety and usually commit serious crimes while on the job... Thus the term "GO POSTAL"
#joke
Frank Caliendo on Letterman
The first carpenter
"The first carpenter to sail around the world took his screw with him."
BETTER THAN EATING THE EVIDENCE
Morris is at work one day when he notices that his co-worker, Joe, is wearing an earring. This man knows his co-worker to be a normally conservative fellow, and is curious about his sudden change in "fashion sense."
"Hey Joe, he yells out - I didn't know you were into earrings."
"Don't make such a big deal out of it,...it's only an earring." Says Joe sheepishly.
"No really," probes Morris, "How long have you been wearing one?"
"Ever since my wife found it in our bed."
#joke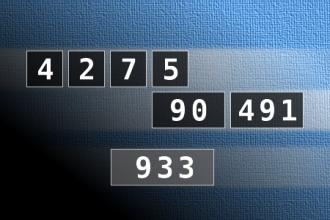 Calculate the number 933
NUMBERMANIA: Calculate the number 933 using numbers [4, 2, 7, 5, 90, 491] and basic arithmetic operations (+, -, *, /). Each of the numbers can be used only once.
A cowboy named Bud was oversee
A cowboy named Bud was overseeing his herd in a remote mountainous pasture in California when suddenly a brand-new BMW advanced toward him out of a cloud of dust.
The driver, a young man in a Brioni suit, Gucci shoes, RayBan sunglasses and YSL tie, leaned out the window and asked the cowboy, "If I tell you exactly how many cows and calves you have in your herd, Will you give me a calf?"
Bud looks at the man, obviously a yuppie, then looks at his peacefully grazing herd and calmly answers, "Sure, Why not?"
The yuppie parks his car, whips out his Dell notebook computer, connects it to his Cingular RAZR V3 cell phone, and surfs to a NASA page on the Internet, where he calls up a GPS satellite to get an exact fix on his location which he then feeds to another NASA satellite that scans the area in an ultra-high-resolution photo.
The young man then opens the digital photo in Adobe Photoshop and exports it to an image processing facility in Hamburg , Germany.
Within seconds, he receives an email on his Palm Pilot that the image has been processed and the data stored. He then accesses an MS-SQL database through an ODBC connected Excel spreadsheet with email on his Blackberry and, after a few minutes, receives a response.
Finally, he prints out a full-color, 150-page report on his hi-tech, miniaturized HP LaserJet printer, turns to the cowboy and says, "You have exactly 1,586 cows and calves."
"That's right. Well, I guess you can take one of my calves," says Bud.
He watches the young man select one of the animals and looks on with amusement as the young man stuffs it into the trunk of his car.
Then Bud says to the young man, "Hey, if I can tell you exactly what your business is, will you give me back my calf?"
The young man thinks about it for a second and then says, "Okay, why not?"
"You're a Congressman for the U.S. Government", says Bud.
"Wow! That's correct," says the yuppie, "but how did you guess that?"
"No guessing required." answered the cowboy. "You showed up here even though nobody called you. You want to get paid for an answer I already knew, to a question I never asked. You used millions of dollars worth of equipment trying to show me how much smarter than me you are, and you don't know a thing about how working people make a living, or about cows for that matter. This is a herd of sheep.
Now give me back my dog.
#joke
A blonde, a brunette, and a re...
A blonde, a brunette, and a redhead all work at the same office for a female boss who always goes home early. "Hey girls," says the brunette, "Let's go home early tomorrow. She'll never know." The next day, they all leave right after the boss does. The brunette gets some extra gardening done, the redhead goes to a bar, and the blonde goes home to find her husband having sex with the female boss! She quietly sneaks out of the house and returns at her normal time. "That was fun," says the brunette. "We should do it again sometime." "No way," says the blonde. "I almost got caught!"
The chief export of Chuck Norr...
The chief export of Chuck Norris is pain.
Pukeing drunk
Two notorious drunks are sitting at the bar. One is crying. The other asks what's wrong.
"I've puked all over myself again and my wife is gonna kill me."
The other drunk says "do what I do pal. Explain to your wife that some other drunk puked on you. Put a ten spot in your shirt pocket and tell her that the drunk was sorry and gave you ten dollars to have your clothes cleaned."
"Sounds like a great idea" says drunk number 1.
When he gets home, sure enough his wife is fuming and begins yelling at him about his clothes and how disgusting he is. The drunk starts spinning the lie and says " look for yourself, there's ten bucks in my shirt pocket."
His wife looks in the pocket and finds twenty dollars.
"Wait a minute, I thought you said the guy gave you ten for puking on you," says the wife.
"He did," says the drunk.
"But he shit in my pants too."
#joke
A psychiatrist was conducting ...
A psychiatrist was conducting a group therapy session with four young mothers and their small children.
"You all have obsessions," he observed.
To the first mother, he said, "You are obsessed with eating. You've even named your daughter Candy."
He turned to the second Mom. "Your obsession is with money. Again, it manifests itself in your child's name, Penny."
He turns to the third Mom. "Your obsession is alcohol. This too manifests itself in your child's name, Brandy."
At this point, the fourth mother gets up, takes her little boy by the hand and whispers, "Come on, Dick, we're leaving."
#joke