A Texas business man, while in
A Texas business man, while in Japan for some business meetings and a few rounds of golf, arrived in Tokyo a day earlier than expected.
Feeling lonely that evening, he employed the services of a beautiful young Japanese girl to be his companion for evening.
Although the Japanese girl spoke very little English and the businessman spoke no Japanese, their passion roared and in the heat of the moment she began yelling "Gama Su! Gama Su!"
Hearing this, the Texan knew he had pleased his female Japanese friend and soon afterwards went to sleep.
The next day while playing golf with his Japanese business colleagues, one of his Japanese partners holed his shot from 170 yards away!. Everyone went crazy and began yelling excitedly in Japanese. Wanting to impress his friends, the Texan joined in and began yelling, "Gama Su! Gama Su!"
Suddenly everyone became quiet...
After a moment of silence, one of the Japanese turned to him and asked, "Wrong hole? What you mean wrong hole?"
#joke
Wrong Excuse
"Armstrong," the boss said, "I happen to know that the reason you didn't come to work yesterday was that you were out playing golf."
"That's a rotten lie!" Armstrong protested. "And I have the fish to prove it!"
TRADE WAR OVER -TRUMP'S BIGGEST DEAL SINCE TAKING THE PRESIDENCY
Trump ends US-China trade war; swaps Hong Kong for California in an unprecedented deal
Washington DC—After months of growing trade Tensions between the US and China leading to an impending global recession, along with mounting strife in China's Hong Kong province prompting dissidents to wave American flags, US President Donald Trump has negotiated quite possibly the biggest deal of his life.
The US will trade the entire state of California for Hong Kong in a flat exchange.
"Basically everyone in California wants to be Commies and Hong Kong wants to be American, so we did what we call a win-win-win and traded the two in a tremendous deal," Trump said in a press conference announcing the unprecedented deal.
Markets responded with a complete turnaround from recent declines and posted record numbers.
Californians and Hong Kongers were dancing in their respective streets.
Californians are happy about the 1-child-only policy and being run by the Communist Party finally!
—And Hong Kong is happy about being part of the free world once again.
'THE ART OF THE DEAL' AT ITS' FINEST
#joke
Faith in the future
"The mad scientist's faith in the future of autonomous cyber-canines was dogmatic."
Knock Knock Collection 199
Knock Knock
Who's there?
Yoga!
Yoga who?
Yoga what it takes!
Knock Knock
Who's there?
Yogi bear!
Yogi bear who?
Yogi bear and you'll get arrested!
Knock Knock
Who's there?
Yolanda!
Yolanda who?
Yolanda me some money!
Knock Knock
Who's there?
You!
You who?
Did you call?
Knock Knock
Who's there?
Yucatan!
Yucatan who?
Yucatan fool some people all of the time...!
#joke
A golf challenge
A young man, who was also an avid golfer, found himself with a few hours to spare one afternoon. He figured if he hurried and played very fast, he could get in 9 holes before he had to head home. Just as he was about to tee off, an old gentleman shuffled onto the tee and asked if he could accompany the young man as he was golfing alone. Not being able to say no, he allowed the old man to join him.
To his surprise, the old man played fairly quickly. He didn't hit the ball far, but plodded along consistently and didn't waste much time.
Finally, they reached the 9th fairway and the young man found himself with a tough shot. There was a large pine tree right in front of his ball and directly between his ball and the green.
After several minutes of debating how to hit the shot, the old man finally said, "You know, when I was your age, I'd hit the ball right over that tree."
With that challenge placed before him, the youngster swung hard, hit the ball up, right smack into the top of the tree trunk and it thudded back on the ground not a foot from where it had originally lay.
The old man offered one more comment, "Of course, when I was your age, that pine tree was only 3 feet tall."
#joke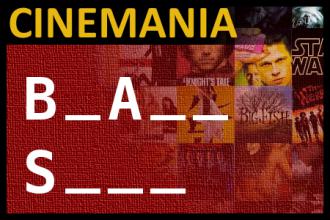 CINEMANIA: Guess the movie title
A ballet dancer wins the lead in "Swan Lake" and is perfect for the role of the delicate White Swan - Princess Odette - but slowly loses her mind as she becomes more and more like Odile, the ******. Film was made in 2010.
Top Ten Signs Your Girlfriend is Going to Dump You
10. Your visa card and your belt both hit their limit.
9. She's been wearing an engagement ring for three weeks, but you don't recall proposing to her.
8. She just started a college course that meets seven nights a week.
7. She says she has to tell you something... on Jerry Springer.
6. Her love letters come soaked in formaldehyde rather than perfume.
5. Whenever she introduces you it's always "I would like you to meet an old friend of mine..."
4. She leaves a message on your phone and identifies herself by both her first and last names.
3. Your other girlfriend told you so.
2. The dartboard behind your photo on her wall.
1. Her girlfriends look at you, tilt their heads, and say, "You haven't got a clue, do you?"
#joke
Viagra/Gore
What's the difference between Viagra and Al Gore.....Viagra
really works !
Weeping Willows are a result o...
Weeping Willows are a result of Chuck Norris yelling at trees for not being tough enough.
Ponderings Collection 34
Whose cruel idea was it for the word "lisp" to have an "s" in it?
Since light travels faster than sound, isn't that why some people appear bright until you hear them speak?
How come abbreviated is such a long word?
If it's zero degrees outside today and it's supposed to be twice as cold tomorrow, how cold is it going to be?
Since Americans throw rice at weddings, do Asians throw hamburgers?
Why are they called apartments, when they're all stuck together?
Why do banks charge you a "non-sufficient funds fee" on money they already know you don't have?
If a tree falls in the forest and no one is around to see it, do the other trees make fun of it?
When two airplanes almost collide why do they call it a near miss?? It sounds like a near hit to me!!
Do fish get cramps after eating?
#joke
True or false?
A little kid's in school, taking a true-false test and he's flipping a coin. At the end of the test he's flipping the coin again. The teacher says, "What are you doing?" He says, "Checking my answers."
Patton Oswalt: Obituary Fear
My other big obituary fear is, when I die, theyll have my picture, and they always have underneath it, in quotes, He loved to laugh. Oh, he loved to laugh. Well, that doesnt tell you anything. Everybody loves to laugh -- youre laughing! Thats like saying, He hungered for food.