One Liners
B
One Liners
Before the 60s, most teenagers used self-control.
Money talks, but credit has an echo.
Practice courtesy. You never know when it might become popular again.
One man's wage rise is another man's price increase.
The most enjoyable form of sex education is the Braille method.
What a wonderful life I've had! I only wish I'd realized it sooner.
The reward of a thing well done, is to have done it.
When you're at school, you wish you were old enough to work.
Night falls ... but ... Day breaks.
If you think you have it tough, read history books.
It's a new year, do you know where your credit cards are?
I try to lose weight, but it keeps finding me.
You have a lifetime to work, but children are only young once.
A hundred men may make an encampment, but it takes a woman to make a home.
A healthy male adult bore, consumes each year, one and a half times his weight, in other people's patience.
Whenever buying a gift for a couple celebrating their 60th anniversary, buy them something they will use right away.
I told my teenage son to enjoy this part of his life, that he would never again feel so secure in his ignorance.
I know that you're nobody's fool, but maybe someone will adopt you.
#joke #newyear
A husband and wife were having
A husband and wife were having dinner at a very fine restaurant when this absolutely stunning young woman comes over to their table, gives the husband a big open mouthed kiss, then says she'll see him later and walks away. The wife glares at her husband and says, "Who the hell was that?"
"Oh," replies the husband, "she's my mistress."
"Well, that's the last straw," says the wife. "I've had enough, I want a divorce!"
"I can understand that," replies her husband, "but remember, if we get a divorce it will mean no more shopping tripsto Paris , no more wintering in Barbados , no more summers in Tuscany , no more Infinitior Lexus in the garageand no more yacht club. But the decision is yours." Just then, a mutual friend enters the restaurant with a gorgeous babe on his arm.
"Who's that woman with Jim?" asks the wife.
"That's his mistress," says her husband.
"Ours is prettier," she replies.
#joke
Steven Wright 08
Today I dialed a wrong number... The other person said, "Hello?" And I said, "Hello, could I speak to Joey?"... They said, "Uh... I don't think so... he's only 2 months old." I said, "I'll wait."
I got up one morning and couldn't find my socks, so I called Information. She said, "Hello, Information." I said, "I can't find my socks." She said, "They're behind the couch." And they were!
Last week I bought a new phone. I took it out of the box, hooked it up to the wall... Pressed redial. The phone had a nervous breakdown.
I got an answering machine for my phone. Now when I'm not home and somebody calls me up, they hear a recording of a busy signal. I like to leave messages before the beep.
I don't like the sound of my phone ringing so I put my phone inside my fish tank. I can't hear it, but every time I get a call I see the fish go like this [[[]]][[]][[[[. I go down to the pet store -- "Gimme another ten guppies, I got a lotta calls yesterday."
I bought a self-learning record to learn Spanish. I turned it on and went to sleep; the record got stuck. The next day I could only stutter in Spanish.
I was going to tape some records onto a cassette, but I got the wires backwards. I erased all of the records. When I returned them to my friend, he said, "Hey, these records are all blank."
I got tired of calling the movies to listen to what is playing so I bought the album.
I was reading the dictionary. I thought it was a poem about everything.
#joke
Unemployment Office
Working at the unemployment office has to be a tense job...
For if you get fired, you still have to come in the next day.
The loan
Before going to Europe on business, a man drove his Rolls-Royce to a downtown New York City bank and went in to ask for an immediate loan of $5,000.
The bank officer says the bank will need some kind of security for such a loan. So the businessman hands over the keys to a Rolls-Royce parked on the street in front of the bank. Everything checks out, and the bank agrees to accept the car as collateral for the loan. An employee drives the Rolls into the bank's underground garage and parks it there.
Two weeks later, the businessman returns, repays the $5,000 and the interest, which comes to $15.40. The loan officer says, "We are very happy to have had your business, and this transaction has worked out very nicely, but we are a little puzzled. While you were away, we checked you out and found that you are a multimillionaire. What puzzles us is: why would you bother to borrow $5,000?"
The man smiled. "Where else could I park my Rolls-Royce in Manhattan for two weeks and pay only $15.40?"
#joke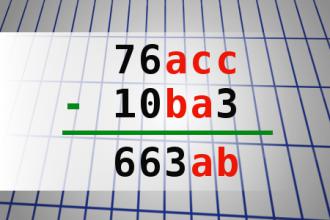 Find number abc
If 76acc - 10ba3 = 663ab find number abc. Multiple solutions may exist.
A dentist was getting ready to...
A dentist was getting ready to clean an elderly lady's teeth. He noticed that she was a little nervous, so he began to tell her a story as he was putting on his surgical gloves...
"Do you know how they make these rubber gloves?" She said, "No?"
"Well", he spoofed, "down in Mexico they have this big building set up with a large tank of latex, and the workers are all picked according to hand size. Each individual walks up to the tank, dips their hands in, and then walk around for a bit while the latex sets up and dries right onto their hands! Then they peel off the gloves and throw them into the big 'Finished Goods Crate' and start the process all over again."
And she didn't laugh a bit!!! Five minutes later, during the procedure, he had to stop cleaning her teeth because she burst out laughing.
The old woman blushed and exclaimed, "I just suddenly thought about how they must make condoms!"
#joke
Your honour, I am 75 years old
Your honour, I am 75 years old. So here I am, sitting there on my porch on a warm spring evening, when a young man comes creeping up on the porch and sits beside me. He starts to rub my thigh, and it feels good, Your Honour. So I don't stop him, and he begins to rub my old breasts, Your Honour. Why, Your Honour, I haven't felt that good in years! So I just spread my old legs and say to him, "Take me, young man, Take me!"
That's when he yelled, "April Fool" and that's when I shot the F**king Son of a B**ch!!
Marriage - a childs perspective
HOW DO YOU DECIDE WHO TO MARRY? (written by kids)
You got to find somebody who likes the same stuff. Like, if you like sports, she should like it that you like sports, and she should keep the chips and dip coming. -- Alan, age 10
No person really decides before they grow up who they're going to marry. God decides it all way before, and you get to find out later who you're stuck with. -- Kristen, age 10
WHAT IS THE RIGHT AGE TO GET MARRIED? Twenty-three is the best age because you know the person FOREVER by then. -- Camille, age 10
HOW CAN A STRANGER TELL IF TWO PEOPLE ARE MARRIED? You might have to guess, based on whether they seem to be yelling at the same kids. -- Derrick, age 8
WHAT DO YOU THINK YOUR MOM AND DAD HAVE IN COMMON? Both don't want any more kids. -- Lori, age 8
WHAT DO MOST PEOPLE DO ON A DATE? Dates are for having fun, and people should use them to get to know each other. Even boys have something to say if you listen long enough. -- Lynnette, age 8 (isn't she a treasure)
On the first date, they just tell each other lies and that usually gets them interested enough to go for a second date. -- Martin, age 10
WHAT WOULD YOU DO ON A FIRST DATE THAT WAS TURNING SOUR? I'd run home and play dead. The next day I would call all the newspapers and make sure they wrote about me in all the dead columns. -- Craig, age 9
WHEN IS IT OKAY TO KISS SOMEONE? When they're rich. -- Pam, age 7
The law says you have to be eighteen, so I wouldn't want to mess with that. - - Curt, age 7
The rule goes like this: If you kiss someone, then you should marry them and have kids with them. It's the right thing to do. -- Howard, age 8
IS IT BETTER TO BE SINGLE OR MARRIED? It's better for girls to be single but not for boys. Boys need someone to clean up after them. -- Anita, age 9 (bless you child)
HOW WOULD THE WORLD BE DIFFERENT IF PEOPLE DIDN'T GET MARRIED? There sure would be a lot of kids to explain, wouldn't there? -- Kelvin, age 8
And the #1 Favorite is........ HOW WOULD YOU MAKE A MARRIAGE WORK? Tell your wife that she looks pre tty, even if she looks like a dump truck. -- Ricky, age 10
#joke
Stopped By The Police
John and Jessica were on their way home from the bar one night and John got pulled over by the police. The officer told John that he was stopped because his tail light was burned out. John said, "I'm very sorry officer, I didn't realize it was out, I'll get it fixed right away."
Just then Jessica said, "I knew this would happen when I told you two days ago to get that light fixed."
So the officer asked for John's license and after looking at it said, "Sir your license has expired."
And again John apologized and mentioned that he didn't realize that it had expired and would take care of it first thing in the morning.
Jessica said, "I told you a week ago that the state sent you a letter telling you that your license had expired."
Well by this time, John is a bit upset with his wife contradicting him in front of the officer, and he said in a rather loud voice, "Jessica, shut your mouth!"
The officer then leaned over toward Jessica and asked. "Does your husband always talk to you like that?"
Jessica replied, "only when he's drunk."
#joke
Why parents go grey
The boss of a big company needed to call one of his employees about an urgent problem with one of the main computers. He dialed the employees home phone number and was greeted with a child's whispered, "Hello?"
Feeling put out at the inconvenience of having to talk to a youngster the boss asked, "Is your Daddy home?"
"Yes", whispered the small voice.
"May I talk with him?" the man asked. To the surprise of the boss, the small voice whispered, "No."
Wanting to talk with an adult, the boss asked, "Is your Mommy there?"
"Yes", came the answer.
"May I talk with her?" Again the small voice whispered, "no".
Knowing that it was not likely that a young child would be left home alone, the boss decided he would just leave a message with the person who should be there watching over the child. "Is there any one there besides you?" the boss asked the child.
"Yes" whispered the child, "A policeman".
Wondering what a cop would be doing at his employee's home, the boss asked, "May I speak with the policeman"?
"No, he's busy", whispered the child.
"Busy doing what?, asked the boss.
"Talking to Daddy and Mommy and the Fireman", came the whispered answer.
Growing concerned and even worried as he heard what sounded like a helicopter through the ear piece on the phone the boss asked, "What is that noise?"
"A hello-copper", answered the whispering voice. "What is going on there?", asked the boss, now alarmed. In an awed whispering voice the child answered, "The search team just landed the hello-copper"
Alarmed, concerned and more than just a little frustrated the boss asked, "Why are they there"?
Still whispering, the young voice replied along with a muffled giggle:
"They're looking for me"