How Much Money Do You Have?
Teacher: Suppose you have $10 and you asked your brother for $5. How much would you have then?
Student: $10.
Teacher: Why?
Student: My brother won't give me any money.
The new employee stood before
The new employee stood before the paper shredder looking confused.
"Need some help?" a secretary asked.
"Yes," he replied. "How does this thing work?"
"Simple," she said, taking the fat report from his hand and feeding it into the shredder.
"Thanks, but where do the copies come out?"
#joke
Real News Headlines 09
These are actual newspaper headlines gathered from papers across the country.
Bible church's focus is the Bible: Saint Augustine Record, Florida, December 3, 1994
Clinton pledges restraint in use of nuclear weapons: Cedar Rapids Gazette, April 6
Discoveries: Older blacks have edge in longevity: The Chicago Tribune, March 5
Court Rules Boxer Shorts Are Indeed Underwear: Journal of Commerce, April 20
Biting nails can be sign of tenseness in a person: The Daily Gazette of Schenectady, New York, May 2
Lack of brains hinders research: The Columbus Dispatch, April 16
How we feel about ourselves is the core of self-esteem, says author Louise Hart: Boulder, Colorado, Sunday Camera, February 5
Fish lurk in streams: Rochester, New York, Democrat & Chronicle, January 29
Q: How come oysters never
Q: How come oysters never donate to charity?
A: Because they are shellfish.
"Do you really believe your hu
"Do you really believe your husband when he tells you he goes fishing every weekend?" asked June's best friend.
"Why shouldn't I?" said June.
"Well, maybe he is having an affair?"
"No way," said June, "he never returns with any fish..."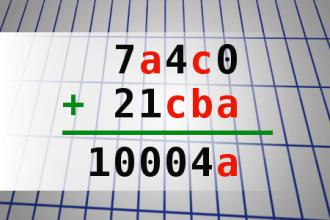 Find number abc
If 7a4c0 + 21cba = 10004a find number abc. Multiple solutions may exist.
The worst death
Three men stand before St. Peter awaiting admission into Heaven. However, St. Peter has been informed that Heaven will only admit 33% of applicants today. The admissions standard: Who died the worst death? So, St. Peter takes each of the three men aside in turn and asks them about how they died.
First man: "I'd been suspecting for a long time that my wife was cheating on me. I decided to come home early from work one afternoon and check to see if I could catch her in the act. When I got back to my apartment, I heard the water running. My wife was in the shower. I looked everywhere for the guy, but couldn't find anyone or any trace that he had been there. The last place I looked was out on the balcony.
I found the guy hanging from the edge, trying to get back in! So I started jumping up and down on his hands, and he yelled, but he didn't fall. So I ran inside and got a hammer, and crushed his fingers with it until he fell twenty-five floors screaming in agony. But the fall didn't kill the jerk. He landed in some bushes! So I dragged the refirgerator from the kitchen (it weighed about a ton), pulled it to the balcony, and hurled it over the edge. It landed right on the guy and killed him. But then I felt so horrible about what I had done, I went back into the bedroom and shot myself."
St. Peter nodded slowly as the man recounted the story. Then, telling the first man to wait, he took the second aside.
Second man: "I lived on the twenty-seventh floor of this apartment building. I had just purchased this book on morning exercises and was practicing them on my balcony, enjoying the sunshine, when I lost my balance and fell off the edge. Luckily, I only fell about two floors before grabbing another balcony and holding on for dear life. I was trying to pull myself up when this guy came running onto what must have been his balcony and started jumping up and down on my hands. I screamed in pain, but he seemed really irate. When he finally stopped, I tried to pull myself up again, but he came out with a hammer and smashed my fingers to a pulp! I fell, and I thought I was dead, but I landed in some bushes. I couldn't believe my second stroke of luck, but it didn't last. The last thing I saw was this enormous refrigerator falling from the building down on top of me and crushing me."
St. Peter comforted the man, who seemed to have several broken bones. Then he told him to wait, and turned to the third man.
Third man: "Picture this. You're hiding, naked, in a refrigerator..."
#joke
A blonde and a lawyer are seat...
A blonde and a lawyer are seated next to each other on a flight from LA to NY. The lawyer asks if she would like to play a fun game?
The blonde, tired, just wants to take a nap, politely declines and rolls over to the window to catch a few winks. The lawyer persists and explains that the game is easy and a lot of fun. He explains, I ask you a question, and if you don't know the answer, you pay me $5.00, and vise versa.
Again, she declines and tries to get some sleep. The lawyer, now agitated, says, "Okay, if you don't know the answer you pay me $5.00, and, if I don't know the answer, I will pay you $500.00."
This catches the blonde's attention and, figuring there will be no end to this torment unless she plays, agrees to the game.
The lawyer asks the first question. "What's the distance from the earth to the moon?" The blonde doesn't say a word, reaches into her purse, pulls out a $5.00 bill and hands it to the lawyer.
Okay says the lawyer, your turn. She asks the lawyer, "What goes up a hill with three legs and comes down with four legs?" The lawyer, puzzled, takes out his laptop computer and searches all his references, no answer. He taps into the air phone with his modem and searches the net and the library of congress, no answer. Frustrated, he sends e-mails to all his friends and coworkers, to no avail.
After an hour, he wakes the blonde, and hands her $500.00. The blonde says, "Thank you," and turns back to get some more sleep.
The lawyer, who is more than a little miffed, wakes the blonde and asks, "Well, what's the answer? "Without a word, the blonde reaches into her purse, hands the lawyer $5.00, and goes back to sleep.
Filming on location for Walker...
Filming on location for Walker: Texas Ranger, Chuck Norris brought a stillborn baby lamb back to life by giving it a prolonged beard rub. Shortly after the farm animal sprang back to life and a crowd had gathered, Chuck Norris roundhouse kicked the animal, breaking its neck, to remind the crew once more that Chuck giveth, and the good Chuck, he taketh away.
Not me!
A merchant captain and several of his officers were returning to the ship after a large evening ashore.
As they climbed the gangway the captain threw up all over himself.
Pointing to an apprentice seaman above him he shouted, "Give that man five days in the brig for vomiting!"
The following morning the captain was checking the log and saw that the young seaman had been sentenced to ten days and asked the chief mate why.
"Well Sir, when we got you undressed we found that he?d also shit in your pants."
Submitted by Curtis
Edited by Glaci
#joke
Barmen
Our lager,
Which art in barrels,
Hallowed be thy drink,
Thy will be drunk (I will be drunk),
At home as it is in the pub.
Give us this day our foamy head,
And forgive us our spillages,
As we will forgive those who spill against us.
And lead us not to incarceration,
But deliver us from hangovers.
For thine is the beer, the bitter and the lager.
For ever and ever.
Barmen.