Alex, a widower, went to a sen
Alex, a widower, went to a senior citizen's dance. There he met Ruth, a woman also advanced in years. Alex and Ruth danced every dance together.
Afterward, they went out for coffee. As they walked home, Ruth said, "You remind me of my fourth husband."
Alex said, "Really? How many times have you been married?"
Ruth said, "Three."
#joke
Application & Rules for Dating my Daughter – Published Annually on her Birthday
Application For Permission To Date My Daughter.
=======================================
NOTE: This application will be incomplete and rejected unless accompanied by a complete financial statement, job history, lineage, and current medical report from your doctor.
NAME: ___________________________________ DATE OF BIRTH: ____________
HEIGHT: _______________ WEIGHT: __________________ IQ: _______________
INCOME TAX NUMBER: ________________ DRIVERS LICENSE: _______________
BOY SCOUT RANK AND BADGES: ________________________________________
HOME ADDRESS: ____________________ CITY: ___________ POSTCODE: _____
Do you have parents? Yes ___No_____
Is one male and the other female Yes ___No_____
If No, explain: _______________________________________________________
Number of years they have been married: ________________________________
If less than your age, explain: ___________________________________________
ACCESSORIES SECTION:
A. Do you own or have access to a van? Yes __No__
B. A truck with oversized tyres? Yes __No__
C. A waterbed? Yes __No__
D. A vehicle with a mattress in the back? Yes __No__
E. A tattoo? Yes __No__
F. Do you have an earring, nose ring,
pierced tongue, pierced cheek or a belly
button ring? Yes __No__
(IF YOU ANSWERED 'YES' TO ANY OF THE ABOVE, DISCONTINUE APPLICATION AND LEAVE PREMISES IMMEDIATELY. I SUGGEST RUNNING
ESSAY SECTION:
In 50 words or less, what does 'LATE' mean to you?
In 50 words or less, what does 'DON'T TOUCH MY DAUGHTER' mean to you?
In 50 words or less, what does 'ABSTINENCE' mean to you? ________________
REFERENCES SECTION:
Church you attend: __________________________________________________
How often you attend: ________________________________________________
When would be the best time to interview your:
Father? _______________________
Mother? ______________________
Priest or Pastor? _______________
SHORT-ANSWER SECTION:
Answer by filling in the blank. Please answer freely all answers are confidential.
A: If I were shot, the last place I would want shot would be: _________________
B: If I were beaten, the last bone I would want broken is my: ________________
C: A woman's place is in the: ___________________________________________
D: The one thing I hope this application does not ask me about is: ______________
E. What do you want to be IF you grow up? ________________________________
F: When I meet a girl, the thing I always notice about her first is: _____________
G: What is the current going rate of a hotel room? _________________________
I SWEAR THAT ALL INFORMATION SUPPLIED ABOVE IS TRUE AND CORRECT TO THE BEST OF MY KNOWLEDGE UNDER PENALTY OF DEATH, DISMEMBERMENT, INDIGENOUS AUSTRALIAN BULL ANT TORTURE, CRUCIFIXION, ELECTROCUTION, CHINESE WATER TORTURE and RED HOT POKERS.
___________________________________________________________________
Applicant's Signature (that means sign your name, moron!)
_______________________________ ____________________________
Mother's Signature Father's Signature
Pastor/Priest/Rabbi State or Federal Government Representative
_______________________________ (Their stamp goes here)
Notary Public
Thank you for your interest, and it had better be genuine and non-sexual.
Please allow four to six years for processing.
You will be contacted in writing if you are approved. Please do not try to call or write. If your application is rejected, you will be notified by two gentleman wearing white ties carrying violin cases. (You might watch your back)
To prepare yourself, start studying Daddy's Rules for Dating.
Daddy's Rules for Dating
Your dad's rules for your boyfriend (or for you if you're a guy):
Rule One: If you pull into my driveway and beep you'd better be delivering a package, because you're sure not picking anything up.
Rule Two: You do not touch my daughter in front of me. You may glance at her so long as you do not peer at anything below her neck. If you cannot keep your eyes or hands off of my daughter's body, I will remove them.
Rule Three: I am aware that it is considered fashionable for boys of your age to wear their trousers so loosely that they appear to be falling off their hips. Please don't take this as an insult, but you and all of your friends are complete idiots. Still, I want to be fair and open minded about this issue, so I propose this compromise: You may come to the door with your underwear showing and your pants ten sizes too big, and I will not object. However, in order to ensure that your clothes do not, in fact come off during the course of your date with my daughter, I will take my electric nail gun and fasten your trousers securely in place to your waist.
Rule Four: I'm sure you've been told that in today's world sex without utilizing a 'Barrier method' of some kind can kill you. Let me elaborate, when it comes to sex, I am the barrier, and I will kill you.
Rule Five: It is usually understood that in order for us to get to know each other, we should talk about sports, politics, and other issues of the day. Please do not do this. The only information I require from you is an indication of when you expect to have my daughter safely back at my house, and the only word I need from you on this subject is: 'early.'
Rule Six: I have no doubt you are a popular fellow, with many opportunities to date other girls. This is fine with me as long as it is okay with my daughter. Otherwise, once you have gone out with my little girl, you will continue to date no one but her until she is finished with you. If you make her cry, I will make you cry.
Rule Seven: As you stand in my front hallway, waiting for my daughter to appear, and more than an hour goes by, do not sigh and fidget. If you want to be on time for the movie, you should not be dating. My daughter is putting on her makeup, a process than can take longer than painting the Sydney Harbour Bridge. Instead of just standing there, why don't you do something useful, like changing the oil in my car?
Rule Eight: The following places are not appropriate for a date with my daughter: Places where there are beds, sofas, or anything softer than a wooden stool, places where there is darkness, places where there is dancing, holding hands, or happiness. Places where the ambient temperature is warm enough to induce my daughter to wear shorts, tank tops, midriff T-shirts, or anything other than overalls, a sweater, and a goose down parka - zipped up to her throat. Movies with strong romantic or sexual themes are to be avoided; movies that feature chain saws are okay. Cricket games are okay...Old folks homes are better.
Rule Nine: Do not lie to me. I may appear to be a potbellied, balding, middle-aged, dim witted has-been. But on issues relating to my daughter, I am the all-knowing, merciless god of your universe. If I ask you where you are going and with whom, you have one chance to tell me the truth, the whole truth and nothing but the truth. I have a shotgun, a shovel, and five acres behind the house. Do not trifle with me.
Rule Ten: Be afraid. Be very afraid. It takes very little for me to mistake the sound of your car in the driveway for a chopper coming in over a rice paddy near Hanoi. When my Agent Orange starts acting up, the voices in my head frequently tell me to clean the guns as I wait for you to bring my daughter home. As soon as you pull into the driveway you should exit the car with both hands in plain sight. Speak the perimeter password, announce in a clear voice that you have brought my daughter home safely and early then return to your car - there is no need for you to come inside. The camouflaged face at the window is mine.
Helium balloon business
"Helium balloon business reaches new heights after customers speak highly of it."
The Joys of Basic Training
My MTI (Military Training Instructor) once told me that I was outstanding...
I thanked him...
He then said that I was out standing in the sun too long and it affected my brain.
Answering Machine Message 211

As the drugs take hold, you feel you are losing your grip on reality. You begin to hallucinate. You see a telephone... The telephone is next to an answering machine... You hear a faint click and a light flashes on the answering machine... You hear a beep...


A part in the play...
A young lad's father picked him up from school to take him to a dental appointment.
Knowing the parts for the school play were supposed to be posted today, he asked his son if he got a part.
The boy enthusiastically announced that he'd gotten a part. "I play a man who's been married for twenty years."
"That's great, son. Keep up the good work and before you know it they'll be giving you a speaking part."
#joke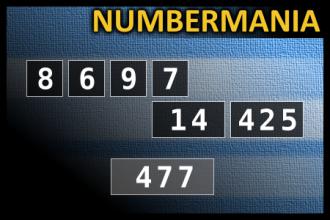 Calculate the number 477
NUMBERMANIA: Calculate the number 477 using numbers [8, 6, 9, 7, 14, 425] and basic arithmetic operations (+, -, *, /). Each of the numbers can be used only once.
A local United Way office real...
A local United Way office realized that the organization had never received a donation from the town's most successful lawyer. The person in charge of contributions called him to persuade him to contribute.
"Our research shows that out of a yearly income of at least $500,000, you give not a penny to charity. Wouldn't you like to give back to the community in some way?"
The lawyer mulled this over for a moment and replied, "First, did your research also show that my mother is dying after a long illness, and has medical bills that are several times her annual income?"
Embarrassed, the United Way rep mumbled, "Um ... no."
The lawyer interrupts, "or that my brother, a disabled veteran, is blind and confined to a wheelchair?"
The stricken United Way rep began to stammer out an apology, but was interrupted again.
"Or that my sister's husband died in a traffic accident," the lawyer's voice rising in indignation, "leaving her penniless with three children?!"
The humiliated United Way rep, completely beaten, said simply, "I had no idea..."
On a roll, the lawyer cut him off once again, "So if I don't give any money to them, why should I give any to you?"
A chicken and an egg are lying...
A chicken and an egg are lying in bed.
The chicken is smoking a cigarette with a satisfied smile on its face.
The egg is frowning and looking a bit pissed off.
The egg mutters, to no one in particular, "Well, I guess we answered THAT question!"
Where is God?
A couple had two little boys who were always getting into trouble. Their parents knew that if any mischief occurred in their village, their sons were probably involved.
The boys' mother heard that an elder in town had been successful in disciplining children, so she asked if he would speak with her sons. The elder agreed, but asked to see them separately.
So, the mother sent her youngest son first, in the morning. The elder, a huge man with a booming voice, sat the boy down and asked him sternly, "Where is God?" The boy's mouth dropped open, but he made no response.So the elder repeated the question in an even sterner tone, "Where is God!!?" Again the wide-eyed boy made no attempt to answer.
The elder raised his voice and bellowed, "WHERE IS GOD!?" The boy screamed and bolted from the room, ran directly home and dove into a closet, slamming the door behind him.
When his older brother found him hiding, he asked, "What happened?"
The younger brother, gasping for breath, replied, "We are in BIG trouble this time. God is missing, and they think WE did it!"
#joke
If you spell Chuck Norris in S...
If you spell Chuck Norris in Scrabble, you win. Forever.
Will you marry me?
There were these two elderly people living in a Florida mobile home park. He was a widower and she a widow. They had known one another for a number of years. Now, one evening there was a community supper in the big activity center. These two were at the same table, across from one another. As the meal went on, he made a few admiring glances at her and finally gathered up his courage to ask her, "Will you marry me?"
After a dramatic pause and precisely six seconds of 'careful consideration,' she answered. "Yes. Yes, I will."
The meal ended and with a few more pleasant exchanges and they went to their respective places.
Next morning, he was troubled. "Did she say 'yes' or did she say 'no'?"
He couldn't remember. Try as he would, he just could not recall. Not even a faint memory. With trepidation, he went to the telephone and called her.
First, he explained to her that he didn't remember as well as he used to. Then he reviewed the lovely evening past. As he gained a little more courage, he then inquired of her, "When I asked if you would marry me, did you say 'Yes' or did you say 'No'?"
He was delighted to hear her say, "Why, I said, 'Yes, yes I will' and I meant it with all my heart."
Then she continued, "And I am so glad that you called, because I couldn't remember who had asked me."
#joke
Whiskey no worms
A man drinks a shot of whiskey every night before bed.
After years of this the wife wants him to quit, so she gets 2 shot glasses, filling 1 with water the other with whiskey.
She gets him to the table with the glasses and has his bait box there too.
She says "I want you to see this." She puts a worm in the water it swims around. She puts a worm in the whiskey and the worm dies.
She says "so what do you have to say about this experiment?"
He says "IF I DRINK WHISKEY I WON'T GET WORMS!"
#joke