It is treasonous to tamper wit
It is treasonous to tamper with unlabeled stool samples. You will be branded a tray turd.
Ed Miliband walks into a bank
Ed Miliband walks into a bank to cash a cheque. "Good morning", says Ed, "could you please cash this cheque for me?"
Cashier: "It would be my pleasure Sir, but could you please show me some identification?"
Miliband: "Truthfully… I did not bring my ID with me as I didn't think there was any need to. But hang on! I'm Ed Miliband, Leader of the Opposition and of the Labour Party!!!"
Cashier: "Yes Sir, I know who you are, but with all the regulations and monitoring of the banks because of impostors and forgers etc, I must insist on seeing some identification".
Miliband: "Just ask any of the customers here at the bank who I am and they will tell you. Everybody knows who I am!"
Cashier: "I'm sorry Sir, but these are the bank rules and I must follow them".
Miliband: "I am urging you please, to cash this cheque for me".
Cashier: "Look Sir, this is what we can do. One day Colin Montgomery came into the bank without any ID. To prove he was Colin Montgomery he pulled out his putter and putted a ball along the floor and into a small cup. With that sort of skill we knew it was Colin Montgomery and we cashed his cheque. On another occasion, Andy Murray came in without any ID. He pulled out his tennis racquet and lobbed a tennis ball straight into my teacup with such a spectacular shot that we all knew it was Andy Murray and we cashed his cheque. So Sir, what can you do to prove that it is you and only you, as the Leader of the Opposition?"
Ed Miliband stood there thinking and thinking and then finally says, "To be honest, there is nothing that comes to my mind. I can't think of a single thing that I'm any good at."
Cashier: "Will it be large or small notes you require Mr Miliband?"
#joke
"Developing the ideal
"Developing the ideal golf green takes a lot of input."
School Collection 23
When were King Arthur's army too tired to fight?
When they had lots of sleepless knights!
How do bees get to school?
By school buzz!
How did you do in your tests?
I did what George Washington did!
Teacher: I hope I didn't see you looking at Fred's test paper.
Pupil: I hope you didn't see me either!
Teacher: You copies from Fred's exam paper didn't you?
Pupil: How did you know?
Teacher: Fred's paper says "I don't know" and you have put "Me, neither"!
What was Camelot famous for?
It's knight life!
#joke
Two 90-year-old women, Rose an...
Two 90-year-old women, Rose and Barb, had been friends all of their lives. When it was clear that Rose was dying, Barb visited her every day. One day Barb said, "Rose, we both loved playing women's softball all our lives, and we played all through High School. Please do me one favor: when you get to Heaven, somehow you must let me know if there's women's soft-ball there."
Rose looked up at Barb from her deathbed and said, "Barb, you've been my best friend for many years. If it's at all possible, I'll do this favor for you." Shortly after that, Rose passed on.
At midnight a few nights later, Barb was awakened from a sound sleep by a blinding flash of white light and a voice calling out to her, "Barb, Barb."
"Who is it?" asked Barb, sitting up suddenly. "Who is it?"
"Barb, it's me, Rose."
"You're not Rose. Rose just died."
"I'm telling you, it's me, Rose," insisted the voice.
"Rose! Where are you?"
"In Heaven," replied Rose. "I have some really good news and a little bad news."
"Tell me the good news first," said Barb.
"The good news," Rose said, "is that there's Softball in Heaven. Better yet all of our old buddies who died before us are here, too. Better than that, we're all young again. Better still, it's always springtime, and it never rains or snows. And best of all, we can play softball all we want, and we never get tired."
"That's fantastic," said Barb. "It's beyond my wildest dreams! So what'sthe bad news?"
"You're pitching Tuesday."
#joke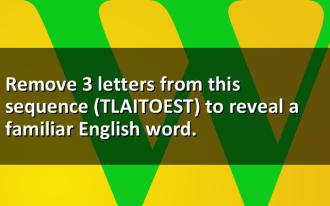 Remove 3 letters from this seq...
Remove 3 letters from this sequence (TLAITOEST) to reveal a familiar English word.
Your dog bite?
There was a hound dog laying in the yard and an old geezer in overalls was sitting on the porch.
"Excuse me, sir, but does your dog bite?" the tourist asked.
The old man looked up over his newspaper and replied, "Nope."
As soon as the tourist stepped out of his car, the dog began snarling and growling, and then attacked both his arms and legs. As the tourist flailed around in the dust, he yelled, "I thought you said your dog didn't bite!"
The old man muttered, "Ain't my dog."
#joke
Chuck Norris' belly button is ...
Chuck Norris' belly button is actually a power outlet.
You might be a redneck if 57
You might be a reneck if...
You live close enough to town to get garbage service, but don't use it because they won't come down your driveway to get it.
The fellows on the big garbage moving equipment recoginze your wife.... and wave to her.
Your wife picks thru your garbage cans looking for any bait that may have grown in them since the last time you went.
You have ever removed the 3-9 zoom scope from your deer rifle to use at a KISS concert.
You have more than 2 used pampers rolling around in the back of your truck.
When you put your hunting boots on you only get them on the right feet 50% of the time.
Your idea of a neighborhood watch program is tuning into "America's Most Wanted".
You own more than two clappers.
You go to Wal-Mart to people watch.
You recycle enough Copenhagen lids to buy Christmas presents.
Rickey Smiley: White Church
I joined a white church because white people get out on time.
Adam's ribs
At Sunday School they were teaching how God created everything, including human beings.
Little Johnny, a child in the kindergarten class, seemed especially intent when they told him how Eve was created out of one of Adam's ribs.
Later in the week his mother noticed him lying as though he were ill, and said. "Johnny what is the matter?" Little Johnny responded, "I have a pain in my side. I think I'm going to have a wife."
#joke