Happy New Year 2021!!
A lady sitting in first class
A lady sitting in first class saw the cockpit door open, she was incredulous to see that the pilot was reading. Very concerned, she asked a flight attendant, "Miss, why is the pilot reading? Isn't he supposed to be flying?"
The woman fainted when the flight attendant said, "Oh well, he's just studying for his pilot license."
#joke
"I tried my best to w
"I tried my best to write a poem about a frosty day, but I just could not make it rime."
Doesn't Even Need Glasses
John: "My grandpa is 98 years old, and he doesn't even use glasses."
Jack: "Wow, that is incredible!"
John: "Yep, he drinks straight from the bottle."
History Of A Property
One of the best examples of how ridiculous government paperwork can be is illustrated by a recent case in Louisiana. A company president was trying to buy some land in Louisiana for a plant expansion, and he wanted to finance this new facility with a government loan.
His lawyer filled out all the necessary forms, including the abstract---tracing the title to the land back to 1803. The government reviewed his application and abstract and sent the following reply:
'We received today your letter enclosing application for your client supported by abstract of title. We have observed, however, that you have not traced the title previous to 1803, and before final approval, it will be necessary that the title be traced previous to that year. Yours truly.'
As a result, the lawyer sent the following letter to the government:
'Gentlemen, your letter regarding title received. I note you wish title to be claimed back further than I have done it.
'I was unaware that any educated man failed to know that Louisiana was purchased by the United States from France in 1803. The title of the land was acquired by France by right of conquest of Spain. The land came into possession of Spain in 1492 by right of discovery by a Spanish-Portugese sailor named Christopher Columbus, who had been granted the privilege of seeking a new route to India by Queen Isabella.
'The good queen, being a pious woman and careful about title, took the precaution of securing the blessing of the Pope of Rome upon Columbus' voyage before she sold her jewels to help him.
'Now the Pope, as you know, is the emissary of Jesus Christ, who is the Son of God. And God made the world. Therefore, I believe it is safe to assume that He also made that part of the United States called Louisiana, and I now hope you're satisfied.'
Some great things about getting older...
Finally you can eat dinner at 4:00
Your investment in health insurance is finally beginning to pay off.
Kidnappers are not very interested in you.
It's harder and harder for sexual harassment charges to stick.
If you've never smoked you can start now and it won't have time to hurt you.
People no longer view you as a hypochondriac.
Your secrets are safe with your friends because they can't remember them either.
Your supply of brain cells is finally down to a manageable size.
Your eyes won't get much worse.
Adult diapers are actually kind of convenient.
Things you buy now won't wear out.
No one expects you to run into a burning building.
You don't need the shingles with the 30 year guarantee.
There is no need to spend money for a psychic to see your future.
There's nothing left to learn the hard way.
Your joints are more accurate than the National Weather Service.
Protecting your eyes during a solar eclipse isn't as important as it used to be.
Buying cheap tires and not rotating them makes economic sense.
You don't have to learn the name of the new UPS man.
No one thinks you're cheap because you don't buy a half a cow to freeze.
You may never have to vacuum under the bed again.
Taking the shortest magazine subscription is economically defensible.
You don't have to bother planting perennials.
In a hostage situation you are likely to be released first
#joke
By executive order, Russian vo
By executive order, Russian vodka must be 50% alcohol. The proof is in the Putin.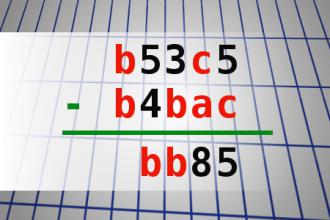 Find number abc
If b53c5 - b4bac = bb85 find number abc. Multiple solutions may exist.
There is no arguing with cowbo
There is no arguing with cowboy logic. The Sierra Club and the US ForestService were presenting an alternative to Wyoming ranchers forcontrolling the coyote population. It seems that after years of theranchers using the tried and true methods of shooting and/or trapping thepredator, the tree-huggers had a "more humane" solution. What theyproposed was for the animals to be captured alive, the male castrated andlet loose again and the population would be controlled.
This was ACTUALLY proposed to the Wyoming Wool and Sheep Grower'sAssociation by the Sierra Club and the USFS. All of the ranchers thoughtabout this amazing idea for a couple of minutes.
Finally, an old boy in the in the back stood up, tipped his hat back andsaid, "Son, I don't think you understand the problem. Those coyotes ain'tf*ckin' our sheep, they're eatin' 'em.
#joke
Demetri Martin: Exit Only
I saw a sign on this door; it said, Exit Only. So, I entered it and went up to the guy working there, and I was like, I have some good news. You have severely underestimated this door over here by, like, 100%, man.
Three Travelers
Three travelers, an American, a Russian, and an Egyptian, were circumnavigating the globe a la Jules Verne. The Russian man put his hand out and reached down into the clouds.
"Aaah!" he said. "We're right over my homeland."
"How can you tell?" asked the American.
"I can feel the cold air." he replied.
A few days later the African man put his hand through the clouds.
"Aah we're right over my homeland." he said.
"How do you know that?" asked the Russian.
"I can feel the heat of the desert."
Several more days later the American put his hand through the clouds.
"Aah, we're right over New York." The Russian and the African were amazed.
"How do you know all of that?!" they exclaimed.
The American pulled his hand in and held it up for them to see. "My watch is missing."
#joke
Grandpa and God
My grandson was visiting one day when he asked, "Grandma, do you know how you and God are alike?"
I mentally polished my halo while I asked, "Now, how are we alike?"
"You're both old," he replied.

Contrary to popular belief, th...
Contrary to popular belief, there is indeed enough Chuck Norris to go around.
The General Managers of Cascad...
The General Managers of Cascade Brewery (Tasmania), Tooheys (NewSouth Wales), XXXX (Queensland), CUB (Victoria) and Coopers (South Australia) were at a national beer conference.
They decide to all go to lunch together and the waitress asks what they want to drink.
The General Manager of Tooheys says without hesitation, "I'll have a Tooheys New."
The General Manager of Cascade smiles and says, "I'll have a Cascade Draught, brewed from pure mountain water."
The General Manager of Coopers proudly says, "I'll have a Coopers, the King of Beers."
The bloke from XXXX says, "I'll have a XXXX, the cleanest beer on the planet."
The General Manager from Carlton glances at his lunch mates and says, "I'll have a Diet Coke."
The others look at him like he has sprouted a new head.
He just shrugs and says, "Well if you poofters aren't drinking beer, then neither will I."