I hate going to Belgium. All t
I hate going to Belgium. All that hustle and Brussels!
"What do you call an
"What do you call an unsuccessful spinal surgery? A debackle."
With his wife sick in bed, a m
With his wife sick in bed, a man did the weekly supermarket shopping. By the time he reached the checkout, his cart was overflowing. Behind him in the line was a little old lady with just a loaf of bread and some butter.
He turned to her and said: "Is that all you have dear?"
Her face lit up, "Yes, it is."
"Well," he said, "if I were you I'd have a seat because I'm gonna be a while."
#joke
You Might Be A Redneck If 63
You might be a reneck if...
You just bought your family their lst Atari game system.
You and your wife celebrate your anniversay at the K-mart cafeteria.
You think the only tools "real men" need are duck tape and caulk, and you have sucessful repair projects to prove it.
You've tried to quote Jeff Foxworthy and screwed it up.
You name your car the General Lee.
You see a sign that says "bridge out" and you try to jump it.
You go to your local pet shop for a cat scan.
Warp drive describes the condition of your car.
Your smoke detector doubles as your dinner bell.
You go to the dentist for a "Tooth Cleaning".
#joke
Jewelry Salesman
A jeweler was on his way to work when he saw a sign that said "Watch for children"...
He thought to himself, "That sounds like a fair trade."
Soap and water...
A minister was asked to dinner by one of his parishioners, whom he knew was an unkempt housekeeper. When he sat down at the table, he noticed that the dishes were the dirtiest that he had ever seen in his life.
"Were these dishes EVER washed?" he asked his hostess, running his fingers over the grit and grime.
"She replied, "They're as clean as soap and water could get them."
He felt quite apprehensive, but not wanting to offend, blessed the food anyway and started eating. It was really delicious, and he said so, despite the dirty dishes.
When dinner was over, the hostess took the dishes outside and yelled, "Here, Soap! Here, Water!"
#joke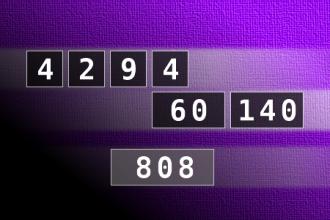 Calculate the number 808
NUMBERMANIA: Calculate the number 808 using numbers [4, 2, 9, 4, 60, 140] and basic arithmetic operations (+, -, *, /). Each of the numbers can be used only once.
The ABC's of Marriage
After being married for 25 years, a wife asked her husband to describe her.
He looked at her carefully, then said, 'You are A, B, C, D, E, F, G, H, I, J, K.'
'What does that mean?' she asked suspiciously.
He said, 'Adorable, Beautiful, Cute, Delightful, Elegant, Foxy, Gorgeous and Hot!'
She beamed at him happily and said: 'Oh, that's so lovely! But what about I, J and K?'
'I'm Just Kidding!'
(The swelling in his eye is going down and the doctors are fairly optimistic about saving his genitals).
up, comedians, funny videos, d...
up, comedians, funny videos, dane cook, mike birbiglia, eugene mirman, demetri martin, jeff dunham, katt williams, daily joke, joke of the day, funny jokes, yo mama, jokes, redneck, blond, george bush, bush, lawyer, favorite, list, animal, college, dumb
Natasha Leggero: Boston Blackout
This girl comes up to me with this thick Boston accent and shes like, Hey, youve seriously never woke up at a party and some guy was inside you? I never woke up at a party.
Men are like a pack of Cards...
Men are like a pack of Cards:
A "heart" to love them
A "diamond" to marry them
A "club" to smack them and
A "spade" to bury the body...
Kidnapped
Most Friday nights at the naval station in Bermuda, we would assemble at the officer's club after work. Z
One Friday, Rick, a newly married ensign, insisted he had to leave at 6 p.m.
We all tried to talk him into staying, but he'd promised his bride he'd be home by six. I offered to call home for Rick.
When his wife answered the phone, I said, 'Rick has been kidnapped.
Put five dollars in small, unmarked bills in a plain brown paper bag and throw it in the door of the officer's club.' Then I hung up.
A short time later, a waiter brought a grocery bag to our table.
In it were Rick's baseball glove, a tennis racket, and a teddy bear.
Attached to the bear was a note: 'Rick can play kidnapped until 7 p.m. Then he must come home.'