They launched a tampon into sp
They launched a tampon into space, to see if it could circumovulate the globe.
"When the off-duty co
"When the off-duty copper fell into an electroplating bath, his mettle was galvanized by a sudden zincing feeling and he knew his mass was brass."
Trouble With Eczema
Sam: I'm having a lot of trouble with eczema, teacher.
Teacher: Heavens, where do you have it?
Sam: I don't have it, I just can't spell it.
Husband 1: I am the boss of th
Husband 1: I am the boss of the house. I couldn't find cold water in the house, so I shouted for hot water and got it immediately.
Husband 2: Wow, that's great. Is it for drinking or bathing?
Husband 1: It was for washing the dishes.

Kid's View of Baptism
A father is in church with his three young children, including his five-year-old daughter.
As was his custom, he sat on the very front row so that the children could better see all that was going on.
During this particular service, the minister was performing the baptism of a tiny infant. The little five-year-old girl was most enthralled by this, observing that he was saying something and pouring water over the infant's head.
With a quizzical look on her face, the little girl turned to her father and asked, "Daddy, why is he brainwashing that baby?"
#joke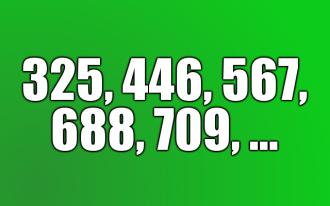 Find the value of the next number
Look at the series (325, 446, 567, 688, 709, ...), determine the pattern, and find the value of the next number.
A Sunday School teacher of pre...
A Sunday School teacher of preschoolers was concerned that his students might be a little confused about Jesus Christ because of the Christmas season emphasis on His birth. He wanted to make sure they understood that the birth of Jesus occurred a long time ago, that He grew up, etc. So he asked his class, "Where is Jesus today?"
Steven raised his hand and said, "He's in heaven."
Mary was called on and answered, "He's in my heart."
Little Johnny, waving his hand furiously, blurted out, "I know! I know! He's in our bathroom!!!"
The whole class got very quiet, looked at the teacher, and waited for a response. The teacher was completely at a loss for a few very long seconds. He finally gathered his wits and asked Little Johnny how he knew this.
And Little Johnny said, "Well...every morning, my father gets up, bangs on the bathroom door, and yells 'Jesus Christ, are you still in there?'!"
Animal Orgasms
A farmer and his wife were lying in bed one evening; she was knitting, he was reading the latest issue of Animal Husbandry. He looks up from the page and says to her,
"Did you know that humans are the only species in which the female achieves orgasm?"
She looks at him wistfully, smiles, and replies, "Oh yeah? Why don't you prove it."
He frowns for a moment, then says, "Okay."
He then gets up and walks out, leaving his wife with a confused look on her face.
About a half an hour later, he returns all tired and sweaty and proclaims, "Well I'm sure the cow and sheep didn't, but the way that pig's always squealing, how can you tell?"
#joke
A woman is walking on the road...
A woman is walking on the road and a voice shouts out, "Don't take a step further." She obeys and suddenly a ton of bricks fall on the place where she would have otherwise been. She thinks she imagined it and keeps walking until suddenly the voice calls out again. "Don't take a step further." She stops and a car skids past. Then suddenly she hears the voice saying "I am your guardian angel, and I will warn you before something bad happens to you. Now do you have any questions to ask me?" Yes! Shouts the woman, "Just where were you on my wedding day!"
#joke
What's round and bad tempered?
What's round and bad tempered? A vicious circle.
A man walks into a bar and say...
A man walks into a bar and says to the bartender, "I bet you fifty dollars that I can bite my right eye." The bartender says, "Yeah, right! I've never seen anyone do that!" So the man takes out his glass eye and bites it.
The angry bartender pays the man his fifty dollars and the man walks away. He comes back half an hour later and says, "I bet you fifty dollars I can bite my left eye." Now the bartender becomes really skeptical. She says, "I just saw you walk in here -- you can't be blind!" So he takes out his fake teeth and bites his left eye. The bartender pays him his money and he walks away.
#joke #walksintoabar