"I hated going to eve
"I hated going to evening church services as a child, but my dad said, 'Don't compline.'"
Quarantine
Due to the quarantine...
I'll only be telling inside jokes.
Keep this philosophy in mind t
Keep this philosophy in mind the next time you hear, or are out to repeata rumor.
In ancient Greece (469 - 399 BC), Socrates was widelylauded for his wisdom. One day the great philosophercame upon an acquaintance, who ran up to him excitedlyand said, "Socrates, do you know what I just heard aboutone of your students...?"
"Wait a moment," Socrates replied. "Before you tellme, I'd like you to pass a little test. It's calledthe Test of Three."
"Test of Three?"
"That's correct," Socrates continued.
"Before you talk to me about my student let's take amoment to test what you're going to say. The firsttest is Truth. Have you made absolutely sure that whatyou are about to tell me is true?"
"No," the man replied, "actually I just heard about it."
"All right," said Socrates. "So you don't really knowif it's true or not. Now let's try the second test,the test of Goodness. Is what you are about to tell meabout my student something good?"
"No, on the contrary..."
"So," Socrates continued, "you want to tell mesomething bad about him even though you're not certainit's true?"
The man shrugged, a little embarrassed.Socrates continued, "You may still pass though becausethere is a third test - the filter of Usefulness. Is what youwant to tell me about my student going to be useful to me?"
"No, not really..."
"Well," concluded Socrates, "if what you want to tellme is neither True nor Good nor even Useful, why tellit to me at all?"
The man was defeated and ashamed and said no more.
This is the reason Socrates was a great philosopherand held in such high esteem.
It also explains why Socrates never found out thatPlato was banging his wife.
#joke
Smell the Coffee...
A grandmother was surprised by her seven-year-old helper early one morning. He had made her coffee! She drank what was probably the worst cup of coffee in her entire life. And when she got to the bottom, to her utter amazement, there were three little green, army men in her cup.
Puzzled, she asked, "Honey, what are these army men doing in my coffee?"
Her grandson answered, "Grandma, you know how it says on TV, 'The best part of waking up is soldiers in your cup.'"
#joke
I get turned on by large appli
I get turned on by large appliances. But my wife is fridged.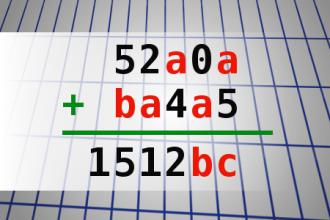 Find number abc
If 52a0a + ba4a5 = 1512bc find number abc. Multiple solutions may exist.
Business One-liners 64
If builders built buildings the way programmers wrote programs, then the first woodpecker that came along would destroy civilization.
If enough data is collected, anything can be proven by statistical methods.
If everything is coming your way, you are probably in the wrong lane.
If everything seems to be going well, you obviously do not know what the hell is going on.
If everything seems to go right, check your zipper.
If facts do not conform to the theory, they must be disposed of.
If flattery gets you nowhere, try bribery.
If guns are outlawed, how will we shoot the liberals?
If I your opinion, I'll ask you to fill out the necessary form.
If ignorance is bliss, why aren't there more happy people?
#joke
An Atheist's Holiday
An atheist became incensed over Christmas holiday preparations. He filed a lawsuit about the constant celebrations given to Christians and Jews while atheists had no holiday to celebrate. The case was brought before a judge. After listening to the long, passionate presentation by the atheist's lawyer, the judge banged his gavel and declared, "Case dismissed!"The lawyer immediately stood and objected to the ruling. "Your honor, how can you possibly dismiss this case? The Christians have Christmas, Easter, and many other observances. Jews have Passover, Yom Kippur, and Hanukkah. Yet, my client and all other atheists have no such holiday!"The judge leaned forward in his chair and simply said, "Obviously, your client is too confused to know about, much less celebrate, his own atheist holiday!" The lawyer pompously said, "Your honor, we are unaware of any such holiday for atheists. Just when might that holiday be?" The judge replied, "Well, it comes every year on exactly the same date. Psalm 14:1 states, 'The fool says in his heart, there is no God.' Thus, if your client says there is no God then, according to the Bible, he is a fool. April Fool's Day is his holiday. Now, get out of my courtroom!"-
Joke shared on Beliefnet's Religious Humor page
A Recently Spotted Bumper Sticker:
"God is coming --
and is SHE pissed!"
Bingo sign
How do you get 500 old cows in a barn?
Put up a Bingo sign.
Submitted by Curtis
Edited by Calamjo
1. "Weather at our destination...
1. "Weather at our destination is 50 degrees with some broken
clouds, but we'll try to have them fixed before we arrive. Thank you, and
remember, nobody loves you, or your money, more than Southwest Airlines."
2. "Your seat cushions can be used for flotation, and, in the
event of an emergency water landing, please paddle to shore and take
them with you with our compliments."
3. "As you exit the plane, make sure to gather all of your
belongings. Anything left behind will be distributed evenly among
the flight attendants. Please do not leave children or spouses."
4. And from the pilot during his welcome message: "Delta airlines
is pleased to have some of the best flight attendants in the
industry. Unfortunately, none of them are on this flight!"
5. Overheard on an American Airlines flight into Amarillo, Texas, on a particularly
windy and bumpy day: During the final approach, the Captain was really having to
fight it. After an extremely hard landing, the Flight Attendant said, "Ladies and Gentlemen, welcome to Amarillo. Please remain in your seats with your seat belts fastened
while the Captain taxis what's left of our airplane to the gate
#joke
Jo Koy: When Monkeys Get Mad
When monkeys get mad, they crap in their hand and they throw it. How cool is that? Whos going to fight a guy with a lump of crap in his hand?