I'm a bit of a pig. I ca
I'm a bit of a pig. I can say that un-ham-big-uously.
I'm So Glad
Little Johnny: I'm so glad you named me Little Johnny.
Mother: Why do you say that?
Little Johnny: Because that's what all the kids in school call me.
A truck driver was driving alo...
A truck driver was driving along the freeway saw a sign thatread, 'Low Bridge overhead' but, before he could stop, the bridge isright ahead of him and he gets stuck under it.
Cars are backed up for miles. Finally, a police officer approaches, puts his hands on hiships, and says, "Got stuck - huh?"
"No," the truck driver says, "I was delivering this bridge and ran out of gas."
#joke
Do This While Driving
Strange and silly things to do while driving. We do not advise doing any of the below "things to do while driving", as all driving should be taken seriously. The below "things to do while driving" are simply here for entertainment purposes.
Vary your vehicle's speed inversely with the speed limit.
Roll down your windows and blast talk radio. Attempt to headbang.
At stop lights, eye the person in the next car suspiciously. With a look of fear, lock your doors.
Two words: Chicken suit.
Write the words "Help me" on your back window in red paint. The more it looks like blood, the better.
Have conversations, looking periodically at the passenger seat, when driving alone.
Laugh a lot. A whole lot.
Stop at the green lights.
Go at the red ones.
Occasionally wave a stuffed animal/troll doll/Barbie out your window or sunroof. Feel free to make it dance.
Eat food that requires silverware.
Pass cars, then drive very slowly.
Sing without having the radio on.
Honk frequently without motivation.
Wave at people often. If they wave back, offer an angry look and an obscene gesture.
Ask people for Grey Poupon.
Let pedestrians know who's boss.
Look behind you frequently, with a very paranoid look.
Restart your car at every stop light.
Hang numerous car-fresheners in the rear-view mirror. Talk to them, stroking them lovingly.
Lob burning things in the windows of smokers who throw their butts out the window.
While stopped at a light, piss out the window/sunroof onto other cars.
Keep at least five cats in the car.
Root (cheer, not snuffle in the mud) for firetrucks.
Stop and collect roadkill.
Throw Spam.
Get in the fast lane and gradually ... slow ... down ... to a stop. Then get out and watch the cars. Throw Spam at them.
#joke
"Despite his immense
"Despite his immense success as a coffee seller he remained a grounded person."
Defective nails...?
Two guys were doing construction on a house. One of them who was nailing down siding would reach into his nail pouch, pull out a nail, and then either toss it over his shoulder or nail it into the siding.
The other guy, figuring this was worth looking into, asked, "Why are you throwing those nails away?"
The first guy explained, "If I pull a nail out of my pouch and it's pointed towards me, I throw it away 'cause it's defective. If it's pointed toward the house, then I nail it into the siding."
The second guy was outraged. He yelled, "You moron! The nails pointed towards you aren't defective! They're for the other side of the house!"
#joke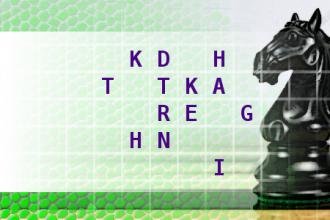 Chess Knight Move
Find the title of movie, using the move of a chess knight. First letter is T. Length of words in solution: 3,4,6.
An Irish Girl comes back home...
An Irish Girl comes back home for New Year's Eve. Her father asked, "Where have you been all this time? Why did you not write to us, not even a line? Why didn't you call?"
The girl crying replied, "Dad, I became a prostitute."
"Whaaa!!? Out of here you shameless harlot! You're a disgrace to this family."
"OK, daddy. If that's your wish. I just came back to give mum this luxurious fur coat, title deed to a ten bedroom mansion plus a savings certificate for £4 million. For me little brother, this gold Rolex and for you daddy, the sparkling new Mercedes limited edition convertible that's parked outside plus a membership to the country club and an invitation for you all to spend a fun New Years' Eve on board my new yacht in the Riviera, and..."
"Now what was it ye said you had become, again?" says dad.
Girl, crying again, "A prostitute dad!"
"Oh! You scared me half to death, girl! I thought you said a Protestant. Come here and give your old man a hug!"
#joke #newyear
A man calls home to his wife a...
A man calls home to his wife and says, "Honey I have been asked to go fishing at a big lake up in Canada with my boss and several of his friends. We'll be gone for a week. This is a good opportunity for me to get that promotion I've been wanting, so would you please pack me enough clothes for a week and set out my rod and tackle box. We're leaving from the office and I will swing by the house to pick my things up. Oh! And please pack my new blue silk pajamas."
The wife thinks this sounds a little fishy but being a good wife she does exactly what her husband asked. The following weekend he comes home a little tired but otherwise looking good.
The wife welcomes him home and asks if he caught many fish. He says, "Yes! Lots of Walleye, some Blue gill, and a few Pike. But why didn't you pack my new blue silk pajamas like I asked you to do?"
The wife replies; "I did, they were in your tackle box."
#joke
A Collection Of Insults
When you're at a loss for words but want to tell someone that he or she is stupid, remember some these quips from our collection here at Aha! Jokes.
3K RAM free, no EMS.
A .22 caliber intellect in a .357 Magnum world.
A 10K brain attached to a 9600 baud mouth.
A 20th century man... The guy has no future.
A 3.5-inch drive, but data on punch cards.
A black-and-white mind working on a color-coded problem.
A brain like a BB in a boxcar / box of Corn Flakes.
A couple of slates short of a full roof.
A couplet short of a sonnet.
A cup and saucer short of a place setting.
A day late and a dollar short.
A deadbolt with a broken cylinder.
A doughnut short of being a cop.
A few beads short in her rosary.
#joke
A guy falls asleep on the beac...
A guy falls asleep on the beach for several hours and gets a horrible sunburn all over his body.
He goes to the hospital and is promptly admitted after being diagnosed with second degree burns on his legs.
He was starting to blister and in pain by the time the doctor arrived. To help, the doctor prescribed an IV with saline and electrolytes, asedative, and a Viagra pill every four hours.
The attending nurse was rather surprised by the prescription and asked, "What good will Viagra do him?"
The doctor replied, "It will keep the sheets off his legs."
First Time in Church
Mrs. Harrison took her three-year-old daughter, Jenny, to church for the first time.
After arriving, the church lights were lowered, and then the choir came down the aisle, carrying lighted candles.There was silence in the entire sanctuary until Jenny's voice was suddenly heard, loudly singing: "Happy birthday to you! Happy birthday to you..."

#joke