My friend Isaacron
My friend Isaac has self-esteem issues. When he first told me his name, I had to tell him, 'no, you don't'.
Why did the chicken cross the road?
Why did the chicken cross the road?
To maintain adequate social distancing
Hair stylists
"Hair stylists are truly a braid a part."
Photo by Kaone Makoko on pexels.com
A woman goes into a butcher's...
A woman goes into a butcher's...
"I'd like an oxtail please".
"Certainly", replies the butcher, "Once upon a time there was an ox..."
The only cow in a small Kentuc...
The only cow in a small Kentucky town stopped giving milk. The peopledid some research and found that they could buy a cow just across the stateline in Illinois for $200.
They brought the cow from Illinois and the cow was wonderful. Itproduced lots of milk all of the time, and the people were very happy. They decided to acquire a bull to mate with the cow to produce morecows like it. They would never have to worry about their milk supply again.They bought the bull and put it in the pasture with their beloved cow.However, whenever the bull tried to mount the cow, the cow would move away. No matter what approach the bull tried, the cow would move awayfrom the bull and he could not succeed in his quest. The people were veryupset and decided to ask the Vet, who was very wise, what to do.
They told the Vet what was happening. "Whenever the bull tries to mountour cow, she moves away. If he approaches from the back, she moves forward. When he approaches her from the front, she backs off. Anattempt from the side, she walks away to the other side."
The Vet thought about this for a minute and asked, "Did you by chance,buy this cow in Illinois?"
The people were dumbfounded, since no one had ever mentioned where theybought the cow. "You are truly a wise Vet," they said. "How did youknow we got the cow in Illinois?"
The Vet replied with a distant look in his eye, "My wife is from Illinois."
#joke
Purchasing Furniture
I work as a systems administrator, and part of m job involves answering questions about computers. I generally like my job, but sometimes it gets on my nerves. When people ask me what I find so irritating, this is what I tell them:
Imagine that you are a salesperson for Ikea (substitute "furniture store" if you don't know what "Ikea" is). You get a phone call that goes like this.
Customer: I'd like to buy a kitchen table.
You: That's fine; we have many styles of kitchen tables, I'm sure you can find one you like.
C: I need one that's 3 feet by 5 feet and has a butcher block top.
Y: Yes, we have a table like that. You can pick it up today.
C: OK, how can I get it back to my house?
Y: Well, it comes disassembled, so you can just put it on a roof rack. We can loan you a roof rack if you don't have one.
C: But how do get there?
Y: We're just off exit 25 of the Turnpike. Where are you coming from?
C: Wait, wait, you're going way too fast for me. I have a Ford in my driveway, and the keys are in my hand. What do I do next?
And, whatever you say at this point, the response is always the same:
C: But all I want is a kitchen table! Why does it have to be so *COMPLICATED*!
#joke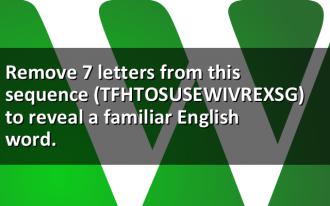 Remove 7 letters from this seq...
Remove 7 letters from this sequence (TFHTOSUSEWIVREXSG) to reveal a familiar English word.
The Boring Speaker
The after-dinner speaker just didn't have a Stop button. He burbled on and on and on, oblivious to his increasingly restless audience. Finally one of the more drunken diners hurled an empty wine bottle at him. It missed, and hit the Chairman instead.
As the Chairman slid slowly to the floor clutching his head, he was heard to murmur, "Hit me again, I can still hear him."
#joke
How do you expect to get into heaven?
An exasperated mother, whose son was always getting into mischief, finally asked him, "How do you expect to get into heaven?"
The boy thought it over and said, "Well, I'll just run in and out and in and out and keep slamming the door until St. Peter says, 'For heaven's sake, Jimmy, either come in or stay out!'"
#joke
A man in a hot air balloon rea...
A man in a hot air balloon realized he was lost. He reduced altitude and spotted a woman below. He descended a bit more and shouted," Excuse me, can you help? I promised a friend I would meet him an hour
ago, but I don't know where I am."
The woman below replied, "You are in a hot air balloon hovering approximately 30 feet above the ground. You are between 40 and 41 degrees north latitude and between 59 and 60 degrees west longitude."
"You must be an engineer," said the balloonist.
"I am," replied the woman. "How did you know?"
"Well," answered the balloonist, "everything you told me is technically correct, but I have no idea what to make of you, and the fact is I am still lost. Frankly, you've not been much help so far."
The woman below responded, "You must be in management."
"I am," replied the balloonist, "but how did you know?"
"Well," said the woman, "you don't know where you are or where you are going. You have risen to where you are, due to a large quantity of hot air. You made a promise which you have no idea how to keep, and you expect people beneath you to solve your problems. The fact is you are in exactly the same position you were in before we met, but now, somehow, it's my fault!"
#joke
Kevin Hart: No Longer Safe
Ever argue with a female and, in the middle of the argument, you no longer feel safe because of her actions? She may start pacing back and forth real fast, breathing out her nose. You know what my girl do? When she get mad, she start talking in the third person. Thats scary as hell because thats her way of telling me that from this point on, she is not responsible for none of her actions.
#joke
Answering Machine Message 24
Computer generated voices:
1: Hello, there are no real people here to answer the phone right now.
2: Yeah, nobody but us machines!
1: Right, just us machines, but don't hang up! If you like, you can leave your name and telephone number...
2: ...and a message! You forgot about the message!
1: Right. Leave your name, telephone number, and a brief message after you hear the beep, and we will keep track of this stuff until the real people get back.
2: ...unless of course, sombody pulls out our plug!
#joke