My greatest sphere My greatest sphere is that the Earth is round.
A redneck calls up the White H...
A redneck calls up the White House and tells the receptionist: "I'd like to become the next President of the United States."
Receptionist: "What are you, an idiot?"
Redneck: "Why, is it required?"
It's Like Shorthand
"Could you learn to love me?" ask the young man.
"Well," sighed the young lady. "I did learn shorthand in just three months."
"A seaman is forging
"A seaman is forging ahead when he writes graffiti on bathroom walls."
"Well, butter my butt and call
"Well, butter my butt and call me a biscuit."
"It's been hotter'n a goat's butt in a pepper patch."
"He fell out of the ugly tree and hit every branch on the way down."
"Have a cup of coffee, it's already been 'saucered and blowed.'"
"She's so stuck up, she'd drown in a rainstorm."
"It's so dry, the trees are bribing the dogs."
"My cow died last night so I don't need your bull."
"Don't pee down my back and tell me it's raining."
"He's as country as corn flakes."
"This is gooder'n grits."
"Busier than a cat covering crap on a marble floor."
"If things get any better, I may have to hire someone tohelp me enjoy it."
#joke
Ask Your Question
One day at a trial, an eminent psychologist was called to testify. A severe, no-nonsense professional, she sat down in the witness chair, unaware that its rear legs were set precariously on the back of the raised platform.
"Will you state your name?" asked the district attorney. Tilting back in her chair she opened her mouth to answer, but instead catapulted head-over-heels backward and landed in a stack of exhibits and recording equipment.
Everyone watched in stunned silence as she extricated herself, rearranged her disheveled dress and hair and was reseated on the witness stand. The glare she directed at onlookers dared anyone to so much as smirk.
"Well, doctor," continued the district attorney without changing expression, "we could start with an easier question".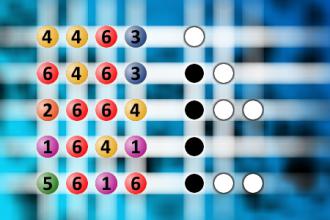 Which is a winning combination of digits?
The computer chose a secret code (sequence of 4 digits from 1 to 6). Your goal is to find that code. Black circles indicate the number of hits on the right spot. White circles indicate the number of hits on the wrong spot.
Black eye...
One night a man stumbled into the police station with a black eye. He claimed he had heard a noise in his back yard and went to investigate. The next he knew, he was hit in the eye and knocked out cold.
An officer was sent to his house to investigate, and he returned 1 1/2 hours later with a black eye.
"Did you get hit by the same person?" his captain asked.
"No," he replied. "I stepped on the same rake."
#joke
Bumper Stickers 17
"Women who seek to be equal to men lack ambition."
"It's as BAD as you think, and they ARE out to get you."
"If you don't like the news, go out and make some."
"I Brake For No Apparent Reason."
"When you do a good deed, get a receipt, in case heaven is like the IRS."
"Sorry, I don't date outside my species."
"I may be fat, but you're ugly - I can lose weight!"
"No Radio - Already Stolen"
"Few women admit their age, Few men act it! "
"I don't suffer from insanity, I enjoy every minute of it!"
#joke
A man has six children and is...
A man has six children and is very proud of his achievement. He is so proud of himself, that he starts calling his wife, "Mother of Six" in spite of her objections.
One night, they go to a party. The man decides that it's time to go home and wants to find out if his wife is ready to leave as well.
He shouts at the top of his voice, "Shall we go home now, 'Mother of six?'"
His wife, irritated by her husband's lack of discretion, shouts right back, "Anytime you're ready, Father of four."
#joke
If you work in an office with ...
If you work in an office with Chuck Norris, don't ask him for his three-hole-punch.
Years ago someone in Californi...
Years ago someone in California hollered "Gold," and people drove from all directions. That's the way they still drive in California.
Religious battle golf #joke #humor
The Pope met with the College of Cardinals to discuss a proposal from Shimon Peres, the former leader of Israel. "Your holiness," said one of the Cardinals, "Mr. Peres wants to determine whether Jews or Catholics are superior, by challenging you to a golf match." The Pope was greatly disturbed, as he had never held a golf club in his life.
"Not to worry," said the Cardinal, "we'll call America and talk to Jack Nicklaus. We'll make him a Cardinal, he can play Shimon Peres... We can't lose!" Everyone agreed it was a good idea. The call was made and, of course, Jack was honored and agreed to play.
The day after the match, Nicklaus reported to the Vatican to inform the Pope of his success in the match. "I came in second, your Holiness," said Nicklaus.
"Second?!!" exclaimed the surprised Pope. "You came in second to Shimon Peres?!!"
"No," said Nicklaus, "second to Rabbi Woods."
#joke