My ex-girlfriend got Ebola. Wh
My ex-girlfriend got Ebola. What a dirty fluidsy.
A teacher was giving a lesson...
A teacher was giving a lesson on the circulation of the blood. Trying to make the matter clearer, she said, "Now, class, if I stood on my head, the blood, as you know, would run into it, and I would turn red in the face.."
"Yes," the class said.
"Then why is it that while I am standing upright in the ordinary position the blood doesn't run into my feet?"
A little fellow shouted,
"Cause your feet ain't empty."
#joke
Eating Some Peanuts
There was an old man whose family could no longer afford to take care of him. So the family decided that a nusring for the aged would be appropriate.
Of course the old man rejected the idea, but no sooner he was convinced that it was the right thing to do. On his first day at the home, he spent most of his time laying in bed reflecting on life, feeling lonely. A while later, an orderly stopped by to seee how the old man's first day was going.
"How you doing today?", she said to the old man, "First day I see". The Old man replied with a nod.
In no time the two began talking up a storm. As the conversation began to drag on, the orderly was eyeing the room filled with fresh flowers, cards and balloons from friends and relatives. She noticed a bowl full of peanuts sitting on top of the table next to the bed, and help herself to a handful.
As the two continued to converse with each other, the orderly kept eating more helpings of the peanuts. She look at her watch and noticed that nearly 2 hours had passed and said, "My goodness, the time has gone by quickly. I have to tend to other people here too." "That's okay.", said the old man, "I feel so much better being able to talk to someone." Looking into the bowl the orderly said, "I feel awful! I ate almost all of your peanuts!" The old man responded, "That's okay. Ever since I got these false teeth, all I could do was suck the chocolate off of them anyhow."
#joke
Ghost Fibbers
Why are ghosts bad at lying?
Because you can see right through them.
"I sure felt a lot be
"I sure felt a lot better after buying a parking structure last week."
There's a student in medical
There's a student in medical school who wants to specialize in sexual disorders, so he makes arrangements to visit the sexual disorder clinic. The chief resident is showing him around, discussing cases and the facility, when the student sees as patient masturbating in his room.
"What condition does he have?" the student asks.
"He suffers from Seminal Buildup Disorder", the resident replies. "If he doesn't ejaculate 40-50 times a day, he'll become disoriented."
As the two continue their rounds, the student peeks into another room and sees a patient with his pants around ankles, receiving oral sex from a beautiful nurse.
"What about him?" the student asks. "What's his story?"
"Oh, it's the same condition," the doctor replies. "He just has a better health plan."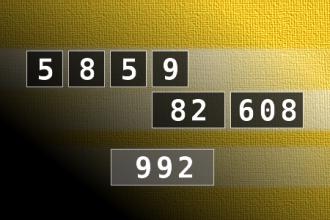 Calculate the number 992
NUMBERMANIA: Calculate the number 992 using numbers [5, 8, 5, 9, 82, 608] and basic arithmetic operations (+, -, *, /). Each of the numbers can be used only once.
No more nailbiting...
Two golden-agers were discussing their husbands over tea. "I do wish that my Elmer would stop biting his nails. He makes me terribly nervous."
My Billy used to do the same things," the older woman replied, "but I broke him of that pesky habit."
"How?"
"I hid his teeth!"
#joke
The children were lined up in...
The children were lined up in the cafeteria of a Catholic elementary school for lunch. At the head of the table was a large pile of apples.. The nun made a note, and posted on the apple tray: 'Take only ONE . God is watching.'
Moving further along the lunch line, at the other end of the table was a large pile of chocolate chip cookies.
A child had written a note, 'Take all you want. God is watching the apples'.
#joke
An Englishman wanted to become...
An Englishman wanted to become an Irishman, so he visited a doctor to find out how to go about this. "Well" said the doctor, "this is a very delicate operation and there is a lot that can go wrong. I will have to remove half your brain". "That's OK" said the Englishman. "I've always wanted to be Irish and I'm prepared to take the risk".
The operation went ahead but the Englishman woke to find a look of horror on the face of the doctor. "I'm so terribly sorry!!" the doctor said. "Instead of removing half the brain, I've taken the whole brain out". The patient replied, "No worries, mate!!"
Feels great...
A fellow wakes up one morning, singing and whistling to himself, "I feel great, just great". Goes down to greet his wife, and tells her, "I feel great, honey!"
She replies,. "Well you look terrible"!
He shakes his head and starts out to work thinking, "She's probably in a bad mood, can't appreciate my good feelings". Meets his best friend, Joe and says, "Joe, I feel great".
Joe looks at him and says "Jeez, you really look terrible"! At this point the fellow is becoming worried and wonders, "Maybe I've got some unusual disease or something." He quickly calls his physician and heads on over for an emergency consult. He tells the physician, "Doc, I feel great, but everyone is telling me I look terrible."
The physician replies, "Well, you do look terrible. Let me look this up." The physician consults his handbook (Merck, of course) and leafing through the pages mutters to himself: "Feels great, looks great, no that's not you". "Feels terrible, looks terrible, no that's not you". "Feels great, looks terrible...Yes that's you... "It says here you're a vagina!"
#joke
Two elderly gentlemen, who had...
Two elderly gentlemen, who had been without sex for several years, decided they needed to visit a cat-house for some tail. When they arrived, the madam took one look at them and decided she wasn't going to waste any of her girls on these two old men. So she used "blow-up" dolls instead. She put the dolls in each man's room and left them to their business.
After the two men were finished, they started for home and got to talking.
The first man said, "I think the girl I had was dead. She never moved, talked or even groaned... how was it for you?"
The second man replied, "I think mine was a witch."
The first man asked, "How's that?"
"Well," said the second man, "when I nibbled on her breast... she farted and flew out the window!"
#joke
Chuck Norris can skip water on...
Chuck Norris can skip water on a rock.