Can you help me find a Chinese
Can you help me find a Chinese milkman? I'm in a bit of a Quan dairy.
Old Enough
The other day I got carded at the liquor store. While I was taking out my ID, my old Blockbuster card fell out.
The clerk shook his head and said, "Never mind," and rang me up.
"I sure felt a lot be
"I sure felt a lot better after buying a parking structure last week."
Lee wasn't the brightest guy
Lee wasn't the brightest guy in the world, and his co-workers were continually ribbing him on the job. One in particular, Rick, would greet him each morning and precipitate this exchange:
"Say Lee, you seen Ben?"
"Ben who?"
"Ben' down and kiss my a$$!"
Tired of falling for the same joke day after day, Lee confided in his friend Susie who said, "Listen, next time you see Rick, ask him if he's seen Eileen. Rick will ask, 'Eileen who?', and you say, 'I lean over and you kiss MY a$$.'"
Memorising his lines, Lee went to work early to wait for Rick. As soon as he arrived, Lee ran over to him.
"Hey Rick," he said, "have you seen Eileen?"
"No," Rick answered, "she ran off with Ben."
Lee frowned, "Ben who?"
#joke
Was it a ghost?
There was this party in the woods and, all of a sudden there was a downpour of rain and thunder. These two young men ran for about 10 minutes in the pouring rain, and finally reached their car just as the rain let up. They jumped in the car, started it up and headed down the road, laughing and, of course, still drinking one beer after the other.
All of a sudden an old man's face appeared outside the passenger window, and he tapped lightly on the window! The man on the passenger side screamed out, "Eeeeeeekkk! Look at my window!!! There's an old guy's face there!" (Was this a ghost?!?!?!)
This old man kept knocking, so the driver said, "Well, open the window a little and ask him what he wants!"
So the passenger rolled his window down part way and said, scared out of his wits, "What do you want???"
The old man softly replied, "Do you have any tobacco?"
The passenger, terrified, looked at the driver and said, "He wants tobacco!"
"Well, offer him a cigarette! HURRY!!" the driver replies.
So he fumbles around with the pack and hands the old man a cigarette and yells, "Step on it!!!" rolling up the window in terror.
Now going about 80 miles an hour, they calm down, and they start laughing again, and the passenger says, "What do you think about that?"
The driver says, "I don't know. How could that be? I was going pretty fast."
Then all of a sudden AGAIN there is a knock, and there is the old man again.
"Aaaaaaaaaaaaah, there he is again!" the passenger yells.
"Well, see what he wants now!" yells back the driver.
He rolls down the window a little ways and shakily says, "Yes?"
"Do you have a light?" the old man quietly asks.
The passenger throws a lighter out the window at him and rolls up the window and yells, "STEP ON IT!"
They are now going about 100 miles an hour and still guzzling beer, trying to forget what they had just seen and heard, when all of a sudden again there is more knocking!
"OH MY GOD! HE'S BACK!"
He rolls down the window and screams out, "WHAT DO YOU WANT?" in stark fear.
The old man replies, "You want some help getting out of the mud?"
A pious man who had reached th...
A pious man who had reached the age of 105 suddenly stopped going to synagogue. Alarmed by the old fellow's absence after so many years of faithful attendance the Rabbi went to see him.
He found him in excellent health, so the Rabbi asked, "How come after all these years we don't see you at services anymore?"
The old man looked around and lowered his voice. "I'll tell you, Rabbi," he whispered. "When I got to be 90, I expected God to take me any day. But then I got to be 95, then 100, then 105. So I figured that God is very busy and must've forgotten about me, and I don't want to remind Him!"
#joke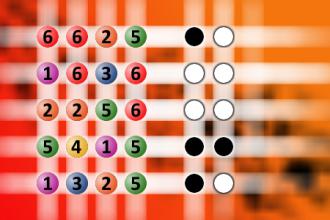 What a winning combination?
The computer chose a secret code (sequence of 4 digits from 1 to 6). Your goal is to find that code. Black circles indicate the number of hits on the right spot. White circles indicate the number of hits on the wrong spot.
Robert Schmidt 07
The Bermuda Triangle got tired of warm weather. It moved to Alaska. Now Santa Claus is missing.
I went to a fancy French restaurant called "Deja Vu." The headwaiter said, "Don't I know you?"
Last week I forgot how to ride a bicycle.
I took lessons in bicycle riding. But I could only afford half of them. Now I can ride a unicycle.
I got a calculator and now I can't add without it. I got a spellchecker and I can't write without it anymore. I got a blowdryer and now my hair won't dry on its own.
Get a bunch of those 3-D glasses and wear them at the same time. Use enough to get it up to a good, say, 10 or 12-D.
I heard that in relativity theory space and time are the same thing. Einstein discovered this when he kept showing up three miles late for his meetings.
Called a blind date to set up a meeting at a restaurant. I said, "I'll be the one in the leather jacket." She said, "I'll be the one drinking sake." Turned out it was one of those biker-sushi places. We never met.
Wrote my own communications software in LISP. Got a phone bill for a thousand dollars. My computer keeps calling itself.
#joke
Two Kinds of People
There are two kinds of people. Those who wake up in the morning and say, "Good morning, Lord," and those who wake up in the morning and say, "Good Lord, it's morning."

Too Many
So once there was an Chinese man, A mexican, and an american all in the same plane.
Now the chinese man Takes a pair of chopstickes and throws them out of the window.
Then he claims "We have too many of those in my country!".
Then the mexican grabs his salsa, throws it out the window and says "We have to many of these in my country!".
Then the american picks up the mexican and throws him out of the window and claims "We have to many of these in my country!".
#joke
Contrary to popular belief, Am...
Contrary to popular belief, America is not a democracy, it is a Chucktatorship.
Lesbian Diet
Q: Why cant a lesbian go on a diet and wear makeup at the same time?
A: Because they cant eat Jenny Craig and have Mary Kay on their face at the same time.