Only old people watch the r
Only old people watch the Grammy Awards.
The eminent banker explained j
The eminent banker explained just how he started in business:
"I had nothing to do, and I rented an empty store, and put up a sign, Bank. As soon as I opened for business, a man dropped in, and made a deposit of two hundred dollars. The next day another man dropped in and deposited three hundred dollars. And so, sir, the third day, my confidence in the enterprise reached such a point that I put in fifty dollars of my own money."
#joke
"I borrowed money to
"I borrowed money to attend school in the South. Now I owe Miss."
Mummy and Daddy
Son to Dad: "What's the difference between an Egyptian mummy and our mummy?"

Dad to Son: It's simple son. When we see an Egyptian mummy, you get fear. But when we see your mummy, then I get fear!"
People who live in glass house
People who live in glass houses should make love in the basement.
Never read the fine print.There ain't no way you're going to like it.
If you let a smile be your umbrella,then most likely your butt will get soaking wet.
The only two things we do with greater frequencyin middle age are urinate and attend funerals.
The trouble with bucket seats is that not everybodyhas the same size bucket.
To err is human, to forgive - highly unlikely.
Do you realize that in about 40 years,we'll have thousands of old ladiesrunning around with tattoos?
Money can't buy happiness -- but somehow it's more comfortableto cry in a Porsche than in a Hyundai.
Drinking makes some husbands see double and feel single.
Living in a n*dist colony takes all the fun out of Halloween.
After a certain age, if you don't wake up aching in every joint,you are probably dead.
What would you like for your birthday....
A middle-aged guy is out to dinner with his wife to celebrate her fortieth birthday. He says, "So what would you like, Julie? A Jaguar? A sable coat? A diamond necklace?"
She says, "Bernie, I want a divorce."
"My goodness," he says, "I wasn't planning on spending that much."
#joke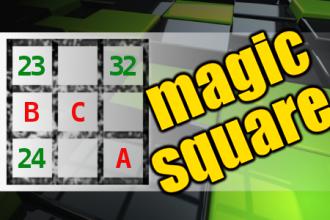 MAGIC SQUARE: Calculate A-B+C
The aim is to place the some numbers from the list (5, 6, 13, 22, 23, 24, 25, 30, 32, 50, 99) into the empty squares and squares marked with A, B an C. Sum of each row and column should be equal. All the numbers of the magic square must be different. Find values for A, B, and C. Solution is A-B+C.
Business One-liners 06
A stagnant science is at a standstill.
A theory is better than its explanation.
A transistor protected by a fast-acting fuse will protect the fuse by blowing first.
A well-adjusted person is one who makes the same mistake twice without getting nervous.
Ability is a good thing but stability is even better.
Ability is like a check, it has no value unless it is cashed.
Absolutum obsoletum. (If it works, it is out of date.) - Stafford Beer
According to my calculations, the problem doesn't exist.
According to the official figures, 43% of all statistics are totally worthless.
Adding manpower to a late software product makes it later.
Computer Movers
Dick and Dirk are employed in a computer hardware store as movers.
One day both of them are asked to move some computers. Dick being energetic that day doesn't feel the computer to be heavy at all. At the same time he sees that Dirk is struggling very hard to lift his computer.
At this Dick says, "What Dirk, my comp has 500 MB HardDisk and yours has just 250, even then you cannot lift it ???"
At this Dirk thinks for a while and replies, "Thats right, but my HardDisk is full and yours is empty"
#joke
Chuck Norris' pulse is measure...
Chuck Norris' pulse is measured on the richter scale.
I Own The Fastest Car
A man goes out and buys the best car available in the US or Europe, a 2001 Turbo BeepBeep. It is the best and most expensive car in the world, and it runs him $500,000. He takes it out for a spin and, while doing so, stops for a red light. An old man on a moped, both looking about 90 years old, pulls up next to him.
The old man looks over the sleek, shiny surface of the car and asks "What kind of car ya got there, sonny?".
The dude replies "A 2001 Turbo BeepBeep. They cost $500,000."
"That's a lotta money!" says the old man, shocked. "Why does it cost so much?"
"Cause this car can do up to 320 miles an hour!" states the cool dude proudly.
The old man asks "Can I take a look inside?"
"Sure" replies the owner.
So the old man pokes his head in the window and looks around. Leaning back on his moped, the old man says "That's a pretty nice car, alright!"
Just then the light changes, so the guy decides to show the old man what his car can do. He floors it, and within 30 seconds the speedometer reads 320. Suddenly, the guy notices a dot in his rear view mirror. It seems to be getting closer!
Whhhoooooooooossssshhhhhh! Something whips by him! Going maybe three times as fast!
The guy wonders "what on earth could be going faster than my Turbo BeepBeeP?" Then, ahead of him, he sees a dot coming toward him.
Whooooooooooosh! Goes by again! And, it almost looked like the old man on the moped! Couldn't be thinks the guy. How could a moped outrun a Turbo BeepBeep? Again, he sees a dot in his rearview mirror!
WhoooooooshhhhhhhhKa-BbbbblaMMMMM! It plows into the back of his car, demolishing the rear end.
The guy jumps out and discovers it is the old man! Of course, the moped and the old man are hurting for certain. The guy runs up to the dying old man and asks "You're hurt bad! Is there anything I can do for you?"
The old man replies "Yeah. Unhook my suspenders from the side-view mirror on your car!"
#joke
Praying for a Parking Space
A laywoman was driving down the street in a sweat because she had an important meeting and couldn't find a parking space. Looking up toward heaven, she said, "Lord, take pity on me. If you find me a parking place I'll go to Mass every Sunday for the rest of my life and give up drinking wine."
Miraculously, a parking space opened up right in front of her destination.
The woman looked up to heaven and said, "Never mind, Lord; I found one on my own."
#joke
Adam Strays
When Adam stayed out very late for a few nights, Eve became upset. "You're running around with other women," she told her mate.
"Eve, honey, you're being unreasonable," Adam responded. "You know you're the only woman on earth."
The quarrel continued until Adam fell asleep, only to be awakened by a strange pain in the chest. It was his darling Eve poking him rather vigorously about the torso.
"What do you think you're doing?" Adam demanded.
"Counting your ribs," said Eve.
#joke