People aren't happy with
People aren't happy with music DRM laws against CD ripping and burning. There is a lot of disc content.
A policeman was rushed to the
A policeman was rushed to the hospital with an inflamed appendix. The doctors operated and advised him that all was well. However, the policeman kept feeling something pulling at his pubic hairs.
Worried that it might be a second surgery and the doctors hadn't told him about it, he finally got enough energy to pull his hospital gown up enough so he could look at what was making him so uncomfortable. Taped firmly across his pubic hair and private parts were three wide strips of adhesive tape, the kind that doesn't come off easily --- if at all.
Written on the tape in large black letters was the sentence, "Get well soon from the nurse in the Landrover you booked for speeding last week."
Doctor Doctor Collection 10
Doctor Doctor I keep thinking I'm a caterpillar
Don't worry you'll soon change!
Doctor, Doctor you've taken out my tonsils, my adenoids, my gall bladder, my varicose veins and my appendix, but I still don't feel well.
That's quite enough out of you!
Doctor, Doctor I've got bad teeth, foul breath and smelly feet.
Sounds like you've got Foot and Mouth disease!
Doctor, Doctor my husband smells like fish
Poor sole!
Doctor, Doctor I keep thinking I'm a spider
What a web of lies!
Doctor, Doctor I'm a burglar!
Have you taken anything for it?
Doctor, Doctor my baby is the image of his father
Never mind just so long as he's healthy!
"Commuters live in a
"Commuters live in a clock-eyed world."
A father is explaining ethics
A father is explaining ethics to his son, who is about to go into business...
"Suppose a woman comes in and orders a hundred dollars worth of material. You wrap it up, and you give it to her. She pays you with a $100 bill. But as she goes out the door you realize she's given you two $100 bills. Now, here's where the ethics come in: should you or should you not tell your partner?
#joke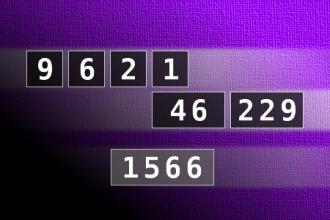 Calculate the number 1566
NUMBERMANIA: Calculate the number 1566 using numbers [9, 6, 2, 1, 46, 229] and basic arithmetic operations (+, -, *, /). Each of the numbers can be used only once.
What if...
Tom is applying for a job as a signalman for the local railroad and is told to meet the inspector at the signal box.
The inspector decides to give Tom a pop quiz, asking: "What would you do if you realized that two trains were heading towards each other on the same track?"
Tom says: "I would switch one train to another track."
"What if the lever broke?" asks the inspector.
"Then I'd run down to the tracks and use the manual lever down there," answers Tom.
"What if that had been struck by lightning?" challenges the inspector.
"Then," Tom continued, "I'd run back up here and use the phone to call the next signal box."
"What if the phone was busy?"
"In that case," Tom argued, "I'd run to the street level and use the public phone near the station."
"What if that had been vandalized?"
"Oh well," said Tom, "in that case I would run into town and get my Uncle Leo.
This puzzled the inspector, so he asked "Why would you do that?"
"Because he's never seen a train crash."
#joke
Fig Leaf Found
A little boy opened the large old family Bible, and he looked with fascination at the ancient pages as he turned them one by one.
He was still in Genesis when something fell out of the Bible. He picked it up and looked at it closely. It was a very large old tree leaf that had been pressed between the pages of the Bible long ago."Momma, look what I found!" the boy called out.
"What do you have there?" his mother asked.
With astonishment in his voice, the young boy answered, "I think it's Adam's underwear!"
#joke
A guy gets on a plane and find...
A guy gets on a plane and finds himself seated next to a cute blonde.
He immediately turns to her and makes his move.
"You know," he says, "I've heard that flights will go quicker if you strike up a conversation with your fellow passenger.
So let's talk."
The blonde, who had just opened her book, closes it slowly and says to the guy, " What would you like to discuss?"
"Oh, I don't know,"says the guy.
"How about nuclear power?"
"OK," says the blonde.
"That could be an interesting topic.
But let me ask you a question first.
A horse, a cow, and a deer all eat the same stuff--grass.
Yet the deer excretes little pellets, the cow turns out a flat patty, and the horse produces muffins of dried poop. Why do you suppose that is?"
The guy is dumbfounded. Finally he replies, "I haven't the slightest idea."
"So tell me," says the blonde, "How is it that you feel qualified to discuss nuclear power when you don't know shit?
Lost it!
A guy and a girl are lying in a dorm-room bed after just having sex.
The guy lies on his side of the bed and rests.
The girl rolls to her side of the bed and says to herself, "I finally did it! I'm no longer a virgin."
The guy overhears her talking to herself and asks, "Are you saying you lost your virginity to me?"
"Well," the girl explains, "I always wanted to wait until I was with the man I love to lose my virginity."
Astounded, the guy replies, "So you really love me?"
"Oh God no!" the girl says. "I just got sick of waiting."
Submitted by Calamjo
Edited by Curtis
#joke
Are you kidding?
Reaching the end of a job interview, the Human Resources Person asked a young Engineer fresh out of MIT, "And what starting salary were you looking for?"
The Engineer said, "In the neighborhood of $125,000 a year, depending on the benefits package."
The interviewer said, "Well, what would you say to a package of 5 weeks vacation, 14 paid holidays, full medical and dental, a company matching retirement fund for 50% of your salary, and a company car leased every 2 years -- say, a red Corvette?"
The Engineer sat up straight and said, "Wow! Are you kidding?"
And the interviewer replied, "Yeah, but you started it."
#joke
Phone sex
I tried phone sex once, but the holes were too small.
Submitted by Calamjo
Edited by Curtis