NED: Hear about the Greek mafi
NED: Hear about the Greek mafia?
ED: Yeah – they always threaten to put a kappa in my ass!
NED: Didn't they murder a bunch of Newfoundlanders?
ED: No – that was the psychotic Greek fraternity, Kappa Nu Phi.
NED: What about that strange fraternity located along the Nile river, it was called Chi Rho Delta, that now wants to open a bake shop.
ED: You mean Nu Pi Delta. Once I Eta Pithere – it was too expensive and now I Omega. But it was a big dessert. I Eta Omega Pi!
NED: Well I'm getting a little tired of Nu Pi Delta, as is their sister sorority.
ED: Xi Xi Xi?
NED: That's right. And what about the fraternity for Esperanto lovers – Nu Alpha Beta.
ED: Or that sorority for fashionable fat ladies: Nu Mu Mu. My poodle got eaten there!
NED: I thought that was Eta Phi-Phi.
ED: And to get revenge on those ladies I borrowed a semiautomatic weapon. But I lost it and now it has to be replaced.
NED: Iota Nu Xi can help you with that.
ED: What about penis enlargement?
NED: Try Psi Xi Omega.
ED: Did you know dragon boat lovers are meeting at Rho Rho Rho?
NED: That's nothing. The pranksters at Tau Rho Mu stack cows one atop the other!
ED: Funny, I had a beef patty the other day.
NED: At Eta Mu Pi?
ED: Yes. Say – did you hear about that kinky lesbian sorority. Legend has it Michael Douglas' wife and Delta Burke had a fling there.
NED: You mean Delta Eta Zeta?
ED: Yes.
#joke #prank
Little Jimmy sees his Daddy's
Little Jimmy sees his Daddy's car passing the playground and go into the woods. Curious, he follows the car and sees Daddy and Aunt Jane in a "Passionate Embrace." Little Jimmy finds this so exciting and can barely contain himself as he runs home and starts to tell his mother.
Mommy "I was at the playground and I saw Daddy's car go into the woods with Aunt Jane. I went back to look and he was giving Aunt Jane a big kiss, then he helped her take off her skirt, then Aunt Jane helped Daddy take his pants off, then Aunt Jane laid down on the seat, then Daddy..."
At this point, Mommy cut him off and said, "Jimmy, this is such an interesting story, suppose you save the rest of it for supper time. I want to see the look on Daddy's face when you tell it tonight." At the dinner table, Mommy asks Little Jimmy to tell his story.
Jimmy starts his story, describing the car into the woods, the undressing, laying down on the seat, and Jimmy said, "then Daddy and Aunt Jane... started doing that same thing Mommy and Uncle Bill used to do when Daddy was in the army."
#joke
"Comparing a toupee t
"Comparing a toupee to dentures is a false equivalency."
The World Is Dumb
Did you know that 97% of the world is dumb?
Luckily I'm in the other 5%!
Obviously inebriated?
A Highway Patrolman waited outside a popular bar, hoping for a bust.
At closing time everyone come out and he spotted his potential quarry. The man was so obviously inebriated that he could barely walk. He stumbled around the parking lot for a few minutes, looking for his car.
After trying his keys on five other cars, he finally found his own vehicle. He sat in the car a good ten minutes, as the other patrons left. He turned his lights on, then off, wipers on, then off. He started to pull forward into the grass, then stopped.
Finally, when he was the last car, he pulled out onto the road and started to drive away.
The patrolman, waiting for this, turned on his lights and pulled the man over. He administered the breathalyzer test, and to his great surprise, the man blew a 0.00.
The patrolman was dumbfounded. "This equipment must be broken!" he exclaimed.
"I doubt it," said the man, "Tonight I am the designated decoy!"
#joke
Last year, when the power mowe...
Last year, when the power mower was broken and wouldn't run, I kept hinting to my husband that he ought to get it fixed, but somehow the message never sank in. Finally I thought of a clever way to make the point.
When my husband arrived home that day, he found me seated in the tall grass, busily snipping away with a tiny pair of sewing scissors.
He watched silently for a short time and then went into the house. He was gone only a few moments when he came out again. He handed me a toothbrush. "When you finish cutting the grass," he said, "you might as well sweep the sidewalks."
#joke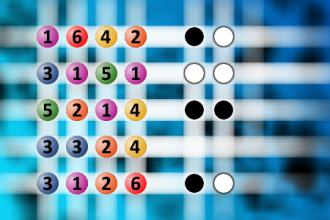 Which is a winning combination of digits?
The computer chose a secret code (sequence of 4 digits from 1 to 6). Your goal is to find that code. Black circles indicate the number of hits on the right spot. White circles indicate the number of hits on the wrong spot.
He Is A Very Smart Dog
I went to the cinema the other day and in the front row was an old man and with him was his dog. It was a sad funny kind of film, you know the type. In the sad part, the dog cried his eyes out, and in the funny part, the dog laughed its head off. This happened all the way through the film. After the film had ended, I decided to go and speak to the man.
"That's the most amazing thing I've seen," I said. "That dog really seemed to enjoy the film."
The man turned to me and said, "Yeah, it is. He hated the book."
#joke
A Push Please
A man is in bed with his wife when there is a knock at the door. He rolls over and looks at his clock, and it's 3:30 in the morning. "I'm not getting out of bed at this time," he thinks, and rolls over.
Then a louder knock follows. "Aren't you going to answer that?" says his wife. So he drags himself out of bed and goes downstairs. He opens the door and there is a man standing on the porch. It didn't take the homeowner long to realize the man was drunk.
"Hi there," slurs the stranger. "Can you give me a push??"
"No, get lost! It's half past three. I was in bed," says the man and he slams the door. He goes back up to bed and tells his wife what happened and she says, "That wasn't very nice of you. Remember that night we broke down in the pouring rain on the way to pick the kids up from the babysitter and you had to knock on that man's house to get us started again? What would have happened if he'd told us to get lost?"
"But the guy was drunk," says the husband. "It doesn't matter," says the wife. "He needs our help and it would be the Christian thing to help him."
So the husband gets out of bed again, gets dressed, and goes downstairs. He opens the front door, and not being able to see the stranger anywhere he shouts, "Hey, do you still want a push?" And he hears a voice cry out, "Yeah, please." So, still being unable to see the stranger he shouts, "Where are you?"
And the drunk replies, "Over here, on the swing."
#joke
Off to Vegas
A man came home from work one day to find his wife sitting on the front porch with her bags packed. He asked her where she was going and she replied "I'm going to Las Vegas."
He questioned her as to why she was going and she told him "I just found out that I can make $400.00 a night doing what I give you for free". He pondered that then went into the house and packed his bags and returned to the porch and with his wife. She said "And just where do you think you're going?"
"I'm going too!" he replied.
"Why?" She asked.
"I want to see how you are going to live on $800.00 a year"!   
#joke
Lessons from Comp 4
I recently finished up teaching Comp 4, the computer literacy course here at UNC, during a compressed summer session. Comp 4 is an introductory class that assumes NO knowledge of computers among its students, and believe me when I say that this was often the case. The class was great fun to teach, and one of the facets that made it interesting (day-in and day-out) was the wealth of new knowledge that the students imparted to me on tests and examinations. I thought that I'd share some of these nuggets with you. My comments are in the standard C delimiters (/* and */). *Your* comments are encouraged. Here goes:
Bacchus invented FORTRAN. /* I knew FORTRAN was old, and that it may have been designed under the influence of alcohol, but... */
There are three kinds of program statements: sequence, repetition, and seduction.
There are two types of graphics: vector and rascal. /* Otay... */
Programming languages have specifictions. /* Obviously this student has dealt with a few standards. */
Macs are compatible with each other. /* Imagine the alternative: "What's your Mac's serial number? We'll go back to the warehouse and get your software."
*/
Doctors use computers to create a three demential picture of a person's brain. /* Is this classic, or what? */
One kind of a hostile computer program is a Trojan.
C is a logical programming language. /* */
Heuristics (from the French heure, "hour") limit the amount of time spent executing something. [When using heuristics] it shouldn't take longer than an hour to do something. /* An absolutely terrific "false cognate". */
Having the computer automatically fill in images for animation is called "spleening". /* Derivation: most likely "splines" + "tweening". */
One method of computer security is a phone line. /* She qualified it later by adding, "You have to know the number."
*/
Video games are examples of fault-tolerant systems.
On one test, I gave the students some abbreviations and asked them to tell me what they stood for. You won't believe the creativity of a student in a test situation. For example, one of the abbreviations was "fax", which *really* stands for "facsimile". However, various Comp 4'ers said it stood for: Fiber-optic Aided Xeroxing Frequency Automatic X-rays
/* and my favorite... */
Fast A** Xeroxing
The students also had to hand in term papers, and these were rife with interesting tidbits. I've clipped a few, quoted verbatim:
"The worst thing the Mac has to offer, is that cooperative multitasking is not available to be used."
"... footnotes present an interesting problem, which may be solvable by Hypercad."
/* I assume the last term is the newest rage -- a free-form database for designers. */
"...Linda, a blind girl, was able to attend public school due to the aid of a speaking computer that taught her the basic fundmamentals [sic] of grammar and spelling."
/* Linda may want to lend her computer out... */
"The program is manufactured by Quantel, a Silicon Valley company located in Clearwater, Florida."
/* A *long* valley, as my roommate put it. */
"At the beginning of each season [Edwin] Moses teats himself on computerized weight machines..."
/* Ouch! */
blonde getting a haircut
A blond was rollerblading with her headphones on. she stopped in the hair salon and asked for a hair cut. she instructed that the hair stylist could not take off the headphones.
the stylist replied "no" so the blond left. she went to a different hair salon and said the same thing. the stylist replied "ok".
after a while, the blond fell asleep in the chair. the stylist took off the headphones and the blonde died on the spot. confused at what happened, the stylist put on the headphones. they were saying, "breath in, breath out"