A farmer and his wife were lay
A farmer and his wife were laying in bed one night, the farmer feeling a little frisky, reaches over and gives his wife's breast a little feel and says, "Mother, if this could give milk, we could get rid of the cow."
His hand then travels down to her crotch, and he says, "Mother, if this could give eggs, we could get rid of the chickens."
His wife then reaches over and grabs his penis. "Father, if this could stay hard, we could get rid of your brother."
#joke
He Finally Finished
Einstein finally finished his theory of relativity...
It's about time!
A blonde and her husband are l
A blonde and her husband are lying in bedlistening to the next door neighbor's dog.It has been in the backyardbarking for hours and hours.
The blonde jumps out of bedand says 'I've had enough of this,'and she goes downstairs.
The blonde finally comes back up to bedand her husband says'The dog is still barking, what have you been doing?'
The blonde says 'I put the dog in our backyard,let's see how THEY like it!'
Business One-liners 101
When working hard, be sure to get up and retch every so often.
When working on a project, if you put away a tool that you're you're finished with, you will need it instantly.
When working toward the solution of a problem, it always helps if you know the answer, provided of course you know that there is a problem.
When you are confronted by any complex social system, such as an urban center or a hamster, with things about it that you're dissatisfied with and anxious to fix, you cannot just step in and set about fixing with much hope of helping. This realization is one of the sore discouragements of our century. Jay Forrester has demonstrated it mathematically, with his computer models of cities in which he makes clear that whatever you propose to do, based on common sense, will almost inevitably make matters worse rather than better. You cannot meddle with one part of a complex system from the outside without the almost risk of setting off disastrous events that you hadn't counted on in other, remote parts. If you want to fix something you are first obliged to understand, in detail, the whole system, and for very large systems you can't do this without a very large computer. Even then, the safest course seems to be to stand by and wring hands, but not to touch. Intervening is a way of causing trouble. - Lewis Thomas, from the essay "On Meddling" in the collection "The Medusa and the Snail", The Viking Press, New York, 1979
When you are in it up to your ears, keep your mouth shut.
When you are right be logical, when you are wrong befuddle.
When you are sure you're right, you have a moral duty to impose your will upon anyone who disagrees with you.
When you are up to your butt in alligators, it is difficult to keep your mind on the fact that your primary objective was to drain the swamp.
When you dial a wrong number, you never get a busy signal.
Your own car uses more gas and oil than anyone else's.
#joke
"A paratrooper pulls
"A paratrooper pulls strings to stay on the job."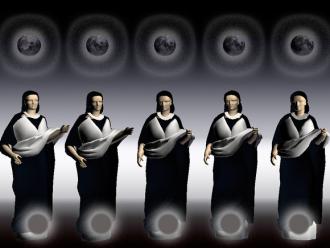 What hides this stereogram?
Stereogram - 3D Image
Praise the Lord
An elderly lady was well-known for her faith and for her boldness in talking about it. She would stand on her front porch and shout, "PRAISE THE LORD!"
Next door to her lived an atheist who would get so angry at her proclamations that he would shout, "There ain't no Lord!"
Hard times set in on the elderly lady, and she prayed for God to send her some assistance. She stood on her porch and shouted, "PRAISE THE LORD! God, I need food. I am having a hard time. Please, Lord, send me some groceries."
The next morning, the lady went out on her porch and noted a large bag of groceries and shouted, "PRAISE THE LORD!"
The neighbor jumped from behind a bush and said, "HA...HA. I told you there was no Lord! I bought those groceries, myself! God didn't!"
The lady started jumping up and down and clapping her hands and saying, "PRAISE THE LORD! He not only sent me groceries, but He made the Devil pay for them! PRAISE THE LORD!"
#joke
Biblical Theme Songs
Noah: "Raindrops Keep Falling on My Head"
Adam and Eve: "Strangers in Paradise"
Lazarus: "The Second Time Around"
Esther: "I Feel Pretty"
Job: "I've Got a Right to Sing the Blues"
Moses: "The Wanderer"
Jezebel: "The Lady is a Tramp"
Samson: "Hair"Salome: "I Could Have Danced All Night"
Daniel: "The Lion Sleeps Tonight"
Esau: "Born To Be Wild"
Shadrach, Meshach, and Abednego: "Great Balls of Fire!"
The Three Kings: "When You Wish Upon a Star"
Jonah: "Got a Whale of a Tale"
Elijah: "Up, Up, and Away"
Methuselah: "Stayin' Alive"
Nebuchadnezzar: "Crazy"
#joke
Chuck Norris hears sign langua...
Chuck Norris hears sign language.
The Young Executive & The Blonde CEO
A young executive was leaving the office late one evening when he found the Blonde CEO standing in front of a shredder with a piece of paper in his hand.
'Listen,' said the CEO, 'this is a very sensitive and important document here, and my secretary has gone for the night. Can you make this thing work for me?'
'Certainly,' said the young executive. He turned the machine on, inserted the paper, and pressed the start button.
'Excellent, excellent!' said the CEO, as his paper disappeared inside the machine. 'I just need one copy...'
A lawyer died and arrived at t...
A lawyer died and arrived at the pearly gates. To his dismay, there were thousands of people ahead of him in line to see St. Peter. To his surprise, St. Peter left his desk at the gate and came down the long line to where the lawyer was, and greeted him warmly.
Then St. Peter and one of his assistants took the lawyer by the hands and guided him up to the front of the line, and into a comfortable chair by his desk.
The lawyer said, "I don't mind all this attention, but what makes me so special?"
St. Peter replied, "Well, I've added up all the hours for which you billed your clients, and by my calculation you must be about 193 years old!"
Daniel Tosh: God Does Not Hate Gay People
God does not hate gay people. Hes just mad because they found a loophole in His system.