Don't knock lazy people.
Don't knock lazy people. They are the most into-resting.
An elderly couple who were chi
An elderly couple who were childhood sweethearts had married and settled down in their old neighborhood and are celebrating their fiftieth wedding anniversary. They walk down the street to their old school. There, they hold hands as they find the old desk they'd shared and where he had carved "I love you, Sally."
On their way back home, a bag of money falls out of an armored car practically at their feet. She quickly picks it up, but they don't know what to do with it so they take it home. There, she counts the money, and it's fifty-thousand dollars.
The husband says, "We've got to give it back."
She says, "Finders keepers." And she puts the money back in the bag and hides it up in their attic.
The next day, two FBI men are going door-to-door in the neighborhood looking for the money and show up at their home.
They say, "Pardon me, but did either of you find any money that fell out of an armored car yesterday?"
She says, "No."
The husband says, "She's lying. She hid it up in the attic."
She says, "Don't believe him, he's getting senile."
But the agents sit the man down and begin to question him. One says,"Tell us the story from the beginning."
The old man says, "Well, when Sally and I were walking home from school yesterday..."
The FBI guy looks at his partner and says, "Let's get out of here."
#joke
"The bowling alley wa
"The bowling alley was robbed? They can't pin that on me."
Ice Cream Flavor Galore
A January 1994 Reuters News Service story on Manuel Oliveira's ice cream shop in Merida, Venezuela, reported on his 567 flavors, including onion, chili, beer, eggplant, smoked trout, spaghetti parmesan, chicken with rice, and spinach. He said some flavors fail; he once abandoned avocado ice cream, and tossed out 99 pounds of it, because it wasn't smooth enough.
Lost At the Museum
A professor at a museum noticed his tomb exhibit was empty.
He walks by a little boy who is lost and crying.
He asked the boy what's wrong. "I want my mommy!" the boy sniffed.
The professor said, "I know how you feel, I want my mummy too!"
#joke
A young woman visits her paren
A young woman visits her parents and brings her fiancé to meet them. After an elaborate dinner, the mother tells her husband to find out about the young man.
The father invites the fiancée to his library for a drink. So what are your plans? The father asks the young man. I am a Torah scholar. He says. A Torah scholar, Hmmm, the father says. Admirable, but what will you do to provide a nice house for my daughterto live in, as she is accustomed to? I will study, the young man said, and God will provide for us.
And how will you buy her a beautiful engagement ring, such as she deserves? asks the father. I will concentrate on my studies, the young man replies, God will provide for us.
And children? asks the father. How will you support children? Dont worry, sir, God will provide, replies the fiancé.
The conversation continues like this, and each time the father questions, the young idealist insist that God will provide.
Later, the mother asks, How did it go, Honey? The father answers, He has no job and no plans, but the good news is he thinks Im God
#joke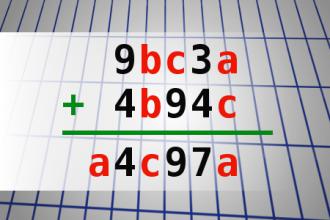 Find number abc
If 9bc3a + 4b94c = a4c97a find number abc. Multiple solutions may exist.
Parent's Dictionary
AMNESIA: condition that enables a woman who has gone through labor to have sex again.
DUMBWAITER: one who asks if the kids would care to order dessert.
FAMILY PLANNING: the art of spacing your children the proper distance apart to keep you on the edge of financial disaster.
FEEDBACK: the inevitable result when the baby doesn't appreciate the strained carrots.
FULL NAME: what you call your child when you're mad at him.
GRANDPARENTS: the people who think your children are wonderful even though they're sure you're not raising them right.
HEARSAY: what toddlers do when anyone mutters a dirty word.
IMPREGNABLE: a woman whose memory of labor is still vivid.
INDEPENDENT: how we want our children to be as long as they do everything we say.
PRENATAL: when your life was still somewhat your own.
PUDDLE: a small body of water that draws other small bodies wearing dry shoes into it.
SHOW OFF: a child who is more talented than yours.
STERILIZE: what you do to your first baby's pacifier by boiling it and to your last baby's pacifier by blowing on it.
TOP BUNK: where you should never put a child wearing Superman jammies.
TWO-MINUTE WARNING: when the baby's face turns red and she begins to make those familiar grunting noises.
VERBAL: able to whine in words.
WHODUNIT: none of the kids that live in your house.
#joke
A guy was in a cave, looking f...
A guy was in a cave, looking for treasure. He found an old lamp, rubbed it, and a genie came out. The genie said "I will grant you three wishes, but your ex-wife will get double." The man agreed, and said "I wish I had a mansion." The genie granted it, and his ex-wife got two mansions. The man said "I would like a million dollars." The genie again granted it and his ex-wife got two million dollars. Then the man said, "Scare me half to death."
#joke
Mike Vecchione: Favorite Place to Taser
My favorite place to taser people: the Renaissance Fair. The Renaissance Fair cause it makes me feel like an evil wizard from the future.
Chuck Norris was once on Celeb...
Chuck Norris was once on Celebrity Wheel of Fortune and was the first to spin. The next 29 minutes of the show consisted of everyone standing around awkwardly, waiting for the wheel to stop.
Rowing Your Boat
Two blondes were driving along a road by a wheat field when they saw a blonde in the middle of the field rowing a row boat.
The driver blonde turned to her friend and said "You know - it's blondes like that that give us a bad name!"
To this, the other blonde replies "I know it, and if I knew how to swim, I'd go out there and drown her."
A pastor's wife was expecting...
A pastor's wife was expecting a baby, so he stood before the congregation and asked for a raise. After much discussion, they passed a rule that whenever the preacher's family expanded, so would his paycheck.
After 6 children, this started to get expensive and the congregation decided to hold another meeting to discuss the preacher's expanding salary. A great deal of yelling and inner bickering ensued, as to how much the clergyman's additional children were costing the church, and how much more it could potentially cost.
After listening to them for about an hour, the pastor rose from his chair and spoke, 'Children are a gift from God, and we will take as many gifts as He gives us'.
Silence fell on the congregation.
In the back pew, a little old lady struggled to stand, and finally said in her frail voice, 'Rain is also a gift from God, but when we get too much of it, we wear rubbers.'
The entire congregation said, 'Amen.'
#joke