"Our local wheat farm
"Our local wheat farmers had a flour-ishing harvest."
If the Shoe Fits
"I stand corrected!"
... Said the man in the orthopedic shoes.
Holding onto the saddle horn
A woman from New York was driving through a remote part of Arizona when hercar broke down. An American Indian on horseback came along and offered her aride to a nearby town. She climbed up behind him on the horse and they rodeoff.
The ride was uneventful, except that every few minutes the Indian would letout a 'Ye-e-e-e-h-a-a-a-a' so loud that it echoed from the surroundinghills.
When they arrived in town, he let her off at the local service station,yelled one final 'Ye-e-e-e-h-a-a-a-a!' and rode off.
'What did you do to get that Indian so excited?' asked the service-stationattendant.
'Nothing,' the woman answered. 'I merely sat behind him on thehorse, put my arms around his waist, and held onto the saddle horn so Iwouldn't fall off.'
'Lady,' the attendant said, 'Indians don't use saddles.
#joke
Ice Cream Flavor Galore
A January 1994 Reuters News Service story on Manuel Oliveira's ice cream shop in Merida, Venezuela, reported on his 567 flavors, including onion, chili, beer, eggplant, smoked trout, spaghetti parmesan, chicken with rice, and spinach. He said some flavors fail; he once abandoned avocado ice cream, and tossed out 99 pounds of it, because it wasn't smooth enough.
A lady sitting in first class
A lady sitting in first class saw the cockpit door open, she was incredulous to see that the pilot was reading. Very concerned, she asked a flight attendant, "Miss, why is the pilot reading? Isn't he supposed to be flying?"
The woman fainted when the flight attendant said, "Oh well, he's just studying for his pilot license."
#joke
The golf ball...
These two guys were approaching the first tee. The first guy goes into his golf bag to get a ball and says to his friend, "Hey, why don't you try this ball?"
He draws a green golf ball out of his bag. "You can't lose it."
His friend replies, "What do you mean you can't lose it?!"
The first man replies, "I'm serious, you can't lose it. If you hit it into the woods, it makes a beeping sound, if you hit it into the water it produces bubbles, and if you hit it on the fairway, smoke comes up in order for you to find it."
Obviously, his friend doesn't believe him, but he shows him all the possibilities until he is convinced. The friend says, "Wow! That's incredible! Where did you get that ball?!"
The man replies, "I found it."
#joke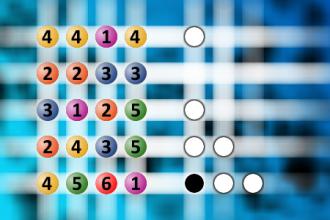 Which is a winning combination of digits?
The computer chose a secret code (sequence of 4 digits from 1 to 6). Your goal is to find that code. Black circles indicate the number of hits on the right spot. White circles indicate the number of hits on the wrong spot.
After defecting from my presti
After defecting from my prestigious job in Pyongyang, my Korea went south.
Horse Tears
A fellow walks into a bar very down on himself. As he walks up to the bar the bartender asks, "what's the matter?"
The fellow replies, "well I've got these two horses (sniff,sniff), and well... I can't tell them apart. I don't know if I'm mixing up riding times or even feeding them the right foods."
The bartender, feeling sorry for the guy, tries to think of somthing he can do.
"Why don't you try shaving the tail of one of the horses?"
The man stops crying and says, "that sounds like a good idea, I think I'll try it."
A few months later he comes back to the bar in worse condition than he was before.
"What's the matter now?"
the bartender asks.
The fellow, in no condition to be in public, answers, "I shaved the tail of one of the horses (sob, sob), but it grew back and I can't tell them apart again!"
The bartender, now just wanting him to shut up or leave says, "why don't you try shaving the mane, maybe that will not grow back."
The fellow stops crying, has a few drinks, and leaves. A few months later the fellow is back in the bar. The bartender has never seen anybody in this sorry of a state. Without the bartender even asking the fellow breaks into his problems. "I.. I shaved the (sob) mane of one of the (sniff) horses, and... it... it... grew back!"
The bartenter, now furious at the guy's general stupidity, yells, "for crying out loud, just measure the stupid horses. Perhaps one is slightly taller that the other one!" The fellow can not believe what the bartender has said and storms out of the bar.
The next day the fellow comes running back into the bar as if he had just won the lottery.
"It worked, it worked!" he exclaims.
"I measured the horses and the black one is two inches taller than the white one!"
#joke #walksintoabar
The Bored Man
There's a man named Ralph that goes into a bar, looking very depressed. A friend approaches him and asks, "Why the long face, Ralph?"
"Oh, I'm just bored. I know every person in the entire world now, and there's just nothing left to challenge me."
His friend says, "No, you can't know everyone. Do you know Paul McCartney?"
He says, "Sure, Paul's an old friend of mine. Here, I'll show you." He goes over to a phone, dials a number. His friend overhears a British accent, "Hey Ralph, how ya doing?"
He talks for a while, but when Ralph hangs up, his friend is not really sure that it was Paul McCartney on the other end of the line, so he asks him if he knows the president.Ralph says, "Sure, we go way back." This time he lets him listen in as he calls a private number. It sounds like the president on the other end of the line, and they go into a big discussion of the current economic scene, and Ralph offers a few suggestions. Drawing the conversation to a close, Ralph wishes him well and hangs up.
His friend is a little dumbfounded at this point. "Well, there must be someone that you don't know." He goes over a few more people in his mind, and thinks, 'He can't possibly know the Pope. After all, he's a Protestant.'
But Ralph claims to know him, so to convince himself otherwise, his friend desides to fly both himself and Ralph to the Vatican to get positive proof of Ralph's conviction.
So they arrive at the Vatican, and Ralph suggests that his friend wait out in St. Peter's Square until Ralph has cleared things with the Pope. He's standing in the courtyard, when who walks out onto the balcony of the private residence, arm in arm with the Pope, but Ralph.
Ralph looks down, sees that his friend has apparently passed out, and runs down to see what can be done for him. "What happened to you? Couldn't you accept the fact that I really do know the Pope?"
"No, I'd begun to accept that possibility. But what really took my breath away was some stranger standing next to me who said, 'Who's that guy standing there with Ralph?'"
#joke
Rabbi in the Catholic Hospital
Rabbi Levy had to spend time in a Catholic hospital. He became friends with the Sister who was a nurse there. One day, she came into his room and noticed that the crucifix on the wall was missing. She asked him good-naturedly, "Rabbi, what have you done with the crucifix?"
"Oh, sister," chuckled Rabbi Levy, "I just figured one suffering Jew in this room was enough."
#joke
Who Would Steal?

The two partners in a law firm were having lunch when suddenly one of them jumped up and said, "I have to go back to the office - I forgot to lock the safe!"
The other partner replied, "What are you worried about? We're both here."


Mike Birbiglia: Crying Over a Book
I was on the subway the other day, and the guy next to me was crying over a book. He was actually crying. So, I leaned over -- I go, You dont know how to read, either?