"The horn player is s
"The horn player is sick. He has coronet virus."
School Collection 09
A history joke
Where did the pilgrims land when they came to America?
On their feet!
You mean you need to sleep at home too!
Teacher: Class, we will have only half a day of school this morning.
Class: Hooray!
Teacher: We will have the other half this afternoon!
A history joke
Why did Julius Caesar buy crayons?
He wanted Mark Antony!
Why does history keep repeating itself?
Because we weren't listening the first time!
Teacher: Is Lapland heavily populated?
Class: No, there are not many Lapps to the mile!
Teacher: Name an animal that lives in Lapland!
Pupil: A reindeer
Teacher: Good, now name another.
Class: Another reindeer!
#joke
Get A Job
Interviewer: Your asking for a pretty high salary for someone without any experience.
Interviewee: Well, this job is going to be super hard since I don't know what I'm doing.
A woman went to a lawyer to di
A woman went to a lawyer to discuss divorcing her husband.
"Don't you love him anymore?" asked the lawyer.
"Oh, I still love him," she replied, "but all he ever wants is make love, I can't take it anymore."
"Instead of divorcing him, why don't you try charging him every time he wants to make love?" the lawyer suggested.
The exhausted wife decided to give the plan a try.
As soon as she walked into the house that night her husband put the move on her.
"Not so fast," she replied. "From now on it'll be $10 in the kitchen, $20 in the living room and $50 in the bedroom."
"Well, then," he said. "Here's $50."
The wife began walking to the bedroom.
"Hold on," he said, grabbing her hand. "That'll be five times in the kitchen!"
1. I am currently out at a job
1. I am currently out at a job interview and will reply to you if I fail toget the position. Be prepared for my mood.
2. You are receiving this automatic notification because I am out of theoffice. If I was in, chances are you wouldn't have received anything atall.
3. I will be unable to delete all the unread, worthless emails you send meuntil I return from holiday on 4 April. Please be patient and your mailwill be deleted in the order it was received.
4. Thank you for your email. Your credit card has been charged $5.99 forthe first ten words and $1.99 for each additional word in your message.
5. The e-mail server is unable to verify your server connection and isunable to deliver this message. Please restart your computer and trysending again.'(The beauty of this is that when you return, you can seehow many in-duh-viduals did this over and over).
6. Thank you for your message, which has been added to a queuing system..You are currently in 352nd place, and can expect to receive a reply inapproximately 19 weeks.
7. I've run away to join a different circus.
8. I will be out of the office for the next 2 weeks for medical reasons.When I return, please refer to me as 'Margaret' instead of 'Jay'.
#joke
Just like mom
Manny is almost 29 years old. His friends have already gotten married, but Manny still just dates and dates.
Finally, a friend asks him, "What's the matter, are you looking for the perfect woman? Are you that particular? Can't you find anyone who suits you?"
"No," Manny replies. "I meet many nice girls, but as soon as I bring them home to meet my parents, my Mother doesn't like them. So I keep on looking!"
"Listen," his friend suggests, "Why don't you find a girl who's just like your dear ole Mother?"
Many weeks go by and again Manny and his friend get together. "So, Manny, did you find that perfect girl yet--one that's just like your Mother?"
Manny shrugs his shoulders, "Yes, I found one just like Mom. And my mother loved her, and they became fast friends."
So should I congratulate you? "Are you and this girl engaged, yet?"
"I'm afraid not. My Father can't stand her!"
#joke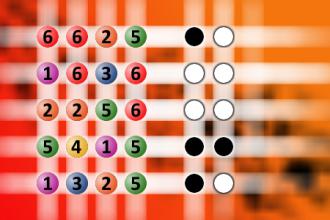 What a winning combination?
The computer chose a secret code (sequence of 4 digits from 1 to 6). Your goal is to find that code. Black circles indicate the number of hits on the right spot. White circles indicate the number of hits on the wrong spot.
Xenophobic vampires are ron
Xenophobic vampires are foreign neck haters.
Shane Mauss: Freak Accident
I went to a Six Flags. Theres this new ride there; I had to wait in line for, like, four hours to get on this thing. Finally got on it, it was fine enough. But then I see a couple of weeks later in the news, this girl goes on the exact same ride and, in some freak accident, her legs got lopped off at the knees. I was like, What a terrible thing to happen to all of those people waiting in line.
#joke
If, by some incredible space-t...
If, by some incredible space-time paradox, Chuck Norris would ever fight himself, he'd win. Period.
Mid Semester Final Exam
One night Jack Evans, along with his 3 university friends went out drinkinig till late night, as many college students are prone to do, and didn't study for their test, which, of course, was scheduled for the next day.
In the morning they thought of a plan. They made themselves look as dirty and weird as they could with grease and dirt.
They went up to the dean and explained that they had gone out to a wedding last night and on their return the tire of their car burst. They continued to explain how they had to push the car all the way back and that they were in no condition to appear for the test.
The dean, being a compassionate human being said that they could take the test after 3 days. The students graciously replied that they'd be ready by that time.
On the third day, they appeared before the dean. The dean explained that since this was a special test all four were required to sit in separate classrooms for the duration of the exam.
They all agreed as they had prepared well in the last three days. The test consisted of 5 questions with total of 100 points:
MID SEMESTER COURSEWORK EXAMINATION
INSTRUCTIONS : All questions are required. Any inconsistencies on any of the questions among the four students will result in all the candidates getting a zero mark.
Q.1. Write down your name. ----- (2 POINTS) Q.2. Write the name of the bride and groom at the wedding you attended. ----- (30 POINTS) Q.3. What type of a car were you driving? ------(20 POINTS) Q.4. Which tire burst? ------- (28 POINTS) Q.5. Who was driving? ------ (20 POINTS)
#joke
Planning WWIII
President Bush and Colin Powell are sitting in a bar.
A guy walks in and asks the barman, "Isn't that Bush and Powell sitting over there?"
The barman says, "Yep, that's them."
So the guy walks over and says, "Wow, this is a real honor. What are you guys doing in here?"
Bush says, "We're planning WW III."
And the guy says, "Really? What's going to happen?"
Bush says, "Well, we're going to kill 140 million Iraqis this time and one blonde with big tits."
The guy exclaimed, "A blonde with big tits?" "Why kill a blonde with big tits?"
Bush turns to Powell and says, "See, I told you no one would worry about the 140 million Iraqis!"
Submitted by Calamjo
Edited by Curtis
Brendon Walsh: Badge
The last job I had, I had to wear this badge around my neck all day -- like, a laminated badge. Its like a backstage pass to the crappiest concert ever invented.