Thoughts To Ponder
Thoughts To Ponder
1. How important does a person have to be before they are considered assassinated instead of just murdered?
2. Why do you have to "put your two cents in", but it's only a "penny for your thoughts"? Where's that extra penny going to?
3. Why does a round pizza come in a square box?
4. What disease did cured ham actually have?
5. How is it that we put man on the moon before we figured out it would be a good idea to put wheels on luggage?
6. Why is it that people say they "slept like a baby" when babies wake up like every two hours?
7. If a deaf person has to go to court, is it still called a hearing?
8. Why are you IN a movie, but you're ON TV?
9. Why do people pay to go up tall buildings and then put money in binoculars to look at things on the ground?
10. Why do doctors leave the room while you change? They're going to see you naked anyway.
"In some large stores
"In some large stores it is now illegal to buy more than one package of toilet paper. The police have named it 'The Big Crack Down'."
Oh Happy Day
Whoever said money can't buy happiness...
... has never paid for a divorce before!
Steal From This Family
After shopping in a mall, a couple returns to find their car has been stolen. They go to the police station to make a full report. Then, a detective drives them back to the parking lot to see if any evidence can be found at the scene of the crime. To their amazement, the car has been returned.
There is an envelope on the windshield with a note of apology and two tickets to a music concert. The note reads, "I apologize for taking your car, but my wife was having a baby and I had to hot-wire your ignition to rush her to the hospital. Please forgive the inconvenience. Here are two tickets for tonight's concert of Garth Brooks, the country-and-western music star."
Their faith in humanity restored, the couple attend the concert and return home late. They find their house has been robbed. Valuable goods have been taken from thoughout the house, from basement to attic. And, there is a note on the door reading, "Well, you still have your car. I have to put my kid through college somehow, don't I?"
#joke
1. I am currently out at a job
1. I am currently out at a job interview and will reply to you if I fail toget the position. Be prepared for my mood.
2. You are receiving this automatic notification because I am out of theoffice. If I was in, chances are you wouldn't have received anything atall.
3. I will be unable to delete all the unread, worthless emails you send meuntil I return from holiday on 4 April. Please be patient and your mailwill be deleted in the order it was received.
4. Thank you for your email. Your credit card has been charged $5.99 forthe first ten words and $1.99 for each additional word in your message.
5. The e-mail server is unable to verify your server connection and isunable to deliver this message. Please restart your computer and trysending again.'(The beauty of this is that when you return, you can seehow many in-duh-viduals did this over and over).
6. Thank you for your message, which has been added to a queuing system..You are currently in 352nd place, and can expect to receive a reply inapproximately 19 weeks.
7. I've run away to join a different circus.
8. I will be out of the office for the next 2 weeks for medical reasons.When I return, please refer to me as 'Margaret' instead of 'Jay'.
#joke
A compliment....
Bob was sitting at the table one morning, reading the paper after breakfast. He came across an article about a beautiful actress who was about to marry a football player known for his lack of IQ.
He turned to his wife and said, "I'll never understand why the biggest jerks get the most attractive wives."
She replied, "Why, thank you, Dear!"
#joke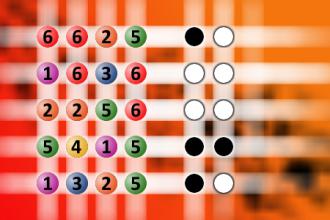 What a winning combination?
The computer chose a secret code (sequence of 4 digits from 1 to 6). Your goal is to find that code. Black circles indicate the number of hits on the right spot. White circles indicate the number of hits on the wrong spot.
I don't know what snake
I don't know what snake bit me. It acted with venonymity.
Volunteer fire department
A fire started on some grasslands near a farm. The county fire department was called to put out the fire. The fire was more than the county fire department could handle. Someone suggested that a nearby volunteer bunch be called. Despite some doubt that the volunteer outfit would be of any assistance, the call was made.
The volunteers arrived in a dilapidated old fire truck. They rumbled straight towards the fire, drove right into the middle of the flames and stopped! The firemen jumped off the truck and frantically started spraying water in all directions. Soon they had snuffed out the center of the fire, breaking the blaze into two easily-controlled parts.
Watching all this, the farmer was so impressed with the volunteer fire department's work and was so grateful that his farm had been spared, that right there on the spot he presented the volunteers with a check for $1,000. A local news reporter asked the volunteer fire captain what the department planned to do with the funds.
"That ought to be obvious," he responded, wiping ashes off his coat. "The first thing we're gonna do is get the brakes fixed on our fire truck!"
#joke
Life insurance premiums are ba...
Life insurance premiums are based on how far you live from Chuck Norris.
Little Miss Muffet sat on her ...
Little Miss Muffet sat on her tuffet, until Chuck Norris roundhouse kicked her into a glacier.
Girls Night Out...
The other night, I was invited out for a night with "the girls." I told my husband that I would be home by midnight. "I promise," were my last words.
The hours passed and the margaritas went down way too easily and around 3 a.m. we piled into a cab and headed to our respective homes, quite inebriated.
Just as I walked through the door, the cuckoo clock in the hall started up and cuckooed 3 times!
Realizing that my husband would probably wake up to this, I quickly cuckooed another 9 times. I was quit pleased with myself for coming up with such a quick witted solution to cover up my tardiness. Even with my impaired judgment, I could count 3 cuckoos plus 9 cuckoos equaled 12 cuckoos!
The next morning, my husband asked me what time I got in, and confidently, I replied, "Midnight...like I promised." He didn't even raise and eyebrow and went on reading the morning paper! Phew! Got away with that one!
After a moment, he then replied, "I think we might need a new cuckoo clock."
A bit nervously, I asked him why, to which he responded:
"Well, last night our clock cuckooed 3 times, then said, 'Oh, crap,' cuckooed 4 more times, cleared it's throat, cuckooed another 3 times, giggled, cuckooed twice more, then tripped over the coffee table and farted."
#joke
Fuzz
Phillip and Phoebe are parked in Lover's Lane.
He embraces her with one arm, and begins to explore with the other hand. Looking over her shoulder, he sees a policeman approaching.
"Awwwww Hell !" he murmured, "Fuzz !"
"What did ya expect ?" Phoebe sez, "A perm?"