"A school of fish is
"A school of fish is where you learn about the ABCs."
Get The Job Done
"This little computer," said the sales clerk, "will do half of your job for you."
Studying the machine, the senior VP said, "Fine. I'll take two."

English Language
The English Language
Have you ever wondered why foreigners have trouble with the English Language?
Let's face it
English is a stupid language.
There is no egg in the eggplant
No ham in the hamburger
And neither pine nor apple in the pineapple.
English muffins were not invented in England
French fries were not invented in France.
We sometimes take English for granted
But if we examine its paradoxes we find that
Quicksand takes you down slowly
Boxing rings are square
And a guinea pig is neither from Guinea nor is it a pig.
If writers write, how come fingers don't fing.
If the plural of tooth is teeth
Shouldn't the plural of phone booth be phone beeth
If the teacher taught,
Why didn't the preacher praught.
If a vegetarian eats vegetables
What the heck does a humanitarian eat!?
Why do people recite at a play
Yet play at a recital?
Park on driveways and
Drive on parkways
You have to marvel at the unique lunacy
Of a language where a house can burn up as
It burns down
And in which you fill in a form
By filling it out
And a bell is only heard once it goes!
English was invented by people, not computers
And it reflects the creativity of the human race
(Which of course isn't a race at all)
That is why
When the stars are out they are visible
But when the lights are out they are invisible
And why it is that when I wind up my watch
It starts
But when I wind up this observation,
It ends.
#joke
A man goes to see his bank man
A man goes to see his bank manager one day and says: "I'd like to start a small business. How do I go about it?"
"That's simple," replies the bank manager. "All you have to do is buy a big one and wait."

Embarrassing Compulsion...
A man walked into a bar and ordered a glass of white wine. He took a sip of the wine, then tossed the remainder into the bartender's face. Before the bartender could recover from the surprise, the man began weeping.
"I'm sorry," he said. "I'm really sorry. I keep doing that to bartenders. I can't tell you how embarrassing it is to have a compulsion like this."
Far from being angry, the bartender was sympathetic. Before long, he was suggesting that the man see an analyst about his problem.
"I happen to have the name of a psychoanalyst," the bartender said. "My brother and my wife have both been treated by him, and they say he's as good as they get."
Six months later, the man was back.
"Did you do what I suggested?" the bartender asked, serving a glass of white wine.
"I certainly did," the man said. "I've been seeing the psychoanalyst twice a week." He took a sip of the wine, then he threw the remainder into the bartender's face.
The flustered bartender wiped his face with a towel. "The doctor doesn't seem to be doing you any good," he sputtered.
"On the contrary," the man claimed, "he's done me world of good."
"But you threw the wine in my face again!" the bartender exclaimed.
"Yes," the man replied. "But it doesn't embarrass me anymore."
My friend Michael is a comedia
My friend Michael is a comedian who's donating his body to science. You might see him at Open Mike night.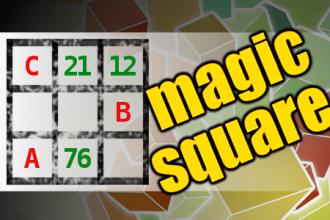 MAGIC SQUARE: Calculate A*B-C
The aim is to place the some numbers from the list (4, 5, 12, 14, 21, 22, 29, 68, 69, 76) into the empty squares and squares marked with A, B an C. Sum of each row and column should be equal. All the numbers of the magic square must be different. Find values for A, B, and C. Solution is A*B-C.
1st Grader Answers
A first-grade teacher had twenty-five students in her Clarkston, MI class.
She presented each child in her class the first half of a well-known proverb and asked them to come up with the remainder of the proverb.
It's hard to believe these were actually done by first graders. Their insight may surprise you.
While reading, keep in mind that these are just 6-year-olds because the last one is classic… although sad to see it said!
#joke
Chuck Norris sleeps with a pil...
Chuck Norris sleeps with a pillow under his gun.
AOL Support Call
AOL: America Online, this is Sue speaking.
Caller: Hi, I have some questions about American Online
before I join.
AOL: Okay, ma'am, what's your question?
Caller: Well, some of my friends who have AOL say they get
something called "cybersex". Does this cost extra?
AOL: :::quiet laugh in the background::: Well ma'am... I
don't know how to explain this, but cybersex is not part of
America Online.
Caller: Oh really? My friends said they got it from AOL.
AOL: Well it's something members typically do when they go
to a chat room.
Caller: Hmmmm . . . I don't understand, what is cybersex??
AOL: I'm sorry, I really don't know how to explain it.
Caller: Hmmm . . . well, have you ever had cybersex?
AOL: Ma'am, I don't think that's an appropriate question to
be asking me. Is there anything else you need?
Caller: Sorry, like I said I don't even know what it is.
AOL: That's okay ma'am, anything else?
Caller: Yes, I have one more question.
AOL: Go ahead . . .
Caller: What are you wearing?
AOL:
#joke
Talking Dog For Sale
This guy sees a sign in front of a house "Talking Dog for Sale." He rings the bell and the owner tells him the dog is in the back yard. The guy goes into the back yard and sees a mutt sitting there."You talk?" he asks."Yep," the mutt replies."So, what's your story?"The mutt looks up and says "Well, I discovered this gift pretty young and I wanted to help the government, so I told the CIA about my gift, and in no time they had me jetting from country to country, sitting in rooms with spies and world leader, cause no one figured a dog would be eavesdropping. I was one of their most valuable spies eight years running. The jetting around really tired me out, and I knew I wasn't getting any younger and I wanted to settle down. So I signed up for a job at the airport to do some undercover security work, mostly wandering near suspicious characters and listening in. I uncovered some incredible dealings there and was awarded a batch of medals.Had a wife, a mess of puppies, and now I'm just retired."The guy is amazed. He goes back in and asks the owner what hewants for the dog. The owner says "Ten dollars." The guy says he'll buy him but asks the owner, "This dog is amazing. Why on earth are you selling him?" The owner replies, "He's such a fucking liar."
#joke