"Midwife is the secon
"Midwife is the second wife of three."
Conveyer Belt Job
During college, I worked on a conveyer belt. One day, I was on a blind date, and she asked me about my job.
"I work at the end of a belt," I said.
With an ebullient smile, she asked, "Are you the buckle?"
The Very Hungry Lion
A hungry lion was roaming through the jungle looking for something to eat. He came across two men. One was sitting under a tree reading a book; the other was typing away on his typewriter. The lion quickly pounced on the man reading the book and devoured him. Even the king of the jungle knows that readers digest and writers cramp.
#joke
One day, up in the frozen nort
One day, up in the frozen north a polar bear and his son were out for a stroll. Daddy bear sat on a lump of ice to admire the view and sent his son off to play. Two minutes later Junior came back to dad and says, "Can I ask you a question dad?"
"Sure, son what is it?"
"Am I a real polar bear, Dad?" asks Junior.
Dad smiles and says, "Of course you are, son. Now go and play."
So off Junior goes again throws some snowballs at the seals but soon he's back.
"Hey Dad, are you sure I am a real polar bear? Is there not a wee bit of brown bear or black bear in me?"
Dad smiles again and says, "Look son you've got big hairy black feet, a white coat, and a black shiny nose...of course you're a polar bear....now go back and play."
Once again Junior runs off...slides down the ice....chases a couple of seagulls...after ten minutes of fun he returns with a puzzled look on his face...
"Daaaad....are you absolutely sure I'm a polar bear?"
"Look son...I'm a polar bear, your mums a polar bear, your granny and grandpa were polar bears...why are you asking all these questions?"
Junior looks up and says...."Cause I'm freaking freezing!"
#joke
A young man called his mother
A young man called his mother and announced excitedly that he had just metthe woman of his dreams. Now what should he do?
His mother had an idea: "Why don't you send her flowers, and on the cardinvite her to your apartment for a home-cooked meal?"
He thought this was a great strategy, and a week later, the woman came todinner. His mother called the next day to see how things had gone.
"I was totally humiliated," he moaned. "She insisted on washing thedishes."
"What's wrong with that?" asked his mother.
"We hadn't started eating yet."
#joke
Popping the question....
Jimmie, an 80-year-old gentleman, retired to Florida after his wife of 58 years had passed away. He was quite alone in the world and longed for companionship again.
One day, as he was walking through a public park, he spied what he considered to be a very pretty, silver-haired lady sitting alone on a park bench. Getting his nerve up, he approached the lady and asked graciously, "Pardon me, ma'am, but may I sit here with you?"
The silver-haired Marcie looked up to see a distinguished-looking, white-haired gentleman and replied, "Why certainly," and moved over gently to give him room to sit down.
For the next two hours, the two sat and talked about everything. They discovered that they came from the same part of the country, liked the same big band music, voted for the same presidential candidates, had had long, happy marriages, ha lost their spouses during the previous year, and in general agreed about almost everything.
Finally, the old gentleman cleared his throat and asked sheepishly, "Ma'am, may I ask you two questions?"
With great interest and anticipation, Marcie replied, "Why certainly!"
The old gentleman removed a handkerchief from his coat pocket and spread it out on the ground before her. He very gingerly got down on one knee and looked her softly in the eyes. "Marcie, I know we've only known each other for a couple of hours, but we have so much in common. I feel I have known you all my life. Will you marry me and be my wife?"
Marcie grabbed at Jimmie's hands and said, "Why, yes, I will marry you! You have made me so very happy!" She reached over and kissed him gently on the cheek. Then Marcie said, "You said you had two questions to ask me. What is the second question?"
Jimmie scratched his neck and said, "Will you help me get up?"
#joke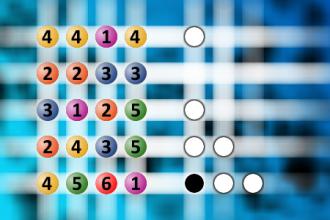 Which is a winning combination of digits?
The computer chose a secret code (sequence of 4 digits from 1 to 6). Your goal is to find that code. Black circles indicate the number of hits on the right spot. White circles indicate the number of hits on the wrong spot.
It doesn't add up, but <
It doesn't add up, but summer is already here.
John Caparulo: Yard Sales on Memorial Day
Every year back in Ohio, we would have yard sales on Memorial Day weekend, so its like Mardi Gras for white trash.
Dan Cummins: Pizza Sale
I saw a grown man once riding one of those weird standup scooters down the side of the road -- you have to tilt to make it move forward, I think its called a Segway or a Douchebag Way -- wearing a toga and holding a sign for a pizza sale. My first thought was, Congrats, youve hit rock bottom. But my second thought was, If you took away just the sign, then that guy would rule.
#joke
An explorer walked into a clea...
An explorer walked into a clearing and was surprised to see a pigmy standing beside a huge dead elephant. "Did you kill that?" he asked. The pigmy answered: "Yes". "How could a little bloke like you kill something as huge as that?"
"I killed it with my club" replied the pigmy.
"That's amazing," said the explorer. "How big's your club?"
The pigmy replied: "There's about 150 of us"
#joke
A Jewish Landing
As the plane settled down at Ben Gurion airport, the voice of the Captain came on:
"Please remain seated with your seatbelt fastened until this plane is at a complete standstill and the seat belt signs have been turned off.""To those of you standing in the aisles, we wish you a Happy Hanukkah."
"To those who have remained in their seats, we wish you a Merry Christmas."

I think...
There are three girls at a bar, a red head, a brunette, and a blonde.
They have a seat at the bar. The bar tender says, "If you go into the bathroom there is a mirror. Look into the mirror and tell anything in your life that you believe is true. If you are telling the truth then "POOF" a hundred dollars pops out, if you lie then "POOF" you'll disappear."
So the red head goes in first and stares deeply into the mirror and proclaims, "I think that i am the most beautiful woman in the world!", "POOF" a hundred dollars pops out.
Then the brunette goes in. "I think that i am the smartest woman in the world," "POOF" a hundred dollars pops out.
Now it's the blonde's turn. She slowly walks into the bathroom with her hands over her eyes and peeks between her fingers at the mirror. She waits... nothing happens... she is glad. She stands bravely and states, "I think... "POOF " she disappears.
Submitted by Curtis