Laura, Charlotte, NC
Working at a pickle factory
A man comes home from working at a pickle factory and he seems troubled. His wife asks him what's wrong and the man says, "Oh, nothing. I just... well... recently I've had an uncontrollable urge to put my penis in the pickle slicer."
His wife nearly faints, then she blurts out: "Why? You need to go see someone. I'm going to make an appointment with a therapist or someone tomorrow."
The man protests, "No, no. It's fine. Really. I'm not going to do it."
Everything is fine for a few weeks, but then the man comes home early from work and he's pale as a ghost. His wife inquires, "What's the matter? You look terrible!"
The husband tells her, "Well, remember when I said I wanted to put my penis in the pickle slicer?"
The wife gasps, "You did? What happened?"
The man starts to cry. "I got fired!"
"I don't care about that! Are you okay? What happened with the pickle slicer?"
The man sobs, "She got fired, too."
#joke
Answering Machine Message 33

Sorry, Chris and Susan aren't here right now. Please leave your name and number after the tone. If you are calling regarding an outstanding debt, please leave your message before the tone.


"With everyone in my
"With everyone in my house tired of the usual pastimes, we're playing bored games."
You Must Admire His Honesty
His girlfriend's father was interviewing Young Charles.
"So," said the father, "you want to be my son-in-law, do you?"
"No, not particularly," said Charles tactlessly, "but if I want to marry your daughter I haven't much choice, have I?"

#joke
Know Your Priorities....
A farmer was munching on a cookie, as he watches the rooster chase a hen around.
Playfully, the farmer throws a piece of cookie to the ground. Seeing it, the rooster stops chasing the hen and runs to the piece of cookie.
The farmer shakes his head slowly and says, "Gosh, I hope I never get THAT hungry."
#joke
FLEX WORDLE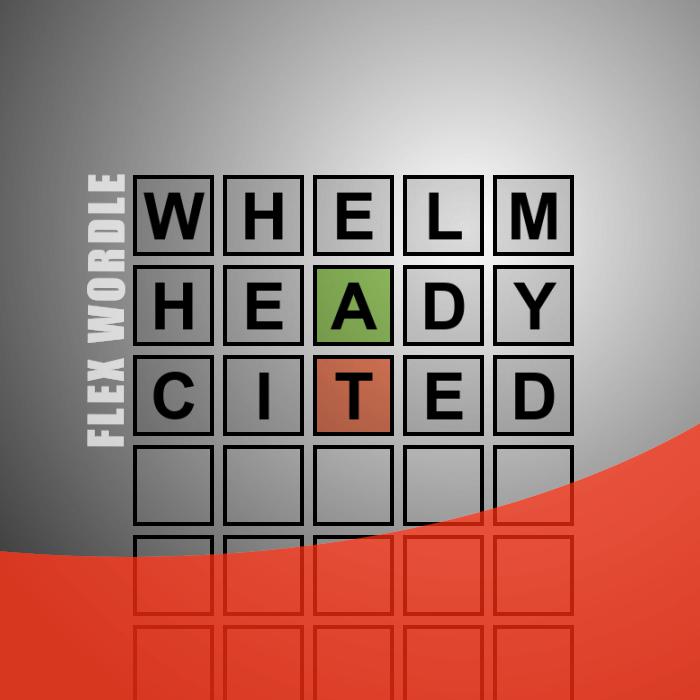 Guess the
WORDLE
in 3 tries. After each guess, the color of the tiles will change to show how close your guess was to the solution.
It was the kindergarten teache...
It was the kindergarten teachers birthday and the students decided that they would each buy their teacher a gift.
The first student, whose parents own a florist shop, gave her a present. She held it and said "I guess that it is flowers".
"How did you guess?" asked the little boy. She laughed and thanked him.
The second student, whose parents own a candy store, gave her a present. She held it and said, "I guess that is some candy."
"How did you guess?" asked the little boy. She again laughed and thanked him also.
The third student, whose parents own a bottle shop, gave her a box which was leaking. The teacher touched the liquid with her finger and tasted it. "Mmmmm is it wine?" she asked.
"No," said the little girl.
So she tasted it again. "Is it champaigne?" she asked.
"No," replied the little girl, "It is a puppy.
#joke
Cruise Control
My family has a tradition of naming the cruise control on our cars. We were used to hearing my father proclaim, "Take it, Max," as he flipped on the cruise control during long trips in our station wagon.
Recently, I was travelling with my parents in their new car when we hit a wide-open expanse of highway. My dad leaned back and said, "I think I'll let Tom drive for a while."
"Tom who?" I asked.
My mother translated for me: "Tom Cruise, of course."
#joke
Just like mom
Manny is almost 29 years old. His friends have already gotten married, but Manny still just dates and dates.
Finally, a friend asks him, "What's the matter, are you looking for the perfect woman? Are you that particular? Can't you find anyone who suits you?"
"No," Manny replies. "I meet many nice girls, but as soon as I bring them home to meet my parents, my Mother doesn't like them. So I keep on looking!"
"Listen," his friend suggests, "Why don't you find a girl who's just like your dear ole Mother?"
Many weeks go by and again Manny and his friend get together. "So, Manny, did you find that perfect girl yet--one that's just like your Mother?"
Manny shrugs his shoulders, "Yes, I found one just like Mom. And my mother loved her, and they became fast friends."
So should I congratulate you? "Are you and this girl engaged, yet?"
"I'm afraid not. My Father can't stand her!"
#joke
Ted Alexandro: Personal Trainer
My sisters a personal trainer. Thats a tough job. I dont think I can do that. You gotta help people with their fitness goals. Can you help me define my abs? Yeah -- disgusting, sloppy, gelatinous.
Kyle Kinane: Not a Hobby
At this age, its really not a hobby, its just a drinking problem now.
Join us on WhatsApp