Full garbage cans are a terror
Full garbage cans are a terrorist threat, aka Bin Laden.
A couple return from their hon
A couple return from their honeymoon and it's obvious to everyone that they are not talking to each other.
The groom's best man takes him aside and asks what is wrong.
"Well," replied the man, "when we had finished making love on the first night, as I got up to go to the bathroom I put a $50 bill on the pillow without thinking."
"Oh, I shouldn't worry about that too much," said his friend, "I'm sure your wife will get over it soon enough - she can't expect you to have been saving yourself all these years!"
The groom nodded gently and said, "I don't know if I can get over it though, she gave me $20 change."
#joke
You Are In California
You Know You're In California When...


The fastest part of your commute is down your driveway.

You were born somewhere else.

You know how to eat an artichoke.

The primary bugs that you worry about are electronic.

Your car has bulletproof windows.

Left is right and right is wrong.

Your monthly house payments exceed your annual income.

Your mouse has only one ball.

You need a new TV, you can run down to the local riot and pick one up.

You dive under a desk whenever a large truck goes by.

You can't find your other earring because your son is wearing it.

You drive to your neighborhood block party.

Your family tree contains 'significant others'.

Your cat has it's own psychiatrist.

You don't exterminate your roaches, you smoke them.

You see 25 lawyers chasing an ambulance.

More than clothes come out of the closets.

When 'the Dead' are best live.

You go to a tanning salon before going to the beach.

Your blind date turns out to be your ex-spouse.

More money is spent on facelifts than on diapers.

Smoking in your office is not optional.

When you can't schedule a meeting because you must 'do lunch'.

Your children learn to walk in Birkenstocks.

Rainstorms or thunder are the lead story for the local news.

You'll reluctantly miss yoga class to wait for the hot tub repairman.

You consult your horoscope before planning your day.

A glass has been reserved for you at your favorite winery.

When all highways into the state say: 'no fruits'.

All highways out of the state say: 'Go back'.

You pack shorts and a T-shirt for skiing in the snow, and a sweater and a wetsuit for the beach.

Dad, You Are My Hero
Son: Dad, You are my hero.
Dad: Really?
Son: Yes. Can you give me an autograph with your eyes closed?
Dad: Well, yes, of course.
Son: That's great! Then here, close your eyes and sign my report card.
"If a single statisti
"If a single statistician meets another single statistician does she datum or does he data?"
Auctions and golf...
A wife and husband both talked in their sleep. She loved auctions; his hobby was golf.
The other night, as they slept, the golfer yelled, "Fore!"
His wife yelled back, "Four and a quarter !"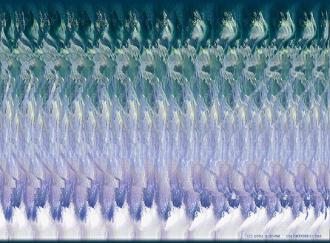 What is hidden in 3D image?
Stereogram - 3D Image
Bubba applied for an engineeri...
Bubba applied for an engineering position at a Lake Charles refinery. A Yankee applied for the same job and both applicants having the same qualifications were asked to take a test by the manager. Upon completion of the test, both men only missed one of the questions. The manager went to Bubba and said: "Thank you for your interest, but we've decided to give the Yankee the job."Bubba asked: "And why are you giving him the job? We both got nine questions correct. This being Louisiana, and me being a Southern boy, I should get the job!"
The manager said: "We have made our decision not on the correct answers, but rather on the one question that you both missed."
Bubba then asked: "And just how would one incorrect answer be better than the other?"
The manager replied: "Bubba, its like this. On question #4 the Yankee put down; "I don't know." You put down, "Neither do I."
#joke
John Oliver: Taxation Without Representation
Frankly, I could not f**king believe I was not allowed to vote. Three and a half years Ive lived here! I work hard -- relatively speaking for someone who does this for a living. I pay my taxes. I try to fit in. Ive learnt your rudimentary language. I dont know what more you could reasonably expect me to do. And thats when it hit me. I know why Im so angry. I know what this is -- taxation without representation. Now I get it. Now I see why you got so pissy about it all those years ago. It is annoying. You were right. It is annoying and consider that as close to an apology as you are ever going to get.
#joke
For beer drinkers
"Sometimes when I reflect back on all the beer I drink I feel ashamed. Then I look into the glass and think about the workers in the brewery and all of their hopes and dreams. If I didn't drink this beer, they might be out of work and their dreams would be shattered. Then I say to myself, "It is better that I drink this beer and let their dreams come true than be selfish and worry about my liver." ~ Jack Handy
~~~~~~~~~~~~~
"I feel sorry for people who don't drink. When they wake up in the morning, that's as good as they're going to feel all day. " ~ Frank Sinatra
~~~~~~~~~~~~~
"When I read about the evils of drinking, I gave up reading." ~ Henny Youngman
~~~~~~~~~~~~~
"24 hours in a day, 24 beers in a case. Coincidence? I think not." ~ Stephen Wright
~~~~~~~~~~~~~
"When we drink, we get drunk. When we get drunk, we fall asleep. When we fall asleep, we commit no sin. When we commit no sin, we go to heaven. Sooooo, let's all get drunk and go to heaven!" ~ Brian O'Rourke
~~~~~~~~~~~~~
"Beer is proof that God loves us and wants us to be happy." ~ Benjamin Franklin
~~~~~~~~~~~~~
"Without question, the greatest invention in the history of mankind is beer. Oh, I grant you that the wheel was also a fine invention, but the wheel does not go nearly as well with pizza." ~ Dave Barry
~~~~~~~~~~~~~
~~~~~~~~~~~~~
Remember "I" before "E", except in Budweiser.
Submitted by Curtis
Edited by calamjo, yisman and Tantilazing
Welles and Link were lost in t...
Welles and Link were lost in the desert and hadn't eaten in weeks. Suddenly they stumbled on a dead coyote covered with maggots.
Welles, at the point of starvation, couldn't control himself. He threw himself on the rotting animal and began eating it. Ten minutes later, he threw up all over the place.
At that moment, Link began eating what his friend had just vomited. He stopped for a moment and said, "I knew if I waited long enough I'd have a hot meal!"
#joke
Nerd Season
A truck driver, hauling a tractor-trailer load of computers, stops for a beer. As he approaches the bar, he sees a big sign on the door that says, "COMPUTER NERDS NOT ALLOWED - ENTER AT YOUR OWN RISK!" He enters and sits down.
The bartender comes over to him, sniffs, and says that he smells kind of nerdy. He then asks him what he does for a living. The truck driver explains to him that he drives a truck, and the smell is just from the computers he is hauling. The bartender serves him a beer and says, "OK, truck drivers aren't nerds."
As he is sipping his beer, a skinny guy walks in wearing a pair of glasses with tape around the middle, a pocket protector with twelve kinds of pens and pencils, and a belt that is at least a foot too long. The bartender, without saying a word, pulls out a shotgun and blows the guy away. The truck driver asks him why he did that.
The bartender replied, "Don't worry. The computer nerds are in season because they are overpopulating Silicon Valley. You don't even need a license."
So the truck driver finishes his beer, gets back in his truck, and heads for the freeway. Suddenly, he veers to avoid an accident, and the load shifts. The back door breaks open and computers spill out all over the road. He jumps out and sees a crowd already forming, snatching up all of the computers. The scavengers are comprised of engineers, accountants and programmers - computer geeks. Each of them wearing the nerdiest clothes he has ever seen.
He can't let them steal his whole load. So remembering what happened in the bar, he pulls out his gun and starts blasting away, killing several of them instantly. A highway patrol officer comes zooming up and jumps out of the car screaming at him to stop.
The truck driver said, "What's wrong? I thought computer nerds were in season."
"Well, sure," says the patrolman, "But you can't bait 'em!"