Happy New Year 2021!!
A wealthy merchant of 84 marri
A wealthy merchant of 84 married a 25 year old fashion model. They had a wonderful honeymoon in Aruba but, unfortunately, the old boy suffered a coronary and was hospitalized.
When his young wife came to see him, the old man said, "Sweetheart, your future has been taken care of regardless of what happens to me. You will have an income of $250,000 a year, my home in Palm Springs, my ranch in Texas, my Mercedes. You'll never need to worry about money."
"Oh, sweetheart, please don't talk that way," his young wife exclaimed. "You've been so good to me already. If you go, I'll be devastated. Oh, there must be something I can do to help you. Please, tell me what I can do?"
"Well," the old man gasped, "you can quit pinching the inlet tube to my oxygen supply for starters."
#joke
"I couldn't beat the
"I couldn't beat the conundrums of my opponent in the contest!"
Equation Of Earnings
The Equation
Engineers and scientists will never make as much money as business executives. Now a rigorous mathematical proof has been developed that explains why this is true:
Postulate 1: Knowledge is Power.
Postulate 2: Time is Money.
As every engineer knows,
Work = Power * Time
Since Knowledge = Power, and Time = Money, we have:
Work = Knowledge * Money
Solving for Money, we get:

 Work
Money = ----------
 Knowledge

Thus, as Knowledge decreases, Money increases, regardless of how much Work is done.
Conclusion: The Less you Know, the More you Make.
Note: It has been speculated that the reason why Bill Gates dropped out of Harvard's math program was because he stumbled upon this proof as an undergraduate, and dedicated the rest of his career to the pursuit of ignorance.
#joke
The secret of my success
Grandpa was celebrating his 100th birthday and everybody complimented him on how athletic and well-preserved he appeared.
"Gentlemen, I will tell you the secret of my success," he cackled. "I have been in the open air day after day for some 75 years now."
The celebrants were impressed and asked how he managed to keep up his rigorous fitness regime.
"Well, you see my wife and I were married 75 years ago. On our wedding night, we made a solemn pledge. Whenever we had a fight, the one who was proved wrong would go outside and take a walk."
#joke
What's the fastest fast
What's the fastest fast food? A: Lamb-burger-inis.
Can't touch this
Chuck Norris can touch MC Hammer.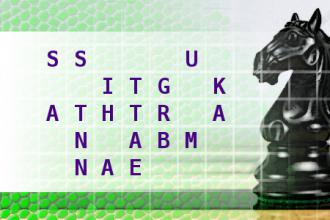 Chess Knight Move
Find the country and its capital city, using the move of a chess knight. First letter is T. Length of words in solution: 12,8.
Boyfriend 4.0
Last year, many women upgraded their BOYFRIEND 3.1 to
BOYFRIEND PLUS 1.0
(marketing name: FIANCE 1.0) and then further upgraded
FIANCE 1.0 to
HUSBAND 1.0. They found that 1.0 is a memory hogger and
incompatible to
many other programs in their lives. HUSBAND 1.0 includes
plug-ins such
as MOTHER-IN-LAW, BROTHER-IN-LAW, and ANNOYING LOSER FRIENDS
although
market research has clearly shown that they are unnecessary
and
unwanted.
The upcoming BOYFRIEND 4.0 will change all that. Created by
leading
experts in the field and based upon years of research and
classroom
lectures, it includes the best of the old features, such as
the HANDYMAN
FUNCTION, and includes many new functions such as the
OPTIONAL
COMMITMENT FEATURE. Other immature functions, such as BEER
GUZZLING and
CAT CALLING have been removed, though they can still be
found on FRATBOY
1.1
BOYFRIEND 4.0 will include:
- An AUTOMATIC REMINDER BUTTON AND PAY ATTENTION FEATURE (so
I don't
have to repeat myself)
- MINIMIZE BUTTON
- SHUTDOWN FEATURE
- SHOPPING FUNCTION
- A BACK-UP ENERGY SUPPLY, so it won't fall asleep after sex
- A LAUNDRY, COOKING, & HOUSECLEANING FUNCTION
- DIAPER-CHANGING FUNCTION, for the more advanced users
- A SELF DESTRUCT SEQUENCE, so once it's uninstalled it
won't come back
- A MONOGAMY FEATURE
- AUTOMATIC OVERRIDE that kicks in right before they're
about to say
ANYTHING even remotely stupid
Nun Sees A Naked Man
A nun and a priest were traveling across the desert and realized halfway across that the camel they were using for transportation was about to die. They set up a make-shift camp, hoping someone would come to their rescue, but to no avail. Soon the camel died.
After several days of not being rescued, they agreed that they were not going to be rescued. They prayed a lot (of course), and they discussed their predicament in great depth. Finally the priest said to the nun, "you know sister, I am about to die, and there's always been one thing I've wanted here on earth--to see a woman naked. Would you mind taking off your clothes so I can look at you?"
The nun thought about his request for several seconds and then agreed to take off her clothes. As she was doing so, she remarked, "well, Father, now that I think about it, I've never seen a man naked, either. Would you mind taking off your clothes, too?"
With little hesitation, the priest also stripped. Suddenly the nun exclaimed, "Father! What is that little thing hanging between your legs?"
The priest patiently answered, "That, my child, is a gift from God. If I put it in you, it creates a new life."
"Well," responded the nun, "forget about me. Stick it in the camel!"
#joke
How To Please a Woman
A group of girlfriends are on vacation when they see a 5- story
hotel with a sign that reads: "For Women Only." Since they are
without their boyfriends and husbands, they decide to go in.
The bouncer, a very attractive guy, explains to them how it
works. "We have 5 floors. Go up floor-by-floor, and once you
find what you are looking for, you can stay there. It's easy to
decide since each floor has a sign telling you what's inside."
So they start going up and on the first floor the sign reads:
"All the men on this floor are short and plain." The friends
laugh and without hesitation move on to the next floor.
The sign on the second floor reads: "All the men here are short
and handsome." Still, this isn't good enough, so the friends
continue on up.
They reach the third floor and the sign reads: "All the men here
are tall and plain." They still want to do better, and so,
knowing there are still two floors left, they continued on up.
On the fourth floor, the sign is perfect: "All the men here are
tall and handsome." The women get all excited and are going in
when they realize that there is still one floor left. Wondering
what they are missing, they head on up to the fifth floor.
There they find a sign that reads: "There are no men here. This
floor was built only to prove that there is no way to please a
woman."
#joke
Christopher Titus: Terror Alert Level
Osamas dead. Why is the terror alert elevated or imminent? Why not chill? Cant I just fly, keep my shoes on and avoid X-ray-fueled testicular cancer?