A woman said to her friend, "I
A woman said to her friend, "I don't know what to do. My husband is such a mess maker that you can't imagine. He doesn't put anything in its place, I am always going around the house picking up after him."
The friend says, "Take a tip from me. The first week after we were married I told my husband firmly, 'Every glass and plate that you take, wash it when you are done and put it back in its proper place.'"
The woman asked, "Did it help?"
Her friend replied, "I don't know. I haven't seen him since."
#joke
"I use yeast most of
"I use yeast most of the time when I am baking, and I always use it on the ryes."
Bumper Stickers 11
If we aren't supposed to eat animals, why are they made of meat?
Lottery: A tax on people who are bad at math.
A closed mouth gathers no feet.
A journey of a thousand miles begins with a cash advance.
A penny saved is ridiculous.
All that glitters has a high refractive index.
Ambition is a poor excuse for not having enough sense to be lazy.
Anarchy is better than no government at all.
Any small object when dropped will hide under a larger object.
Death is life's way of telling you you've been fired.
#joke
No Thumbs
What do you call a judge with no thumbs?
Justice Fingers.

Miracle worker...
Two guys and a union worker were fishing on a lake one day, when Jesus walked across the water and joined them in the boat. When the three astonished men had settled down enough to speak, the first guy asked, humbly, "Jesus, I've suffered from back pain ever since I took shrapnel in the Vietnam War...could you help me?"
"Of course, my son," Jesus said, and when he touched the man's back, he felt relief for the first time in years.
The second man, who wore very thick glasses and had a hard time reading and driving, asked if Jesus could do anything about his eyesight.
Jesus smiled, removed the man's glasses and tossed them in the lake. When they hit the water, the man's eyes cleared, and he could see everything distinctly.
When Jesus turned to heal the union worker, the guy put his hands up and cried, defensively, "DON'T TOUCH ME! I'm on long-term disability!"
#joke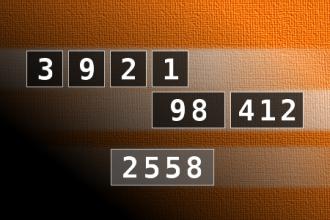 Calculate the number 2558
NUMBERMANIA: Calculate the number 2558 using numbers [3, 9, 2, 1, 98, 412] and basic arithmetic operations (+, -, *, /). Each of the numbers can be used only once.
Banging pussy
There were two prostitutes , one was very beautiful and the other was ugly. The beautiful prostitute used to make around $1,000-$3,000 a month but the ugly one made around $10,000-$13,000.
Confused to why the fuck the ugly one made more money than her, the beautiful prostitute went to the ugly one and asked her.
" Hey girl ! How are you? Looks like you're doing great ,you bought a new car and an apartment, where did you get the money ?".
On this the ugly bitch replied. " Actually I play games with my customer and so I earn a lot, maybe more than you . What I do with my customer is that when we have intercourse I put a small firecracker in my pussy and when it blows up , I start shouting oh you blew up my pussy you bastard, scared that this may put them in trouble my customers end up paying me $500-$800 to get away".
Hearing this, the beautiful blonde prostitute went to the shop
to buy some firecrackers, but as the less power crackers were not available that day she bought a huge powerful firecracker and went to work.
While having intercourse she put the big bomb in her pussy and it went off with a huge bang. Then the prostitute started shouting as planned " You blew up my pussy ...You blew up my pussy".
On this the customer replied ," You bitch, the hell with your pussy, where the fuck is my DICK ".
Submitted by Admin
Edited by Curtis
Send the Wine Back
A man enters his favorite ritzy restaurant, and while sitting at his
regular table, he notices a gorgeous woman sitting at a table nearby all alone.
He calls the waiter over and asks for their most expensive bottle of
Merlot to be sent over to her, knowing that if she accepts it, she is his for the night.
The waiter gets the bottle and quickly sends it over to the girl, saying
it is from the gentleman at a nearby table. She looks at the the man,
then at the wine and decides to send a note over to the man.
The note read: "For me to accept this bottle, you need to have a Mercedes in your garage, a million dollars in the bank, and 7 inches in your pants."
The man, after reading this note, sends another note to her. It read:
"Just so you will know, I happen to have a Ferrari Testarosa, a BMW 850iL, and a Mercedes 560SEL in my garage, plus I have over twenty-million dollars in the bank. But, not even for a woman beautiful as you, would I cut three inches off my dick. Just send the wine back."
Submitted by Verlaine
Editted by Curtis
#joke
Boss told me to have a good day
My boss told me to have a good day, so i went home.
The doct...
The doctor entered the room and advised his patient that a brain transplant was the only remedy.
"Fortunately" he continued, "this hospital has perfected the procedure,
however, it is not yet available on the National Health and you will
therefore have to pay.
We have two brains in stock at the moment, a female brain costing £30,000 and a male brain at £100,000"
"Why is the male brain so expensive?" asked the patient.
"Oh, that's easy, male brains are hardly used."
Robert Schmidt 05
Droughts are because God didn't pay his water bill.
Is "tired old cliche" one?
if you tell a joke in the forest, but nobody laughs, was it a joke?
The sign said "eight items or less". So I changed my name to Les.
Yesterday I told a chicken to cross the road. It said, "what for?"
Yesterday I saw a chicken crossing the road. I asked it why. It told me it was none of my business.
In school, every period ends with a bell. Every sentence ends with a period. Every crime ends with a sentence.
I Xeroxed my watch. Now I have time to spare.
I Xeroxed my watch. Now I can give away free watches.
#joke