Happy New Year 2021!!
Why can't little people
Why can't little people be killed?
Broke Bassist
There was once a bass guitar player that was getting a divorce from his wife. The court ordered that his wife was guaranteed to HALF of what he owned.
So she got his E string and his D string.

A man was in a terrible accide
A man was in a terrible accident, and his 'manhood' was mangled and torn from his body.His doctor assured him that modern medicine could give him back his manhood,but that his insurance wouldn't cover the surgery since it was considered cosmetic.The doctor said the cost would be $3,500 for 'small,$6,500 for 'medium, and $14,000 for 'large.'
The man was sure he would want a medium or large, but the doctor urged himto talk it over with his wife before he made any decision.The man called his wife on the phone and explained their options.The doctor came back into the room, and found the man looking dejected.
'Well, what have the two of you decided?' asked the doctor.
'She'd rather remodel the kitchen.'
A guy came into a bar one day
A guy came into a bar one day and said to the barman, "Give me six double vodka."
The barman says, "Wow! you must have had one really bad day."
"Yes, I've just found out my older brother is gay."
The next day the same guy came into the bar and asked for the same drinks. When the bartender asked what the problem was today the answer came back, "I've just found out that my younger brother is gay too!"
On the third day the guy came into the bar and ordered another six double vodkas. The bartender said, "Wow! Doesn't anybody in your family like women?"
"Yeah, my wife..."
#joke
Good news...bad news...
"I have good news and bad news," a defense attorney told his client.
"First the bad news: The blood test came back, and your DNA is an exact match with the sample found on the victim's dress."
"Oh, no - I'm ruined!" cried the client. "What's the good news?"
"Your cholesterol is down to 140!"
#joke
Dealing With Trouble
A deputy police officer responded to a report of a barroom disturbance. The "disturbance" turned out to be well over six feet tall and weighed almost 300 pounds. What's more, he boasted that he could whip the deputy and Muhammad Ali too.
Said the policeman, "I'll bet that you're also an escape artist-probably better than Houdini."
The giant nodded.
"If I had some chains," the deputy continued, "you could show us how strong you really are. But all I've got is a set of handcuffs. Why don't you see just how quickly you can break out of them?"
Once in the cuffs, the man puffed, pulled and jerked for four minutes. "I can't get out of these," the giant growled.
"Are you sure?" the deputy asked. The fellow tried again. "Nope," he replied. "I can't do it."
"In that case," said the deputy, "you're under arrest."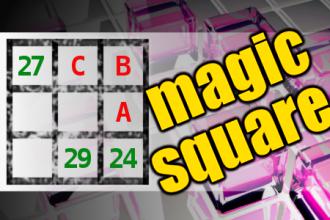 MAGIC SQUARE: Calculate A*B-C
The aim is to place the some numbers from the list (15, 16, 17, 24, 25, 26, 27, 28, 29, 53) into the empty squares and squares marked with A, B an C. Sum of each row and column should be equal. All the numbers of the magic square must be different. Find values for A, B, and C. Solution is A*B-C.
Free sex
There was this gas station in "redneck country" trying to increase its sales, so the owner put up a sign saying "Free Sex with Fill-up."
Soon a "redneck" customer pulled in, filled his tank, and then asked for his free sex.
The owner told him to pick a number from (1) to (10), and if he guessed correctly, he would get his free sex.
The buyer then guessed (8) and the proprietor said, "No, you were close. The number was (7). Sorry, no free sex this time but maybe next time".
Some time thereafter, the same man, along with his buddy this time, pulled in again for a fill-up, and again he asked for his free sex.
The proprietor again gave him the same story and asked him to guess the correct number. The man guessed (2) this time, and the proprietor said, "Sorry, it was (3). You were close but no free sex this time".
As they were driving away, the driver said to his buddy, "I think that game is rigged and he doesn't give away free sex".
The buddy replied, "No, it's not rigged -- my wife won twice last week."
#joke
Aaron Karo: New Diet
I was reading about this new diet where youre not allowed to drink alcohol. Well, I read the first sentence at least.
Some Really Good Questions
1. Does a clean house indicate that there is a broken computer in it?
2. Why is it that no matter what color of bubble bath you use the bubbles are always white?
3. Is there ever a day that mattresses are not on sale?'
4. Why do people constantly return to the refrigerator with hopes that something new to eat will have materialized?
5. On electric toasters, why do they engrave the message "one slice?" How many pieces of bread do they think people are really gonna try to stuff in that slot?
6. Why do people keep running over a string a dozen times with their vacuum cleaner, then reach down, pick it up, examine it, then put it down to give the vacuum one more chance?
7. Why is it that no plastic garbage bag will open from the end you first try?
8. How do those dead bugs get into those closed light fixtures?
9. Considering all the lint you get in your dryer, if you kept drying your clothes would they eventually just disappear?
10. When we are in the supermarket and someone rams our ankle with a shopping cart then apologizes for doing so, why do we say, "It's all right?" Well, it isn't all right so why don't we say, "That hurt, you stupid idiot?"
11. Why is it that whenever you attempt to catch something that's falling off the table you always manage to knock something else over?
12. Is it true that the only difference between a yard sale and a trash pickup is how close to the road the stuff is placed?
13. In winter why do we try to keep the house as warm as it was in summer when we complained about the heat?
14. How come you never hear father-in-law jokes?
15. If at first you don't succeed, shouldn't you try doing it like your wife told you to do it? And obviously if at first you don't succeed, then don't take up sky diving!
16. The statistics on sanity are that one out of every four Americans is suffering from some sort of mental illness. Think of your three best friends, if they're okay, then it's you.
#joke
Knock Knock Collection 144
Knock Knock
Who's there?
Ozzie!
Ozzie who?
Ozzie you later!
Knock Knock
Who's there?
Pablo!
Pablo who?
Pablo your horn!
Knock Knock
Who's there?
Pammy!
Pammy who?
Pammy the key, the door is locked!
Knock Knock
Who's there?
Paris!
Paris who?
Paris the thought!
Knock Knock
Who's there?
Parton!
Parton who?
Parton my French!
#joke