Happy New Year 2021!!
They gave my mother's si
They gave my mother's sister a speeding ticket, which hurts my fine auntses.
What Time Is It?
A man is bragging about his new hearing aid. "It's the best I've ever had," he says. "It cost $3,000."
His friend asks, "What kind is it?"
He says, "Half past four!"

When a woman wears leather clo
When a woman wears leather clothing
A man's heart beats quicker
His throat gets dry
He goes weak in the knees
snd he begins to think irrationally
Ever wonder why?
Because she smells like a new truck!!!

A city boy was visiting the co
A city boy was visiting the country and wanted to go hunting. The farmer lent the boy his gun, telling him not to kill any farm animals.
The city boy headed off and soon after saw a goat. He managed to creep into range and finally shot it. Not knowing anything about animals, the boy didn't know what he'd killed so he ran to the farmhouse and described his kill to the farmer.
"It had two saggy breasts, a beard, a hard head and it stunk like hell!" said the boy.
"Oh, bugger!!" said the farmer. "You've shot the wife!"
#joke
Getting tough
My grandfather worked in a blacksmith shop when he was a boy, and he used to tell me, when I was a little boy myself, how he had toughened himself up so he could stand the rigors of blacksmithing.
One story was how he had developed his arm and shoulders muscles. He said he would stand outside behind the house and, with a 5-pound potato sack in each hand, he would extend his arms straight out to his sides and hold them there as long as he could.
After awhile, he tried 10-pound potato sacks, then 50-pound potato sacks. Finally, he got to where he could lift a 100-pound potato sack in each hand and hold his arms straight out for more than a full minute!
Next, he started putting potatoes in the sacks.
#joke
Some Fishing Terms
Ten common fishing terms explained
Catch and Release - A conservation motion that happens most often right before the local Fish and Game officer pulls over a boat that has caught over it's limit.
Hook - (1) A curved piece of metal used to catch fish. (2) A clever advertisement to entice a fisherman to spend his live savings on a new rod and reel. (3) The punch administered by said fisherman's wife after he spends their life savings (see also, Right Hook, Left Hook).
Line - Something you give your co-workers when they ask on Monday how your fishing went the past weekend.
Lure - An object that is semi-enticing to fish, but will drive an angler into such a frenzy that he will charge his credit card to the limit before exiting the tackle shop.
Reel - A weighted object that causes a rod to sink quickly when dropped overboard.
Rod - An attractively painted length of fiberglass that keeps an angler from ever getting too close to a fish.
School - A grouping in which fish are taught to avoid your $29.99 lures and hold out for spam instead.
Tackle - What your last catch did to you as you reeled him in, but just before he wrestled free and jumped back overboard.
Tackle Box - A box shaped alarmingly like your comprehensive first aid kit. Only a tackle box contains many sharp objects, so that when you reach in the wrong box blindly to get a Band Aid, you soon find that you need more than one.
Test - (1) The amount of strength a fishing line affords an angler when fighting fish in a specific weight range. (2) A measure of your creativity in blaming "that darn line" for once again losing the fish.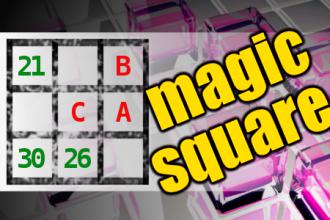 MAGIC SQUARE: Calculate A*B*C
The aim is to place the some numbers from the list (1, 3, 6, 11, 14, 21, 23, 26, 28, 30, 33, 60, 67) into the empty squares and squares marked with A, B an C. Sum of each row and column should be equal. All the numbers of the magic square must be different. Find values for A, B, and C. Solution is A*B*C.
q: What do you get when you c...
q: What do you get when you cross an impressionist painter with a New York City cab driver?
A: You get Vincent Van Go Fuck Yourself.
Top 10 Mom Scoldings in the Bible
10. Sampson, get your hands off of that lion, you don't know where it's been!
9. David, I told you not to play in the house with that string! Go practice your harp. We pay good money for those lessons.
8. Abraham! Stop wandering around the countryside and get home for supper!
7. Shadrach, Meschach and Abendeco! I told you, never play with fire!
6. Cain! Get off your brother! You're going to kill him some day!
5. Noah, no you can' t help them. Don't bring home any strays.
4. Gideon! Have you been hiding in that wine press again? Look at my clothes.
3. James and John! No more burping at the dinner table, please. People are going to call you sons of thunder.
2. Judas! Have you been in my purse again?
1. Jesus! Close the door! You think you were born in a barn.
- Joke shared by Beliefnet member Jalus
#joke
Hurt Bee Back
Q: How did the bee hurt his back?
A: He fell off his honey.
As President Roosevelt said: "...
As President Roosevelt said: "We have nothing to fear but fear itself. And Chuck Norris."
The Other 2 Wishes – A Blonde Redneck Guy Story
A Blonde Redneck Guy finds a lamp. He rubs it and a Genie emerges. The Genie tells him he will be granted three wishes. The Guy thinks for a moment and says, 'First, give me a bottomless mug of beer.'
A mug of beer appears in his hand. He sips it once, then again and the mug is magically refilled. The Guy is thrilled and continues to drink. The mug never empties.
Then the Genie says, 'And what about your other two wishes?'
The guy thinks for a moment and says, 'Give me two more just like this one!'