Happy New Year 2021!!
I learned to canoe i-n
I learned to canoe i-nu-tero.
Not So Long Ago...
A window was a pane of glass you always had to clean. And a hacker had a lousy swing and could never hit the green.
Meg was the name of a girlfriend and a Gig was played on stage.
Memory was what our elders lost in their golden age.
An application was for employment and a program was a show.
A cursor used to cuss a lot and mail didn't seem that slow.
A CD was for money in a long term bank account. And if you had a floppy you hoped that nobody ever found out.
Compress was something you did to garbage not something you did to a file. And if you unzipped in public you'd be in jail a while.
A keyboard was on a piano, a hard drive was down a long road.
A mouse pad was where Mighty Mouse lived and a backup involved a commode.
Cut you did with a pocket knife, paste you did with glue.
A web was what a spider wove and a virus meant the flu.
Nobody gets killed in a computer crash but some would've rather been dead, I guess I'll stick to pen and paper and the memory still in my head.
If I could ever go back in time and start all over again, I'd make sure that I grew up as Bill Gate's closest friend.
#joke
Handy Around the House.
Susie: My husband is a great handyman. He can repair almost anything.
Jane: My mother always taught me to beware of the man that can fix everything. You'll never get anything new.
A drunk at the bar
A man walks into the front door of a bar. He is obviously drunk and staggers up to the bar, seats himself on a stool and, with a belch, asks the bartender for a drink. The bartender politely informs the man that it appears he has already had plenty to drink and that he could not be served additional liquor. The bartender offers to call a cab for him.
The drunk is briefly surprised, then softly scoffs, grumbles, climbs down from the bar stool and staggers out the front door. A few minutes later, the same drunk stumbles in the side door of the bar. He wobbles up to the bar and hollers for a drink. The bartender comes over and - still politely if not more firmly - refuses service to the man and again offers to call a cab. The drunk looks at the bartender for a moment angrily, curses, and shows himself out the side door, all the while grumbling and shaking his head.
A few minutes later, the same drunk bursts in through the back door of the bar. He plops himself up on a bar stool, gathers his wits, and belligerently orders a drink. The bartender comes over and emphatically reminds the man that he is drunk and will be served no drinks. He then tells him that he can either call a cab or the police immediately.
The surprised drunk looks at the bartender and in hopeless anguish cries, "Man! How many bars do you work at?"
#joke
In a tiny village lived an old
In a tiny village lived an old maid. In spite of her old age, she wasstill a virgin. She was very proud of it. She knew her last days weregetting closer, so she told the local undertaker that she wanted thefollowing inscription on her tombstone:
"Born as a virgin, lived as a virgin, died as a virgin"
Not long after, the old maid died peacefully. The undertaker, true tohis word, instructed his men to inscribe on the tombstone what thelady had requested. The men went to carve it, but as they were lazyand it was close to quitting time, they decided the inscription wasunnecessarily long. So they simply carved:
"Returned unopened."
#joke
One wish
A man walking along a California beach was deep in prayer. All of a sudden, he said out loud, "Lord, grant me one wish."
Suddenly the sky clouded above his head and in a booming voice, the Lord said, "Because you have TRIED to be faithful to me in all ways, I will grant you one wish."
The man said, "Build a bridge to Hawaii, so I can drive over anytime I want to."
The Lord said, "Your request is very materialistic. Think of the logistics of that kind of undertaking. The supports required to reach the bottom of the Pacific! The concrete and steel it would take! I can do it, but is hard for me to justify your desire for worldly things. Take a little more time and think of another wish. A wish you think would honor and glorify me."
The man thought about it for a long time. Finally, he said, "Lord, I wish that I could understand women. I want to know how they feel inside, what they are thinking when they give me the silent treatment, why they cry, what they mean when they say 'nothing,' and how I can make a woman truly happy."
After a few minutes, God said, "You want two lanes or four on that bridge?"
#joke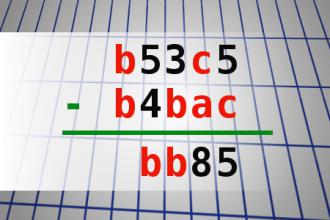 Find number abc
If b53c5 - b4bac = bb85 find number abc. Multiple solutions may exist.
Chuck Norris' first job was as...
Chuck Norris' first job was as a paperboy. There were no survivors.
Douche
Have you heard about the new types of douche on the market?
There is aloe vera scented, peach flavor, and chicken flavor.
The aloe vera is to tighten it up for the penis.
The peach is sweeter for the eater.
And the chicken is finger lickin' good.
Submitted by Curtis
Editted by Tantilazing
Reniewed by Calamjo
#joke
Jordan Rubin: New Cell Phone
You ever get a new cell phone and youre too lazy to transfer all the numbers over, so you just stop being friends with a bunch of people?
Bill, Jim, and Scott were at a...
Bill, Jim, and Scott were at a convention together and were sharing a large suite on the top of a 75-story skyscraper. After a long day of meetings they were shocked to hear that the elevators in their hotel were broken and they would have to climb 75 flights of stairs to get to their room. Bill said to Jim and Scott, let's break the monotony of this unpleasant task by concentrating on something interesting. I'll tell jokes for 25 flights, and Jim can sing songs for 25 flights, and Scott can tell sad stories the rest of the way. At the 26th floor Bill stopped telling jokes and Jim began to sing. At the 51st floor Jim stopped singing and Scott began to tell sad stories. "I will tell my saddest story first," he said. "I left the room key in the car!"
#joke