Ever since the economy crumble
Ever since the economy crumbled I've not only lost my house, but my cutlery too. I've been fork losed!
In Kent a business man was con
In Kent a business man was confused about paying an invoice, so he decided to ask his secretary for some mathematical help.
He called her into his office and said, "You graduated from the University of Essex and I need some help. If I were to give you £20,000, minus 14%, how much would you take off?"
The secretary thought a moment, and then replied, "Everything but my earrings!"
#joke
Quick Believer
An atheist was spending a quiet day fishing when suddenly his boat was attacked by the Loch Ness monster. In one easy flip, the beast tossed him and his boat high into the air, then opened its mouth to swallow both.
As the man sailed head over heels, he cried out, "Oh, my God! Help me!"
At once, the ferocious attack scene froze in place. As the atheist hung in mid-air, a booming voice came down from the clouds, "I thought you didn't believe in Me!"
"Come on God, give me a break!!" the man pleaded. "Two minutes ago I didn't believe in the Loch Ness monster either!
#joke
The new employee stood before
The new employee stood before the paper shredder looking confused.
"Need some help?" a secretary asked.
"Yes," he replied. "How does this thing work?"
"Simple," she said, taking the fat report from his hand and feeding it into the shredder.
"Thanks, but where do the copies come out?"
#joke
Daddy's password...
While my brother-in-law was tapping away on his home computer, his ten-year-old daughter sneaked up behind him. Then she turned and ran into the kitchen, squealing to the rest of the family, "I know Daddy's password! I know Daddy's password!"
"What is it? her older sisters asked, eagerly.
Proudly she replied, "Asterisk, asterisk, asterisk, asterisk, asterisk!"
#joke
Diagnosis Explained
A 90-year-old man goes for a physical and all of his tests come back normal.
The doctor says, "Larry, everything looks great. How are you doing mentally and emotionally? Are you at peace with God?"
Larry replies, "God and I are tight. He knows I have poor eyesight, so He's fixed it so when I get up in the middle of the night to go to the bathroom, poof! The light goes on. When I'm done, poof! The light goes off."
"Wow, that's incredible," the doctor says.
A little later in the day, the doctor calls Larry's wife.
"Bonnie," he says, "Larry is doing fine! But I had to call you because I'm in awe of his relationship with God. Is it true that he gets up during the night, and poof, the light goes on in the bathroom, and when he's done, poof, the light goes off?"
"Oh sweet Jesus", exclaims Bonnie. "He's peeing in the refrigerator again!"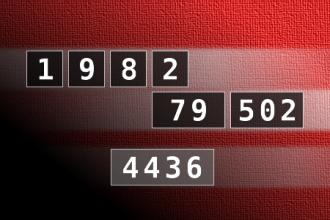 Calculate the number 4436
NUMBERMANIA: Calculate the number 4436 using numbers [1, 9, 8, 2, 79, 502] and basic arithmetic operations (+, -, *, /). Each of the numbers can be used only once.
Two guys were riding in a car,...
Two guys were riding in a car, arguing about how to say the name of the city that they were in. One said "Louieville" and the other "Louiseville." They went on arguing and arguing, until they came upon a fast-food restaurant. The one guy goes inside and says to the waitress, "Tell me the name of the place where I am right now really, really, really slowly." The waitress goes, "Bur-ger-King."
#joke
Exchange
What do you do with a bachelor who thinks he's God's gift to women?
Exchange him.
Submitted by Calamjo
Edited by Yisman