A nun is sitting with her Moth
A nun is sitting with her Mother Superior, chatting.
"I used some horrible language this week and feel absolutely terrible about it."
"When did you use this awful language?" asks the elder.
"Well, I was golfing and hit an incredible drive that looked like it was going to go over 280 yards, but it struck a phone line that's hanging over the fairway and fell straight down to the ground after going only about 100 yards."
"Is that when you swore?"
"No, Mother," says the nun. "After that a squirrel ran out of the bushes and grabbed my ball in its mouth and began to run away."
"Is THAT when you swore?" asks the Mother Superior again.
"Well, no." says the nun. "You see, as the squirrel was running, an eagle came down out of the sky, grabbed the squirrel in his talons and began to fly away!"
"Is THAT when you swore?" asks the amazed elder nun.
"No, not yet. As the eagle carried the squirrel away in its claws, it flew near the green and the squirrel dropped my ball."
"Did you swear THEN?" asked Mother Superior, becoming impatient.
"No, because the ball fell on a big rock, bounced over the sand trap, rolled onto the green, and stopped about a foot from the hole."
The two nuns were silent for a moment.
Then Mother Superior sighed and asked, "You missed the putt, didn't you?"
#joke
Somebody punctuated me
Somebody punctuated me in the face, and I ended up in a comma.
Apple pie....
Little Johnny and his family lived in the country, and as a result seldom had guests. He was eager to help his mother after his father appeared with two dinner guests from the office.
When the dinner was nearly over, Little Johnny went to the kitchen and proudly carried in the first piece of apple pie, giving it to his father who passed it to a guest.
Little Johnny came in with a second piece of pie and gave it to his father, who again gave it to a guest.
This was too much for Little Johnny, who said, "It's no use, Dad. The pieces are all the same size."
#joke
Ways To Get Rid Of Telemarketers
An old one, but a good one…
1. If they want to loan you money, tell them you just filed for Bankruptcy and you could sure use some money.
2. If they start out with, "How are you today?" say, "Why do you want to know?" Or you can say, "I'm so glad you asked, because no one seems to care these days and I have all these problems, my sciatica is acting up, my eyelashes are sore, my dog just died…" When they get try to get back to the sell, just continue your problems.
3. If they say they're Joe Doe from the XYZ Company, ask them to spell their name, then ask them to spell the company name, then ask them where it located. Continue asking them personal questions or questions about their company for as long as necessary.
4. This one works better if you are male: Telemarketer: "Hi, my name is Judy and I'm with Canter and Siegel services…. You: "Hang on a second." (few seconds pause) "Okay, (in a really husky voice) what are you wearing?"
5. Crying out, in well-simulated tones of pleasure and surprise, "Judy!! Is this really you? Oh, my gosh! Judy, how have you BEEN?" Hopefully, this will give Judy a few brief moments of terror as she tries to figure out where the hell she could know you from.
6. Say, "No", over and over. Be sure to vary the sound of each no, and keep an even tempo even as they're trying to speak. This is the most fun if you can keep going until they hang up.
7. If MCI calls trying to get you to sign up with their Family and Friends plan, reply, in a sinister a voice as you can muster, "I don't have any friends…would you be my friend?"
8. If they clean rugs: "Can you get blood out, you can? Well, how about goat blood or HUMAN blood.
9. Let the person go through their spiel, providing minimal but necessary feedback in the form of an occasional "Uh- huh, really, or "That's fascinating." Finally, when they ask you to buy, ask them to marry you. They get all flustered, but just tell them you couldn't give your credit card number to someone that's a complete stranger.
10. Tell them you work for the same company they work for. Example: Telemarketer: "This is Bill from Watertronics." You: "Watertronics!! Hey I work for them too. Where are you calling from?" Telemarketer: "Uh, Dallas, Texas." You: "Great, they have a group there too? How's business/the weather? Too bad the company has a policy against selling to employees! Oh well, see ya."
11. Answer the phone. As soon as you realize it is a telemarketer, set the receiver down, shout or scream, "Oh, my goodness!!!" and then hang up.
12. Tell the Telemarketer you are busy and if they will give you their phone number you will call them back. If they say they are not allow to give out their number, then ask them for their home number and tell them you will call them at home. (This is usually the most effective method of getting rid of Telemarketers)
#joke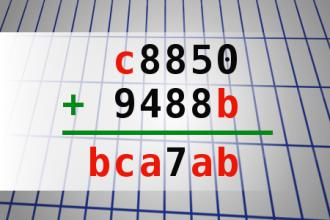 Find number abc
If c8850 + 9488b = bca7ab find number abc. Multiple solutions may exist.
Visit to the museum
Visiting the modern art museum, a lady turned to an attendant standing nearby.
"This," she said, "I suppose, is one of those hideous representations you call modern art?"
"No, Madam," replied the attendant. "That one's called a mirror."