I'm seeking a new financ
I'm seeking a new financial services provider for my deer friend. I'm looking for the most bank for my buck.
identification
A woman went into a bank to get a check cashed, but she didn't have an account with them. When the teller her asked for some identification, the woman showed her several charge cards, her social security card and a library card.
The teller told her they needed a driver's license, but the woman said she didn't have one.
"Don't you have anything with your picture on it?" the teller asked.
"Oh, sure," she said, as she flipped to a family photo in her wallet. "That's me in the back row."
#joke
In What Gear
ATTORNEY: What gear were you in at the moment of the impact?
WITNESS: Gucci sweats and Reeboks.

One day the teacher decides to
One day the teacher decides to play an animal game. She holds up apicture of a giraffe and asks if anyone knows what it is. No oneraises his/her hand. The teacher says "See it's long neck? Whatanimal has a long neck?"
Sally holds up her hand and asks if it is a giraffe.
"Very good Sally," the teacher replies. Next she holds up a picture of a zebra.None of the students holds up his/her hands. "See the stripes onthis animal? What animal has stripes?"
Billy holds up his hand and says it is a zebra. "Very good Billy," the teacher replies. Nextshe holds up a picture of a deer. None of the students recognizedthe animal.
"See the big antlers on this animal. What animal has horns like this?"
Still no one guesses. "Let me give you another hint, it'ssomething your mother calls your father."
Johnny shouts out "I know what it is, it's a horny bastard."
#joke
Are you an honest lawyer...
An investment counselor decided to go out on her own. She was shrewd and diligent, so business kept coming in, and pretty soon she realized that she needed an in-house counsel. She began to interview young lawyers.
"As I'm sure you can understand," she started off with one of the first applicants, "in a business like this, our personal integrity must be beyond question." She leaned forward. "Mr. Peterson, are you an honest lawyer?"
"Honest?" replied the job prospect. "Let me tell you something about honest. Why, I'm so honest that my father lent me $15,000 for my education, and I paid back every penny the minute I tried my very first case."
"Impressive. And what sort of case was that?"
The lawyer squirmed in his seat and admitted, "He sued me for the money."
Name plates
Three young women were hired by an insurance company on the same day.
A year later the boss said each of them was due for a promotion, and that each woman would get her own office with her name on the door.
One day one of the women came in and found to her surprise that the other women had already moved into their own offices.
Going to her boss's office, she asked when her own office would be provided.
He pulled back his chair from his desk and unzipped his fly. "See this?" he asked, "This is quality, and in this company, quality goes in before the name goes on."
Submitted by Curtis
Edited by Glaci
#joke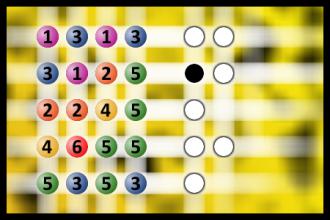 Which is a winning combination of digits?
The computer chose a secret code (sequence of 4 digits from 1 to 6). Your goal is to find that code. Black circles indicate the number of hits on the right spot. White circles indicate the number of hits on the wrong spot.
Mr. Clean is really Chuck Norr...
Mr. Clean is really Chuck Norris with a shaved head and an ear-ring.
Doing 3 knots!
An old retired sailor puts on his old uniform and goes down to the docks for old times sake.
He hires a prostitute, takes her up to a room and goes at it as best as he can for a guy his age.
After a couple of minutes he asks, "How am I doing?"
The prostitute replies, "Well sailor, you're doing about three knots."
"Three knots?" He asks. "What's that supposed to mean?"
She says, "You're knot hard, you're knot in and you're knot getting your money back."
Submitted by Calamjo
Edited by Curtis
#joke
Strange People Are Here
There was a young Scottish boy called Angus who decided to try life in Australia. He found an apartment in a small block and settled in.
After a week or two, his mother called from Aberdeen to see how her son was doing in his new life.
'I'm fine, ' Angus said. 'But there are some really strange people living in these apartments. One woman cried all day long, another lies on her floor moaning, and there is a guy next door to me who bangs his head on the wall all the time.'
'Well, ma laddie,' says his mother, 'I suggest you don't associate with people like that.'
'Oh,' says Angus, 'I don't, Mam, I don't. No, I just stay inside my apartment all day and night, playing my bagpipes.'
#joke
Ted Alexandro: Future Wife
Im single. I often think about my future wife and how lax shes been about getting in touch with me.