A woman answered her front doo
A woman answered her front door and saw a little boy holding a list.
"Ma'am," he explained, "I'm on a scavenger hunt, and I still need three grains of wheat, a pork-chop bone and a piece of used carbon paper so I can earn a dollar."
"Wow," the woman replied. "Who sent you on such a challenging hunt?"
"My babysitter's boyfriend."
#joke
Wrong Excuse
"Armstrong," the boss said, "I happen to know that the reason you didn't come to work yesterday was that you were out playing golf."
"That's a rotten lie!" Armstrong protested. "And I have the fish to prove it!"
My father, the deer hunter, lo
My father, the deer hunter, loved to travel. I still remember his advice. "Go to Venice, son."
You met him in prison.

You met him in prison.
During your initial consultation he tries to sell you Amway.
He tells you that his last good case was a "Budweiser."
When the prosecutors see who your lawyer is, they high-five each other.
He picks the jury by playing "duck-duck-goose."
During the trial you catch him playing his Gameboy.
He asks a hostile witness to "pull my finger."
A prison guard is shaving your head.
Every couple of minutes he yells, "I call Jack Daniels to the stand!" and proceeds to drink a shot.
He frequently gives juror No. 4 the finger.
He places a large "No Refunds" sign on the defense table.
He begins closing arguments with, "As Ally McBeal once said . . ."
He keeps citing the legal case of Godzilla v. Mothra.
Just before trial starts he whispers, "The judge is the one with the little hammer, right?"
Just before he says "Your Honor," he makes those little quotation marks in the air with his fingers.
The sign in front of his law office reads "Practicing Law Since 2:25."
Whenever his objection is overruled, he tells the judge, "Whatever."
He giggles every time he hears the word "briefs."
Identity crisis...
A wild-eyed man, dressed in a Napoleonic costume and hiding his right hand inside his coat, entered the psychiatrist's office and nervously exclaimed, "Doctor, I need your help right away."
"I can see that," retorted the doctor. "Lie down on that couch, and tell me your problem."
"I don't have any problem," the man snapped. "In fact, as Emperor of France, I have everything I could possibly want: money, women, power--everything! But I'm afriad my wife, Josephine, is in deep mental trouble."
"I see," said the psychiatrist, humoring his distraught patient. "And what seems to be her main problem?"
"For some strange reason," answered the unhappy man, "she thinks she's Mrs. Schwartz."
Viagra/Gore
What's the difference between Viagra and Al Gore.....Viagra
really works !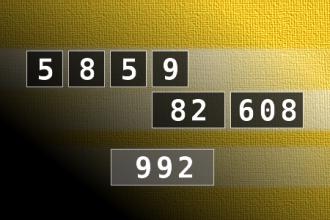 Calculate the number 992
NUMBERMANIA: Calculate the number 992 using numbers [5, 8, 5, 9, 82, 608] and basic arithmetic operations (+, -, *, /). Each of the numbers can be used only once.
Weeping Willows are a result o...
Weeping Willows are a result of Chuck Norris yelling at trees for not being tough enough.
Ponderings Collection 34
Whose cruel idea was it for the word "lisp" to have an "s" in it?
Since light travels faster than sound, isn't that why some people appear bright until you hear them speak?
How come abbreviated is such a long word?
If it's zero degrees outside today and it's supposed to be twice as cold tomorrow, how cold is it going to be?
Since Americans throw rice at weddings, do Asians throw hamburgers?
Why are they called apartments, when they're all stuck together?
Why do banks charge you a "non-sufficient funds fee" on money they already know you don't have?
If a tree falls in the forest and no one is around to see it, do the other trees make fun of it?
When two airplanes almost collide why do they call it a near miss?? It sounds like a near hit to me!!
Do fish get cramps after eating?
#joke
True or false?
A little kid's in school, taking a true-false test and he's flipping a coin. At the end of the test he's flipping the coin again. The teacher says, "What are you doing?" He says, "Checking my answers."
Patton Oswalt: Obituary Fear
My other big obituary fear is, when I die, theyll have my picture, and they always have underneath it, in quotes, He loved to laugh. Oh, he loved to laugh. Well, that doesnt tell you anything. Everybody loves to laugh -- youre laughing! Thats like saying, He hungered for food.