Would you walk into an unsuppo
Would you walk into an unsupported building? For most people, it's a matter of truss.
A guy goes to see his grandmot
A guy goes to see his grandmother and takes one of his friends with him. While he's talking to his grandmother, his friend starts eating the peanuts that are on the coffee table, and finishes them off.
As they're leaving, the friend says, "Thanks for the peanuts".
The grandmother says, "Yeah, since I lost my dentures I can only lick the chocolate off of them".
#joke
Robbie's Little Sister
Used to being the center of attention, Robbie was a little more than jealous of his new baby sister.
The parents sat him down and said that now that she was getting older, the house was too small and they'd have to move.
"It's no use," Robbie said. "She's crawling good now and she'd probably just follow us."

#joke
A wife begins to get a little
A wife begins to get a little worried because her husband has not arrived home on time from his regular Saturday afternoon golf game. As the hours pass she becomes more and more concerned until, at 8 p.m., the husband finally pulls into the driveway.
"What happened?" asked the wife. "You should have been home hours ago!"
"Gus had a heart attack at the third hole," replied the husband.
"Oh, that's terrible," said the wife.
"I know," the husband answered. "All day long it was, hit the ball, drag Gus, hit the ball, drag Gus . . . "
#joke
Which one picked it up?
Just before Christmas, an honest politician, a generous lawyer and Santa Claus were riding in the elevator of a very posh hotel.
Just before the doors opened they all noticed a $20 bill lying on the floor. Which one picked it up?
Santa of course, because the other two don't exist!
While the bar patron savored a...
While the bar patron savored a double martini, an attractive women sat down next to him. The bartender served her a glass of orange juice, and the man turned to her and said, "This is a special day. I'm celebrating."
"I'm celebrating, too," she replied, clinking glasses with him.
"What are you celebrating?" he asked.
"For years I've been trying to have a child," she answered, "Today my gynecologist told me I'm pregnant!"
"Congratulations," the man said, lifting his glass. "As it happens, I'm a chicken farmer, and for years all my hens were infertile. But today they're finally fertile."
"How did it happen?"
"I switched cocks."
"What a coincidence," she said, smiling.
#joke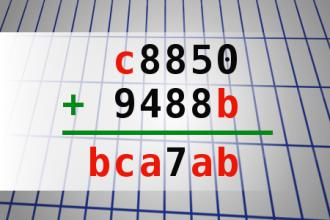 Find number abc
If c8850 + 9488b = bca7ab find number abc. Multiple solutions may exist.
A man awoke one evening to dis...
A man awoke one evening to discover prowlers in his storage shed. He immediately called 911, gave his address, to report the prowlers and possible burglary. The operator at the other end said "Are they in your house?" He said they were not, only in his storage shed in back of the house. The operator said there were no cars available at that time. He thanked the operator, hung up the phone and counted to 30 and called again. "I just called you about prowlers in my storage shed. Well you do not have to worry, as I just shot them all dead!" Within seconds there were 3 police cars, an ambulance and fire engine at the scene. After capturing the prowlers red-handed, the policeman asked the caller, "I thought you said you had shot them all!" The man answered, "I thought you said there were no police available!"
Getting to Heaven from the Post Office
A preacher, newly called to a small country town, needed to mail a letter. Passing a young boy on the street, the pastor asked where he could find the post office.
After getting his answer, the minister thanked the boy and said, "If you'll come to the community church this evening, you can hear me tell everyone how to get to heaven."
"I don't know, sir," the boy replied. "You don't even know how to get to the post office!"
From "The Book of Church Jokes," published by Barbour Publishing, Inc., Uhrichsville, Ohio. Copyright 2009. Used by permission of Barbour Publishing, Inc.

#joke