Fire Power
Them: "Why do you always carry a knife?"
Me: "The last time I tried to open a bag of chips with a 9mm, things didn't go so well."
This couple just got married a
This couple just got married and was spending their honeymoon at a secluded campgrounds next to a small lake. Every day the new bridegroom was seen in a boat on the lake fishing.
Two old timers who was always setting on the dock thought it kinda funny that the groom was spending all his time on the lake.
Well, their curiosity got the best of them and they confronted him when he came in for lunch. The first old man said, "Son when I first got married me and my wife spent every day of our honeymoon in bed... well you know!"
The new groom said, "Well, normally that's what I would do, But she...well, she's got gonorrhea."
The second old man said, "Well son haven't you ever heard about oral sex? Everybody's doing it these days."
The groom says, "Yes I have heard about that, but she also has pyorrhea."
The first old man looks at the second old man, and they both nod to each other and offered this advice. "Sonny, in times like this you just might want to roll her over."
The groom says, "I know all about that too, but she's got diarrhea."
The two old men look at each other and at the same time they say, "Daggone Sonny...gonorrhea, pyorrhea, diarrhea, what the hell did ya marry her for?!"
He said, "Well she's also got worms... and I do love to go fishing."
#joke
A German tourist walks into a...
A German tourist walks into a McDonald's in New York City and orders abeer. (In Germany and many parts of Europe, McDonald's actually does servebeer.) The local guy in the line behind him immediately gives him thejab: "They don't serve BEER here, you MORON!"
The German fellow felt pretty stupid, but suddenly turns to the New Yorker with a surprised look,and begins to chuckle.
"And what's so funny?!?" the New Yorker demands.
"Oh, nothing really, I just realized that you came here for the food."
I recovered my stolen car usin
I recovered my stolen car using the serial number and I feel VINdicated.
The robbery....
Two friends, Jim and Paul are in a bank, when, suddenly, armed robbers burst in.
While several of the robbers take the money from the tellers, others line the customers up against a wall and proceed to take their wallets, watches, etc.
While this is going on, Jim slips something into Paul's hand. Without looking down, Paul whispers, "What is this?"
Jim replies, "It's that $50 I owe you."
#joke
Once upon a time there was a n...
Once upon a time there was a non-conforming sparrow who decided not to fly south for the winter. However, soon the weather turned so cold that he reluctantly decided to fly south. In a short time ice began to form on his wings and he fell to Earth in a barnyard, nearly frozen solid. A cow passed by where he had fallen, and crapped on the little sparrow.The sparrow thought it was the end, but the manure warmed him and defrosted his wings!
Warm and happy, able to breath, he started to sing.
Just then a large cat came by, and hearing the chirping he investigated the sounds. The cat cleared away the manure, found the chirping bird, and promptly ate him.
The Moral of the Story:
Everyone who craps on you is not necessarily your enemy
Everyone who gets you out of crap is not necessarily your friend.
And if you're warm and happy in a pile of crap, you might just want to keep your mouth shut.
#joke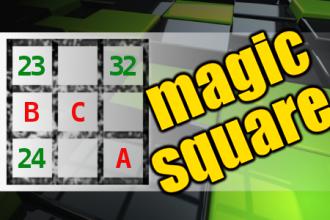 MAGIC SQUARE: Calculate A-B+C
The aim is to place the some numbers from the list (5, 6, 13, 22, 23, 24, 25, 30, 32, 50, 99) into the empty squares and squares marked with A, B an C. Sum of each row and column should be equal. All the numbers of the magic square must be different. Find values for A, B, and C. Solution is A-B+C.
Chuck Norris does the Sunday N...
Chuck Norris does the Sunday New York Times Crossword Puzzle in ink.
Forgive Me Father
About a month ago, a man in Amsterdam felt that he needed to confess, so he went to his priest, "Forgive me Father, for I have sinned. During WWII I hid a refugee in my attic."
"Well," answered the priest, "that's not a sin."'
"But I made him agree to pay me 200 Euros for every week he stayed."
"I admit that wasn't good, but you did it for a good cause."
"Oh, thank you, Father; that eases my mind." He paused for a moment and then said, "I have one more question..."
"What is that, my son?"
"Do I have to tell him the war is over?"
#joke
Benefits of the Revival
After the revival had concluded, the three pastors were discussing the results with one another.
The Methodist minister said, "The revival worked out great for us! We gained 4 new families."
The Baptist preacher said, "We did better than that! We gained 6 new families."
The Presbyterian pastor said, "Well, we did even better than that! We got rid of our 10 biggest trouble makers!"
#joke
Jobs at the food company...
One day, three unemployed factory workers heard that a large food company was enlarging and needed more staff. So they went downtown to see if they could get themselves a job.
After filing out their applications, each one was interviewed and each one managed to get hired. As they were waiting to be assigned their new duties, a foreman came by and spoke to the hiring boss.
The foreman told the boss that he didn't think it was such a good idea as one of the workers had snapped for no apparent reason at his last job.
Also a second was said to have had cracked up after severe mental stress.
The third, he believed was their father who he felt was a bit odd but he couldn't put his finger on it.
The hiring boss reassured the foreman and said that they would start on something easy and after a week, the company would re-assess them to see if they would be kept on.
The foreman reluctantly agreed and asked the boss where he thought they should start.
The boss replied, "Why not take them and put them in our Cereal Division...Snap, Crackle and Pop should work out fine down there."
#joke