What's the birthstone of
What's the birthstone of the chronically suicidal?
It's A Valid Point
If con is the opposite of pro...
Does that mean Congress is the opposite of progress?
A redneck was stopped by a gam
A redneck was stopped by a game warden in Central Mississippi recently with two ice chests full of fish. He was leaving a cove well-known for its fishing.
r>The game warden asked the man," Do you have a license to catch those fish?"
r>" Naw, sir" , replied the redneck." I ain't got none of them there licenses. You must understand, these here are my pet fish."
r>"Pet fish?"
r>" Yeah. Every night, I take these here fish down to the lake and let" em swim" round for awhile. Then, when I whistle, they jump right back into these here ice chests and I take" em home."
r>" That's a bunch of hooey! Fish can't do that."
r>The redneck looked at the warden for a moment and then said," It's the truth Mr. Government Man. I'll show ya. It really works."
r>" O. K.." , said the warden." I've got to see this!"
r>The redneck poured the fish into the lake and stood and waited.
r>After several minutes, the warden says," Well?"
r>" Well, what?" , says the redneck.
r>The warden says," When are you going to call them back?"
r>" Call who back?"
r>"The FISH" , replied the warden!
r>" What fish?" , replied the redneck.
r>Moral of the story: We may not be as smart as some city slickers, but we ain't as dumb as some government employees.
r>
#joke
A young boy had just gotten hi
A young boy had just gotten his driver's permit and inquired of his father, an evangelist, if they could discuss his use of the car. His father took him into his study and said to the boy, "I'll make a deal with you, son. You bring your grades up from a C to a B, study your Bible a little, get your hair cut, then we'll talk about the car."
Well, the boy thought about that for a moment, and decided that he'd settle for the offer, and they agreed on it.
After about six weeks, the boy came back and again asked his father about using the car. Again, they went to the study, where his father said, "Son, I've been real proud of you. You've brought your grades up, and I've observed that you have been studying your Bible, and participating a lot m!ore in the Bible study class on Sunday morning. But, I'm real disappointed,since you haven't gotten your hair cut."
The young man paused a moment, and then said, "You know, Dad, I've been thinking about that, and I've noticed in my studies of the Bible that Samson had long hair, John the Baptist had long hair, Moses had long hair and there's even a strong argument that Jesus had long hair."
His father replied, "You're right, son. Did you also notice that they all walked everywhere they went?"
#joke
A broom wedding...
Two brooms were hanging in the closet, and after they got to know each other a bit, decided to get married.
The bride broom looked very beautiful in her white dress. The groom broom was handsome and suave in his tuxedo. The wedding was lovely and attended by all the push brooms and dust mops.
After the wedding, at the wedding dinner, the bride broom leaned over and whispered to the groom broom, "We're soon going to have a little whisk broom!"
"Impossible!" said the groom broom, indignantly. "We haven't even swept together yet!!!"
#joke
A sweet little boy surprised h...
A sweet little boy surprised his grandmother one morning and brought her a cup of coffee. He made it himself and he was so proud. Anxiously, he waited to hear the verdict. The grandmother in all her life had never had such a bad cup of coffee. As she forced down the last sip, his grandmother noticed three of those little green army guys were in the bottom of the cup.
She asked, "Honey, why would three of your little army men be in the bottom of my cup?"
Her grandson replied, "You know grandma, it's like on TV. 'The best part of waking up is soldiers in your cup'."
#joke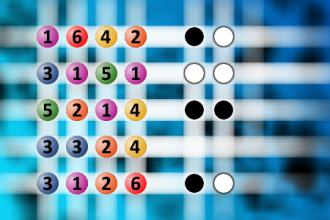 Which is a winning combination of digits?
The computer chose a secret code (sequence of 4 digits from 1 to 6). Your goal is to find that code. Black circles indicate the number of hits on the right spot. White circles indicate the number of hits on the wrong spot.
Divorce Letter
Dear Wife:
I'm writing you this letter to tell you that I'm leaving you for good…!!! I've been a good man to you for seven years and I have nothing to show for it. These last two weeks have been hell. Your boss called to tell me that you had quit your job today and that was the last straw. Last week, you came home and didn't even notice that I had gotten a new hair cut, cooked your favorite meal and even wore a brand new pair of silk boxers. You came home and ate in two minutes, and went straight to sleep after watching all of your soaps. You don't tell me you love me anymore, you don't want sex anymore or anything. Either you're cheating on me or you don't love me anymore, whatever the case is, I'm gone.
Your EX-Husband
P.S. Don't try to find me. Your SISTER and I are moving away to West Virginia together! Have a great life!
Dear Ex-Husband:
Nothing has made my day more than receiving your letter. It's true that you and I have been married for seven years, although a good man is a far cry from what you've been. I watch my soaps so much because they drown out your constant whining and griping. Too bad that doesn't work. I did notice when you got a hair cut last week, the first thing that came to mind was "You look just like a girl!" but my mother raised me not to say anything if you can't say anything nice. And when you cooked my favorite meal, you must have gotten me confused with MY SISTER, because I stopped eating pork seven years ago. I turned away from you when you had those new silk boxers on because the price tag was still on them. I prayed that it was a coincidence that my sister had just borrowed fifty dollars from me that morning and your silk boxers were $49.99… After all of this, I still loved you and felt that we could work it out. So when I discovered that I had hit the lotto for ten million dollars, I quit my job and bought us two tickets to Jamaica. But when I got home you were gone. Everything happens for a reason I guess. I hope you have the fulfilling life you always wanted. My lawyer said with your letter that you wrote, you won't get a dime from me. So take care.
Signed: Rich As Hell and Freeeeeeeeeeee!
P.S. I don't know if I ever told you this but Carla, my sister, was born Carl. I hope that's not a problem
If you want a list of Chuck No...
If you want a list of Chuck Norris' enemies, just check the extinct species list.
Family of tomatoes...
A family of three tomatoes were walking downtown one day when the little baby tomato started lagging behind. The big father tomato walks back to the baby tomato, stomps on her, squashing her into a red paste, and says, "Ketchup!"
ID?
An Arkansas State trooper pulls over a pickup truck on I-40 and says to the driver, "Got any ID?"
The driver says," ' Bout what?"
Submitted by Curtis
Edited by Calamjo