It was George the Mailman's l
It was George the Mailman's last day on the job after 35 years of carrying the mail through all kinds of weather to the same neighborhood. When he arrived at the first house on his route, he was greeted by the whole family who congratulated him and sent him on his way with a tidy gift envelope.
At the second house, they presented him with a box of fine cigars. The folks at the third house handed him a selection of terrific fishing lures.
At the fourth house, he was met at the door by a strikingly beautiful blonde woman in a revealing negligee. She took him by the hand, gently led him through the door, which she closed behind him, and took him up the stairs to the bedroom where she blew his mind with the most passionate love he had ever experienced.
When he had enough, they went downstairs and she fixed him a giant breakfast: eggs, potatoes, ham, sausage, blueberry waffles, and fresh-squeezed orange juice. When he was truly satisfied, she poured him a cup of steaming coffee. As she was pouring, he noticed a dollar bill sticking out from under the cup's bottom edge. "All this was just too wonderful for words," he said, "But what's the dollar for?"
"Well," she said, "Last night, I told my husband that today would be your last day, and that we should do something special for you. I asked him what to give you. He said, 'Screw him. Give him a dollar.' The breakfast was my idea."
A man owned a small farm in So
A man owned a small farm in South Georgia. The Wage and Hour Department claimed he was not paying proper wages to his help and sent an agent to interview him.
"You just give me a list of your employees and tell me how much you pay them."
"All right," said the farmer. "I have a hired man. Been with me for three years. I pay him $700 a week, plus room and board. I have a cook. She's been here six months. She gets $600 a week plus room and board."
"Anybody else?" asked the agent as he scribbled on a note pad.
"Yeah," the farmer said. "This guy is none too bright. Works about eighteen hours a day. I pay him ten dollars a week and give him chewing tobacco."
"Aha!" the agent roared. "I want to talk to that man!"
"Speaking," said the farmer.
#joke
Something I Haven't Done
Little Johnny asks the teacher, "Mrs Roberts, can I be punished for something I haven't done?"
Mrs Roberts is shocked, "Of course not, Johnny, that would be very unfair."
Little Johnny is relieved, "Okay, Mrs Roberts, good to know. By the way, I didn't do my homework last night."
#joke
Decades ago, watching late nig
Decades ago, watching late night TV was found to be Carsonogenic.
Greeting cards you will not see at Hallmark...
'Looking back over the years that we've been together, I can't help but wonder:.............
What was I thinking?'
'Congratulations on your wedding day!.............
Too bad no one likes your wife.'
'How could two people as beautiful you............
have such an ugly baby?'
'I've always wanted to have someone to hold, someone to love.........
After having met you, I've changed my mind.'
'I must admit, you brought Religion in my life...........
I never believed in Hell until I met you.'
'As the days go by, I think of how lucky I am.......
that you're not here to ruin it for me.'
'As you grow older, Mum, I think of all the gifts you've given me.
Like the need for therapy...'
'Thanks for being a part of my life!!!..........
I never knew what evil was before this!'
'Before you go,.........
I would like you to take this knife out of my back. You'll probably need it again.'
'Someday I hope to get married............
but not to you.'
'You look great for your age.......
Almost Lifelike!'
'When we were together, you always said you'd die for me.........
Now that we've broken up, I think it's time you kept your promise.'
'I knew the day would come when you would leave me for my best friend.......
So here's his leash, water bowl and chew toys.'
'We have been friends for a very long time...........
What do you say we call it quits?'
'I'm so miserable without you..................
It's almost like you're here.'
'Congratulations on your new bundle of joy...............
Did you ever find out who the father was?'
'You are such a good friend that if we were on a sinking ship and there was only one life jacket....
I'd miss you heaps and think of you often.'
#joke
A brunette who really hated bl...
A brunette who really hated blondes was walking through the desert when she came across a magic lamp. After rubbing the lamp the genie told her that she got three wishes with one catch: All the blondes in the world would get twice whatever she asked for. So the brunette thought a while and then wished for a million dollars.
'Every blonde in the world will get two million.' The brunette said that was fine and then she asked for an incredibly handsome man.
'Every blonde in the world will get two incredibly handsome men.'
The brunette said that was fine too and the genie granted her wishes. 'Now for your third wish.' said the genie.
'See that stick over there?', asked the brunette, 'I want you to beat me half to death with it.'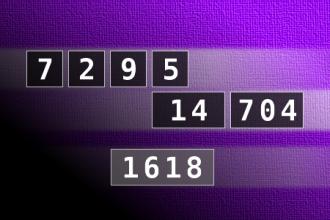 Calculate the number 1618
NUMBERMANIA: Calculate the number 1618 using numbers [7, 2, 9, 5, 14, 704] and basic arithmetic operations (+, -, *, /). Each of the numbers can be used only once.
On Fridays
After 35 years of marriage, a husband and wife came for counseling. When asked what the problem was, the wife went into a tirade listing every problem they had ever had in the years they had been married.
On and on and on: neglect, lack of intimacy, emptiness, loneliness, feeling unloved and unlovable, an entire laundry list of unmet needs she had endured.
Finally, after allowing this for a sufficient length of time, the therapist got up, walked around the desk and after asking the wife to stand, he embraced and kissed her long and passionately as her husband watched - with a raised eyebrow. The woman shut up and quietly sat down as though in a daze.
The therapist turned to the husband and said, 'This is what your wife needs at least 3 times a week. Can you do this?'
'Well, I can drop her off here on Mondays and Wednesdays, but on Fridays, I golf.'
Gas Station Fill-up
There was this gas station in "redneck country" trying to increase it's sales, so the owner put up a sign saying "Free Sex with Fill-up."
Soon a "redneck" customer pulled in, filled his tank, and then asked for his free sex.
The owner told him to pick a number from (1) to (10), and if he guessed correctly, he would get his free sex. The buyer then guessed (8) and the proprietor said, "No, you were close. The number was (7). Sorry, no free sex this time but maybe next time".
Some time thereafter, the same man, along with his buddy this time, pulled in again for a fill-up, and again he asked for his free sex. The proprietor again gave him the same story and asked him to guess the correct number. The man guessed (2) this time, and the proprietor said, "Sorry, it was (3). You were close but no free sex this time".
As they were driving away, the driver said to his buddy, "I think that game is rigged and he doesn't give away free sex". The buddy replied, "No, it's not rigged -- my wife won twice last week."
#joke
Good Question!
And Moses looked upon the Lord and said:
"We are your chosen people and you want us to cut the tips off of our WHAT?"