A man with a stuttering proble
A man with a stuttering problem tries everything he can to stop stuttering, but he can't. Finally, he goes to a world renowned doctor for help. The doctor examines him and says "I've found your problem. Your penis is 12 inches long. It weighs so much it is pulling on your lungs, causing you to stutter."
The man asks, "W-w-what's the c-c-cure, d-d-doctor?"
The doctor replies, "We have to cut off 6 inches."
The man thinks about it, and eager to cure his stuttering, agrees to the operation. The operation is a success, and he stops stuttering.
Two months later he calls the doctor and tells him that since he had the 6 inches cut off, all of his girlfriends have dumped him, and his love life has gone down the tubes. He wants the doctor to operate to put back the six inches. Not hearing anything on the line, he repeats himself, "Hey doc, didn't you hear me? I want my 6 inches back!"
The doctor responds, "N-n-no w-w-way!"
Clear the Kitchen Table
My wife asked me if I could clear the kitchen table.
I had to get a running start, but I made it!
Which Chinese leader always fi
Which Chinese leader always finished his holiday purchases early? Deng Xiaoping.
The Art Of Falling Apart
There's quite an art to falling apart as the years go by,
And life doesn't begin at 40. That's a big fat lie.
My hair's getting thinner, my body is not;
The few teeth I have are beginning to rot.
I smell of Vick's-Vapo-Rub, not Chanel #5;
My new pacemaker's all that keeps me alive.
When asked of my past, every detail I'll know,
But what was I doing 10 minutes ago?
Well, you get the idea, what more can I say?
I'm off to read the obit, like I do every day;
If my name's not there, I'll once again start
Perfecting the art of falling apart!
#joke
A little girl asked her father...
A little girl asked her father, "Daddy? Do all Fairy Tales begin with Once Upon A Time?"
He replied, "No, there is a whole series of Fairy Tales that begin with 'If Elected I promise...'"
A young boy had just gotten hi...
A young boy had just gotten his driving permit. He asked his father, who was a minister, if they could discuss the use of the car. His father took him to his study & said to him, "I'll make a deal with you. You bring your grades up, study your bible a little & get your hair cut, & we'll talk about it."
After about a month, the boy came back & again asked his father if they could discuss use of the car. They again went to the father's study where his father said, "Son, I've been real proud of you. You have brought your grades up, you've studied your bible diligently, but you didn't get your hair cut!" The young man waited a moment & replied, "You know Dad, I've been thinking about that. You know, Samson had long hair, Moses had long hair, Noah had long hair, & even Jesus had long hair ..." To which his father replied, "Yes, & they WALKED every where they went too!"
#joke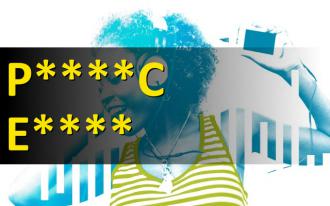 Replace asterisk symbols with ...
Replace asterisk symbols with a letters (P****C E****) and guess the name of musician band. Length of words in solution: 6,5.
Tom Shillue: Pose for a Painting
When I meet a girl, I ask her to pose nude for a painting Im doing because thats a very good way to get her to sleep with me.
A woman goes to the Doctor, wo...
A woman goes to the Doctor, worried about her husband's temper.
The doctor asks, "So what seems to be the problem?"
The woman says, "Doctor, I don't know what to do. Every day my husband seems to lose his temper for no reason at all. It's starting to scare me."
The Doctor tells her, "I think I have just the cure for that. When it seems your husband is getting angry, just take a glass of water and start swishing it in your mouth. Just swish, and swish, but don't swallow it until he leaves the room or decides to go to bed."
Two weeks later, the woman returns, looking fresh and reborn. The woman says, "Doctor, that was a brilliant idea! Every time my husband started to lose it, I swished with water. I swished and swished, and he calmed right down! How does a glass of water do that?!"
The Doctor informs her, "The water itself does nothing. It's having to keep your mouth shut that does the trick."
Ed Helms: Watching the New York City Marathon
I went and watched the New York City Marathon. It goes right by my apartment in Brooklyn, and I went with a group of friends. And all my friends are cheering for the runners; theyre like, Whoo! Good job! Way to go! Keep it up, youre lookin good! Great job! I was like, You dont have to do that! Thats unnecessary! You know what? Ive got a bike, you can take it. Better yet, come inside -- Ive got air conditioning; my roommate made some guacamole, its awesome; we rented Meatballs.
#joke