Trusted Doctor
A newcomer to the neighborhood consulted one of the established residents in regard to a doctor.
"My little daughter," she explained, "has swallowed a gold piece and has got to be operated on. I wonder if Dr. Robertson is to be trusted?
"Without a doubt," her neighbor assured her, "he's absolutely honest."
A honeymooning couple had purc
A honeymooning couple had purchased a talking parrot and taken it to their room, where much to the groom's annoyance, the bird kept up a running commentary on their lovemaking.
Finally the groom threw a large towel over the cage and threatened to give the parrot to the zoo if he didn't stop.
The next morning, packing to return home, the couple couldn't close a large suitcase. The groom said, "Darling, you get on top and I'll try."
That didn't work.
Figuring they needed more weight on the lid, she said, "Sweetheart, you get on top and I'll try."
Still no success.
Then he said, "Look. Let's both get on top and try."
At that point the parrot pulled away the towel with his beak and said, "Zoo or no zoo, this I gotta see!"
#joke
Phoenix is so dry because it
Phoenix is so dry because it's in an arid zone-a.
Mommy, look at this....
As I was trying to pack for vacation, my 3-year-old daughter was having a wonderful time playing on the bed. At one point, she said, "Mommy, look at this," and stuck out two of her fingers.
Trying to keep her entertained, I reached out and stuck her fingers in my mouth and said, "Mommy gonna eat your fingers!" pretending to eat them before I rushed out of the room again.
When I returned, my daughter was standing on the bed staring at her fingers with a devastated look on her face.
I said, "What's wrong honey?"
"Mommy, where's my booger?"
#joke
A guy goes to the supermarket...
A guy goes to the supermarket and notices an attractive woman waving at him.
She says hello. He's rather taken a back because he can't place where he knows her. So he says, "Do you know me?"
To which she replies, "I think you're the father of one of my kids."
Now his mind travels back to the only time he has ever been unfaithful to his wife, and he says, "Oh, are you the stripper from my bachelor party that I did on the pool table with all my buddies watching while your partner whipped me with wet celery?"
The woman looks sternly into his eyes and says very calmly, "No, I'm your son's teacher."
#joke
A burglar broke into a house o...
A burglar broke into a house one night. He shone his flashlight around looking for valuables, and when he picked up a CD player to place in his sack, a strange, disembodied voice echoed from the dark saying, "Jesus is watching you."
He nearly jumped out of his skin, clicked his flashlight off and froze. When he heard nothing more after a bit, he shook his head, promised himself a vacation after the next big score, then clicked the light back on and began searching more valuables. Just as he pulled the stereo out so he could disconnect the wires, clear as a bell he heard, "Jesus is watching you."
Totally rattled, he shone his light around frantically, looking for the source of the voice. Finally, in the corner of the room, his flashlight beam came to rest on a parrot. "Did you say that?" He hissed at the parrot.
"Yes," the parrot confessed, then squawked, "I'm just trying to warn you."
The burglar relaxed. "Warn me, huh? Who do you think you are any way?"
"Moses," replied the bird.
"Moses," the burglar laughed. "What kind of stupid people would name a parrot 'Moses'?"
The bird promptly answered: "The same kind of people that would name a Rottweiler 'Jesus'!"
#joke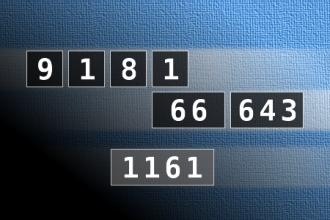 Calculate the number 1161
NUMBERMANIA: Calculate the number 1161 using numbers [9, 1, 8, 1, 66, 643] and basic arithmetic operations (+, -, *, /). Each of the numbers can be used only once.
Nuns at the Hospital
A man suffered a serious heart attack and had bypass surgery. He awakened to find himself in the care of nuns at a Catholic hospital.

As he was recovering, a nun asked how he was going to pay the bill. He replied, in a raspy voice, "No health insurance."

The nun asked if he had money in the bank. He replied, "No money in the bank."

The nun asked, "Do you have a relative who could help you?"
He said, "Just a spinster sister, who is a nun."

The nun, slightly perturbed, said, "Nuns are not spinsters! Nuns are married to God."

The patient replied, "Then send the bill to my brother-in-law."
#joke
When Bruce Banner gets mad, he...
When Bruce Banner gets mad, he turns into the Hulk. When the Hulk gets mad, he turns into Chuck Norris.
Angelic Assistance?
An old-time pastor was riding furiously down the road, hurrying to get to church on time. Suddenly, his horse stumbled and threw him to the ground.
Lying in the dirt, his body wracked with pain, the pastor called out, "All you angels in heaven, help me get up on my horse!"
With extraordinary strength, he leaped onto the horse's back and fell off the other side.
From the ground again, he called out, "All right, just half of you angels this time!"

#joke